ARJEN LUCASSEN - "Be Careful With In-Ear Earphones!"
September 3, 2012, 7 years ago
AYREON mastermind ARJEN LUCASSEN has checked in with the following update:
"Damn, I developed a nasty case of tinnitus :-( For jogging I bought loud in-ear headphones that completely close off your ear. Now in both ears I have a horrible beep that will never go away. And the test today also showed pretty bad hearing damage (4k range) from all the years of noise. So please listen to the warning: be careful with in-ear earphones!"
Following is a little glimpse into Lucassen's everyday world as he tries to quietly write songs for his new project but is constantly thwarted by an overly-inquisitive camera:
Lucassen recently posted a new video for the track 'Pink Beatles In A Purple Zeppelin', taken from his new album Lost In The New Real. The video was mainly shot where Arjen grew up, near the sea in Holland.
In regards to the video, Arjen comments: "It's a very 'Dutch' clip, windmills and all! So you could say this clip goes back to my roots, also musically. It features many visual links (at least ten!) to the bands and albums that I grew up listening to. Peace, man!"
Watch 'Pink Beatles in a Purple Zeppelin' on YouTube below:
Featuring artwork created by Arjen and renowned designer Claudio Bergamin, plus an appearance by legendary actor Rutger Hauer as the album's narrator, Lost In The New Real is a double-CD that tells the story of Mr. L, a 21st century man who was cryo-preserved at the moment of clinical death from a terminal disease. The album begins as Mr. L is being revived at a point in the distant future, when technology has advanced enough to cure his disease. Mr. L finds himself in a world that has drastically changed -- to the point that the line between what's real and what's not is no longer clear.
The tracks on disc 1 follow Mr. L's emotional journey as he is confronted with both serious and comical aspects of the "New Real" and desperately tries to decide if he can find a meaningful place within it. Disc 2 is a mix of tracks that are part of the concept but didn't fit on disc 1, plus cover songs related to the concept.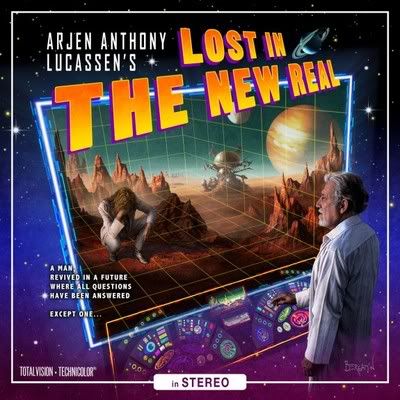 Tracklisting:
CD1:
'The New Real'
'Pink Beatles In A Purple Zeppelin'
'Parental Procreation Permit'
'When I'm A Hundred Sixty-Four'
'E-Police'
'Don't Switch Me Off'
'Dr Slumber's Eternity Home'
'Yellowstone Memorial Day'
'Where Pigs Fly'
'Lost In The New Real'
* Bonus CD Rom section: "Behind The New Real"
CD 2:
'Our Imperfect Race'
'Welcome To The Machine' (PINK FLOYD cover)
'So Is There No God?'
'Veteran Of The Psychic Wars' (BLUE ÖYSTER CULTCover)
'The Social Recluse'
'Battle Of Evermore' (LED ZEPPELIN Cover)
'The Space Hotel'
'Some Other Time' (ALAN PARSONS PROJECT Cover)
'You Have Entered The Reality Zone'
'I'm The Slime' (FRANK ZAPPA Cover)
* Bonus CD Rom section: "The Artwork"
Check out a trailer below: