Audio Interview With LOCK UP / BRUJERIA / NAPALM DEATH Guitarist Shane Embury
August 11, 2011, 7 years ago
Webzine Infernal Masquerade recently conducted an interview with LOCK UP/BRUJERIA/NAPALM DEATH guitarist Shane Embury. In the interview Embury talks about Lock Up's future plans, other plans that Embury has for the upcoming months, the new Brujeria album, and more. Listen to the interview here.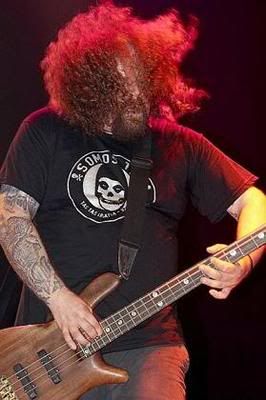 Locked Up's new album Necropolis Transparent was released on July 1st in Europe and in North America on July 12th, via Nuclear Blast Records as a regular CD, black vinyl and transparent vinyl.
Necropolis Transparent features several guest appearances from HYPOCRISY/PAIN mainman (and one time Lock Up vocalist) Peter Tägtgren along with Jeff Walker (CARCASS, BRUJERIA).
Necropolis Transparent features the following tracks:
'Brethren Of The Pentagram'
'Accelerated Mutation'
'The Embodiment Of Paradox And Chaos' (featuring Jeff Walker, backing vocals)
'Necropolis Transparent' (Tomas Lindberg and Peter Tägtgren share vocal duties)
'Parasite Drama' (featuring Jeff Walker, backing vocals)
'Anvil Of Flesh'
'Rage Incarnate Reborn'
'Unseen Enemy' (featuring Jeff Walker, backing vocals)
'Stygian Reverberations'
'Life Of Devastation'
'Roar Of A Thousand Throats'
'Infiltrate And Destroy'
'Discharge The Fear' (featuring Jeff Walker, backing vocals)
'Vomiting Evil'
'Stigmatyr' (bonus track)
'Through The Eyes Of My Shadow Self' (Tomas Lindberg and Peter Tägtgren share vocal duties)
'Tartarus' (instrumental)