COHEED AND CAMBRIA - The Afterman: Ascension Album Trailer Posted; New Double Album Details Revealed
August 3, 2012, 7 years ago
New York progressive rockers COHEED AND CAMBRIA have announced details of their upcoming sixth studio album, a double concept album entitled The Afterman, to be released in two separate full-length volumes.
The first volume, The Afterman: Ascension, will be available on both physical and digital platforms in the US on October 9th via Hundred Handed/Everything Evil, and distributed through Fontana/Ingrooves (to be available in Canada via Universal Music Canada). The second volume, The Afterman: Descension is due in February, 2013.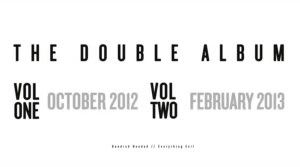 A deluxe version of the The Afterman will include a hardcover coffee-table book with expansive art by Heidi Taillefer and Nathan Spoor with collaborative written work from singer/creator Claudio Sanchez and writer Peter David that will create a song by song experience.
The two records follow-up to 2010's Year Of The Black Rainbow, and will feature new bassist Zach Cooper and returning drummer Josh Eppard, who have replaced Michael Todd and Chris Pennie respectively.
The concept albums will continue to be set in the band's alternate universe of Heaven's Fence, which are part of their series titled The Amory Wars. The Amory Wars is currently being developed by Mark Wahlberg and Stephen Levinson of Leverage Productions for a live-action feature film. It follows the story of a superhuman dictator named Wilhelm Ryan, and a family that may have the ability to free the world from his control.
The Afterman albums will focus on a character named Sirius Amory, a scientist who discovers an energy force that can connect the universe's 78 planets together.
Frontman Claudio Sanchez said of the album: "This is without a doubt, the most honest record I've ever written. Though all the songs can be interpreted through our main character in the story, they were initially written in a very spontaneous manner. In the past, I've always had a predetermined idea of what the story was going to be when I approached the songs. With The Afterman being a new story within The Amory Wars arc, I allowed the events of my life to drive the concept, and therefore opened up the songwriting to a fuller degree."
Check out a trailer for the new album below:
Coheed and Cambria are currently touring with IRON MAIDEN and will be hitting the road for a headline run beginning in mid-September. All tour dates are below:
August (with Iron Maiden)
1 - Salt Lake City, UT - USANA Amphitheatre
2 - Reno, NV - Knitting Factory (Coheed And Cambria headline show)
3 - Mountain View, CA - Shoreline Amphitheatre
4 - Sacramento, CA - Sleep Train Amphitheater
6 - Phoenix, AZ - Ashley Furniture HomeStore Pavilion
7 - Tucson, AZ - Rialto Theater (Coheed And Cambria headline show)
9 - Irvine, CA - Verizon Wireless Amphitheatre
10 - Irvine, CA - Verizon Wireless Amphitheater
12 - Albuquerque, NM - Hard Rock Pavilion
13 - Denver, CO - Comfort Dental Amphitheater
15 - San Antonio, TX - AT&T; Center
16 - Pharr, TX - Pharr Events Center (Coheed And Cambria headline show)
17 - Dallas, TX - Gexa Energy Pavilion
18 - Houston, TX - Woodlands Pavillion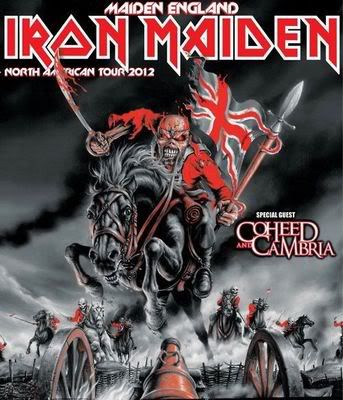 August
24 - Reading, England - Reading Festival
25 - Leeds, England - Leeds Festival
September
13 - Kingston, NY - Ulster Performing Arts Center*
15 - Chicago, IL - Riot Fest Chicago
16 - Charlotte, NC - WEND Wienie Roast
19 - Buffalo, NY - Town Hall*
20 - Toronto, ON - Mod Club*
21 - Rochester, NY - Water Street*
22 - Albany, NY - Hart Theater at The Egg*
24 - Syracuse, NY - Wescott Theater*
25 - Burlington, VT - Higher Ground*
26 - Hartford, CT Webster Theater*
28 - Worcester, MA - Palladium**
29 - Atlantic City, NJ - House of Blues**
* with 3
** with 3 and Deerhunter
October
31 - Hamburg, Germany - Grunspan
November
1 - Dortmund, Germany - Visions Westend Festival
2 - Utrecht, Netherlands - Tivoli
4 - Brussels, Belgium - VK Club
5 - Paris, France - La Fleche D'Or
8 - London, England - Koko
9 - Glasgow, Scotland - ABC
11 - Birmingham, England - Academy
12 - Manchester, England - Ritz Ballroom
More on Coheed And Cambria at this location.