CRIMSON GLORY's Jon Drenning And Wife Welcome First Child
May 8, 2012, 6 years ago
CRIMSON GLORY lead guitarist Jon Drenning and his wife, singer/songwriter Danae Saree, are very proud to announce the birth of their first child: a son, Jet Michael Drenning, aka Rocket Man.
Jumbo Jet touched down at Sarasota Memorial Hospital on April 19th, 2012 at (ironically) 7:47am, weighing in at an impressive 9 lbs 6oz and measuring 22 1/4" in length.
Two weeks later, after settling back in at home with the aide and love of first-time grandmother, Linda Abell, an adopted daughter, Arielle, the proud parents had this to say: "We're all over the moon... so proud," says Danae. "Seeing this perfect, special little human for the first time and watching him take everything in is amazing. In a way, he experienced his own Transcendence, or maybe more like a Big Bang: his whole universe expanded in an instant, and he'll spend the rest of his life exploring it."
The couple had planned a home birth, but as Jet's April 6th due date came and went, it became clear that the plans were going to change.
"He continued to grow over the following two weeks," Danae says. "We transferred to the hospital to see if we could induce labor, but when nothing happened, we agreed that a Cesarean Section was the right choice."
"I looked into my wife's eyes the entire time," says Jon. "I gently stroked her hair and her face, and told her how proud I was of her, how beautiful she was, and how thankful I was. I knew she was scared, and I just kept telling her that soon our baby boy would be here and everything would be ok."
Prior to the birth, Jon requested that the Beatles' One album be played in the OR. "We love the Beatles and so many of their songs have significance for us, and we played many of them to Jet while he was still in the womb," Jon explains. "So, it only seemed fitting that those songs should have a role in his birth experience."
And the Beatles' song that was playing at the time of Jet's birth? 'All You Need Is Love...' "We didn't plan that," Jon says. "It was really kind of magical. Danae and I were singing to each other, the doctor and nurses were singing along; I think everyone had tears of joy in their eyes. It was a very electric, beautiful, emotional moment... just amazing... perfect."
"I walked confidently into the delivery room dressed in stage clothing, boots and all, ready to rock! It felt like I was getting ready for the biggest show of my life, Jon says. I ask wanted to be the first person to touch my son, and the doctor honored my request as best she could," Jon adds. "We heard a short, loud 'WAH!' and Danae asked me, 'Is that him... is that our son?' A few seconds later the doctor shouts out, 'Here's your little linebacker!', as she lifted him over the drape for us to see him for the first time. We looked up and here was this big, beautiful, bawling baby boy almost two feet long and with his eyes already open. I couldn't believe how big he was and I just stared in amazement. I thought he may start talking any second!" says Jon. "I briefly touched his legs, arms and stroked his head before they gently placed him on a nearby table."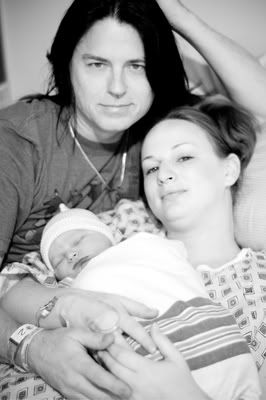 Jon stayed by the baby's side, holding his little hands as he was cleaned, weighed, measured, and taken to the recovery area. When Danae rejoined her family, Jon softly placed Jet on her chest. "I felt as though I had seen his face every day for a thousand years," Danae says. "Everything I had been through just melted away, totally forgotten."
During their stay in the hospital, the Drennings learned that their son was one the heaviest and the longest babies born that month, and the nurse who performed his head-to-toe screening noted him as being "an exceptional infant."
"Of course he's exceptional," Jon says, grinning ear-to-ear. "He's my son, Jet... the Rocket Man!" "Jon is so proud and has already started teaching him things and got him to learn to hold his binky all on his own within 48 hours. I've never seen a newborn do that," adds Danae.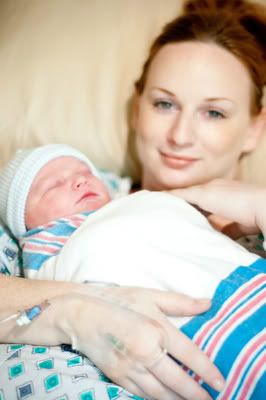 And what do the proud parents see down the road for the young Drenning? "We're all going to provide him with a very loving, stimulating, creative musical environment," says Jon. "Hopefully he will find the same joy in music and songwriting that myself, Danae, and Arielle have; maybe even become a big rockstar one day." Jon enthusiastically adds, "I also wouldn't mind seeing him off to play quarterback for a major football university like Florida, Stanford, USC, or Notre Dame."

They aren't the only ones speculating about Jet's bright future: "We have received tremendous love and support from our friends and fans around the world the past two weeks," the couple says. "We are blessed and thankful to each and every one of them." Adds Danae, "I plan to print and scrapbook every letter and comment we receive so our son Jet can look back when he's older and feel proud."
Back at home, Jet has traded in his small hangar in his mother ship for a larger, more accommodating Beatles' 'Yellow Submarine'/'Magical Mystery Tour' themed nursery, aka Mission Control.
The proud papa will have the next four months with his son and wife before Crimson Glory kick off the first of their Scandinavian tour dates in August.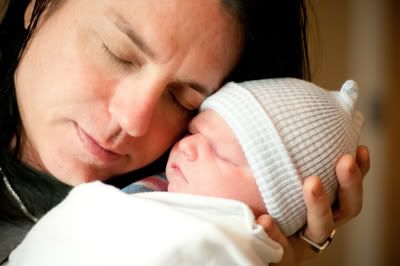 Crimson Glory are also currently in rehearsals, writing new songs their fifth album due out in late 2012 - early 2013.
(All photos by Amy McKinlay Photography)