FOO FIGHTERS' Dave Grohl Surprises KVELERTAK With Gold Record
July 1, 2011, 8 years ago
Norway's KVELERTAK was invited as special guests when FOO FIGHERS played at the Telenor Arena in front of 22,000 people in Oslo, on Friday, June 24th. After the show Indie Recordings and Dave Grohl surprised Kvelertak and presented them with the Norwegian Gold Record, for selling more than 15,000 copies in Norway of their self-titled debut album.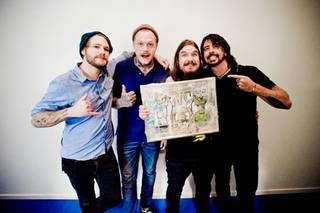 Kvelertak vocalist Erlend comments: "When we met living legend Dave Grohl we knew nothing. We were walking around with a huge package we thought we were going to give Dave Grohl. We thought it was the world's biggest chocolate. So when he suddenly told us to open the package, you can imagine our faces when it turned out to be a Gold Record! That's two things we never thought would happen right there!"
Almost one year to the day after their debut album was released (the album was released June 21st, 2010 in Norway) the Gold Record sums up what has been an amazing year for these hard-hitting Norwegians. They have received rave reviews from both mainstream and metal press all over the world, been praised for their energetic live shows, won the Statoil grant and 1,000,000 NOK, won the Best Newcomer and Best Rock categories at the 39th annual Spellemann awards (the Norwegian equivalent to the Grammy Awards) and much more.