LORD VICAR Complete Lineup For Hammer Of Doom VI Festival
September 19, 2011, 7 years ago
LORD VICAR compete the lineup for the Hammer Of Doom VI festival, scheduled for October 28th - 29th in Würzburg, Germany at Posthalle.
Acts scheduled to appear now include:
Friday, October 28th - MANILLA ROAD, DOOMSWORD, BATTLEROAR, MOUNTAIN THRONE.
Saturday, October 29th - THE DEVILS BLOOD, YET SO FAR, LORD VICAR, BLOOD CEREMONY, FORSAKEN, ORCHID, 11TH HOUR, NOMAD SON, DEVIL, SEAMOUNT.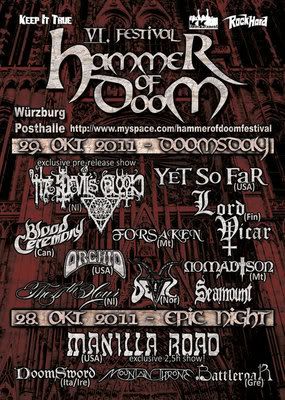 Further festival details at this location.