OBSESSION - New Album Complete, New Promo Photo Unveiled
February 6, 2012, 7 years ago
Veteran US-bashers OBSESSION, featuring vocalist Michael Vescera (ANIMETAL USA, ex-LOUDNESS) have completed their new album, Order Of Chaos. A label deal is in place and a release date is expected to be announced soon.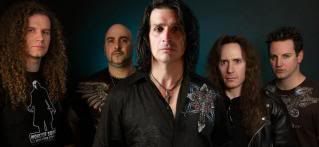 (Chris McCarvill, John Bruno, Michael Vescera, BJ Zampa, Scott Boland)
Vescera recently spoke with BW&BK; scribe Carl Begai about the forthcoming album:
"It's a cross between Carnival Of Lies and the early Obsession stuff. I think it's geared more towards the older sound, the straightforward metal like the Marshall Law album ('84), but you can hear some of the Carnival sound in there, too."
Animetal USA is Vescera's bread-and-butter for the time being, which is a no-brainer given that he's sharing the spotlight and the stage with Impellitteri guitarist Chris Impellitteri, Whitesnake / ex-Ozzy Osbourne bassist Rudy Sarzo, and Judas Priest drummer Scott Travis. He insists, however, that he'll be able to give Obsession the time and energy they deserve when the time comes.
"When we signed the deal for Animetal USA they told us that they want us to do other things," Vescera reveals. "We weren't being locked into only doing Animetal USA, but at the same time they wanted it to be a priority so that when they need us we'll be there. They're really cool with it, so if I tell them I have something else going on they're fine with it. There's plenty of time for me to do the Obsession thing, so that's how I'm going to keep it."
Click here for the complete interiew. For Obsession information and updates go to www.theobsession.net.