SAXON Announce Official Call To Arms Release Dates
May 20, 2011, 8 years ago
SAXON will release their brand new studio album, Call To Arms, via Militia Guard Music, UDR and EMI on the following dates:
June 3rd - Germany, Austria, Switzerland, Spain, The Netherlands, Belgium, Sweden, Norway
June 6th - UK, Finland, Denmark
June 8th - Greece, Poland
June 10th - France
The tracklisting is as follows:
'Hammer Of The Gods'
'Back In 79'
'Surviving Against The Odds'
'Mists Of Avalon'
'Call To Arms'
'Chasing The Bullet'
'Afterburner'
'When Doomsday Comes (Hybrid Theory)'
'No Rest For The Wicked'
'Ballad Of The Working Man'
'Call To Arms' (Orchestral version)
Saxon have announced a show at the Last Day Saloon in Santa Rosa, CA on September 29th.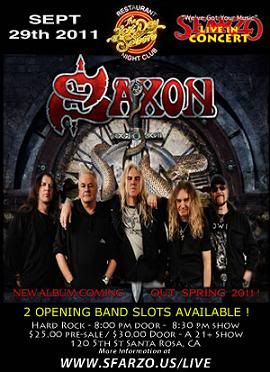 Doors open at 7:30 PM. Pre-sale tickets are on sale for $25 dollars and day of show tickets are $30 dollars. Purchase tickets here or at this location.
Saxon's Call To Arms World Tour 2011 currently includes the following dates:
May
15 - Cologne, Germany - Live Music Hall *
16 - Luxembourg, Luxembourg - Den Atelier *
17 - Antwerp, Belgium - Trix *
18 - Saarbrucken, Germany - Garage *
20 - Osnabruck, Germany - Halle Gartlage *
21 - Pratteln, Switzerland - Z7 *
22 - Milan, Italy - Alcatraz *
24 - Treviso, Italy - New Age *
25 - Stuttgart, Germany - Longhorn *
26 - Nurnberg, Germany - Lowensaal *
28 - Dessau, Germany - Metalfest Open Air
29 - Mining, Austria - Metalfest Open Air
30 - Ljubljana, Slovenia - KS *
31 - Bologna, Italy - Estragon *
June
1 - Munich, Germany - Backstage *
3 - Budapest, Hungary - Metalfest Open Air
4 - Plzen, Switzerland - Metalfest Open Air
5 - Berlin, Germany - Postbahnhof *
8 - Hamburg, Germany - Markthalle *
9 - Sölvesborg, Sweden - Sweden Rock Festival
10 - Eteläpuisto, Finland - Sauna Open Air
* with VANDERBUYST, CRIMES OF PASSION