SVEN GALI Guitarist Dee Cernile Loses Battle With Cancer
February 25, 2012, 7 years ago
Dee Cernile, guitarist for Canadian bashers SVEN GALI, was diagnosed with cancer in 2009 and, sadly, passed away this morning (February 25th). The following message has been posted on his official Facebook page:
"After such a courageous journey, two days ago Dee told us that he had nothing more to do here and he wanted to pass away to do what he needed to do elsewhere. This morning Dee got his wish and took his last breath. He went so very peacefully with love surrounding him and his hand held. He is now resting in peace. His family would like to thank everyone for all of your love and support."
The BW&BK; crew sends our condolences to Dee's family and friends.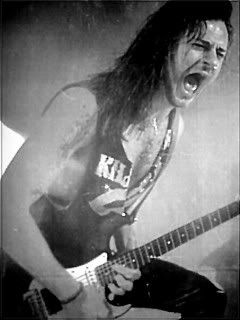 Following is a verse written by Cernile and posted on his official Facebook page:
"It has occurred to me that the days of life are a forgetful mistress.
In my youth I would dance with her night after night with little thought of her being missed by the likes of me.
Time would be the one missing my robust ways and seemingly endless days.
Time would wonder where I am, where I've been and what other forces I've been with.
But today I found an envelope addressed, stamped and dated.
My, the hours fly by, and as wisdom would have it, I discover that my mistress, Time, has been dancing all along. I just didn't see her!
So on behalf of my forgetful mistress, Time, and my forgetful self, please accept this delayed message to you, and consider yourself remembered."

On August 11, 2007, Sven Gali reunited and played live for the first time in over 11 years at The Moose N Goose in Thorold, Ontario. Rob MacEachern returned on drums as a member. The concert was recorded and is planned to be released on DVD in the future
Two benefit concerts were held for Cernile on August 1st and August 7th, 2009. Originally, it was not known if Cernile would be able to play, so his brother Walter was tapped to fill in if need be. Cernile did play guitar on both nights. Former SLASH PUPPET frontman Mif contacted BW&BK; exclusively after the gig with a brief overview of the Toronto show:
"Went to the Sven Gali show at the Sound Academy the other night to watch Dee rock out. I gotta tell ya, if I didn't know any better I wouldn't know that there was anything wrong with the fucking guy. He was shredding all fucking night."
Footage of Cernile playing a Sven Gali reunion show in Thorold, Ontario in 2011 is available below: