TESTAMENT Guitarist To Sit In With STRATOSPHEERIUS
May 21, 2012, 7 years ago
TESTAMENT guitarist ALEX SKOLNICK will be sitting in with STRATOSPHEERIUS during their CD Release Party at The Shrine in NYC on May 24th.
Stratospheerius are a NYC-based, hard-to-categorize band that combine progressive rock, jazz fusion, and jam-band styles and have been around since 2001. They are led by vocalist/electric violinist Joe Deninzon. Alex Skolnick was the guitarist in the band on their 2002 release Adventures Of Stratospheerius, and also appeared on their Live Wires live CD.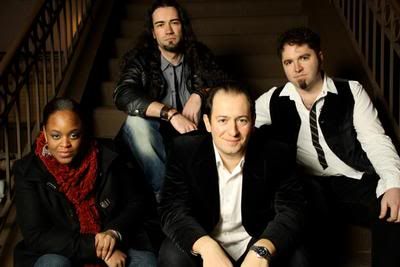 The current guitarist is frenchman Aurelian Budynek (DAREDEVIL SQUADRON). Other current members are bass player Jamie Bishop and long-time drummer Lucianna Padmore.
On May 24th, Stratospheerius will be celebrating the release of their fifth album, The Next World..., issued on STEVE VAI's Digital Nations.
Stratospheerius will play the entire new album, plus some of their past catalogue. Alex Skolnick will sit in with the band for a song or two; admission is free and the show will be videotaped.
Recent video of Startospheerius playing 'The Prism' from their new album can be seen below:
Visit the official Stratospheerius Facebook page for further details.