TORTURE DIVISION Confirmed For Eindhoven Metal Meeting
September 1, 2011, 7 years ago
Sweden's TORTURE DIVISION are confirmed for this year's edition of the Eindhoven Metal Meeting, set to take place December 16th - 17th at the Effenaar in Eindhoven, The Netherlands.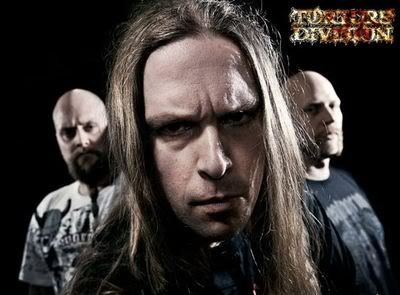 Says the band: "Yes, we are extremely happy to announce that we will play this great festival at December 17th. We wanna thank all of our support bands (MORBID ANGEL, EXODUS, DESTRUCTION, etc.) in advance. This is our first real trip abroad (we played Norway once, but that's like next door to us) with Torture Division, and to say we are jacked the fucked up for this event is an understatement. We are not featured on the posters just yet, but that will be rectified in the future we've been told.
Enter their site, buy a ticket and come hang with us. And yes – you can buy us beer too. We are so looking forward to bring the world's best death metal to Holland and meet you all."
Acts on the bill for Eindhoven Metal Meeting currently include: MORBID ANGEL, SEPULTURA, EXODUS, HEAVEN SHALL BURN, KATATONIA, KATAKLYSM, DESTRUCTION, TRIPTYKON, ASPHYX, GOD DETHRONED, TORTURE DIVISION, TANKARD, NIFELHEIM, HEATHEN, HEIDEVOLK, DESASTER, DISABUSE, THE ROTTED, ADEPT, MILKING THE GOATMACHINE, MAR DE GRISES, VALKYRJA, BALFOR, CRIPPER, SEMARGL, STORMRIDER, SATURNIAN, ARARATH, DAWN OF DISEASE.

Further festival details at this location.