TRIUMPH Bassist Mike Levine Looks Back At Allied Forces And 'Magic Power' - "We Went From 90% Male At Our Concerts To 60-40 Guys To Girls, Because Where The Girls Go The Guys Will Follow"
September 29, 2011, 9 years ago
Mike Levine, bassist for Canadian rock legends TRIUMPH, is featured in a new interview with Jeb Wright at Classic Rock Revisited discussing the 30th Anniversary of the Allied Forces album. An excerpt is available below: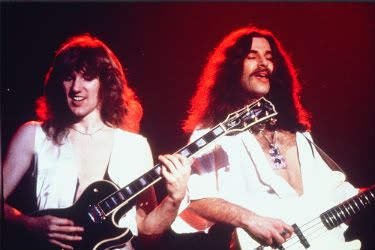 Jeb: Allied Forces really skyrocketed the band into new popularity. I loved Just a Game and I liked the next album, Progression of Power, but a lot of other people did not like that one. I will admit it was not as good as the bookends on each side of it. I would guess Progressions of Power did not sell as well.
Mike: "That album could have been a career killer. I love the album but it was not what it should have been. We had no time to make that record and that was the problem. We were told we had to have an album out by such and such a date or else. The quality was just okay and the songs were just okay. The best song was 'I Live For The Weekend'. The others were okay tunes but it just didn't come out the way it should have. Allied Forces was the one that brought it home. We got to make that album at our own studio, Metalworks. The only thing we had to worry about was the delivery date."
Jeb: You guys must have been under a lot of pressure to deliver a hit.
Mike: "We were under big pressure. The University of Toronto has an archive of Triumph material, as we donated all of our stuff to the University. I was looking for the tapes for Allied Forces for the 30th anniversary, limited edition, vinyl version we are putting out. We sent an entire semi of stuff to the University, and while it was all boxed up and fairly documented, it still took a lot of searching to find the tapes. In looking for the tapes, I found all of these threatening letters from the record company saying we needed to do this, or do that, and I was sitting there reading these letters, after all these years, and I was getting pretty pissed off about it. I had to stop reading them."
Jeb: When Rik brought in 'Magic Power' did you know you had that hit you were looking for?
Mike: "No, that was a work in progress. We recorded that song four or five times. It was too poppy, so to speak. It had the Triumph signatures in it but not enough of them. We tried to find a good drum beat for it and we were trying to make it heavier; we were really struggling. Finally, somebody said, 'If we were THE WHO, how would we record this song?' The Who had a lot of pop hits but you still knew it was The Who. We knew we had to find a way to record this song and not make it so sappy and have it still be Triumph. It was a great song but we were just not doing it right. We Triumph-ized it and we slugged our way through it. One day, the magic was there and I was like, 'That's the one.'"
Jeb: Did you notice more girls in the audience that tour because of that song?
Mike: "Are you kidding? That song brought more women to our concerts. It brought more guys too, because where the girls go, the guys will follow. We went from 90% male at our concerts to 60-40 guys to girls. MTV helped with that song as well."
Click here for the complete interview.
Allied Forces, was the album where it all came together for these Canadian prog-metallists – great compositions, great performances, and great album design… back when album designs mattered. And now, fans will be able to take a highly welcomed trip down memory lane, as Allied Forces was reissued as a 30th Anniversary Vinyl Edition on Tuesday, September 22nd.
The album's original tracks are from the actual EQ'd masters (as prepared by the legendary Bob Ludwig), while the packaging itself will exactly mirror the original '81 vinyl version (including the four-color, UV coated inner sleeve, complete with photos, lyrics and credits). The record itself is pressed on pristine 180 gram vinyl, which also includes a download card, so fans can download this rock n' roll classic, as well as a free video, directly to their digital player.
TML Entertainment released the album, distributed by ADA in the US and UMG in Canada. The LP is manufactured by Rainbo Records in Los Angeles, the premier replicator of vinyl in North America.
Allied Forces spawned two of Triumph's most beloved and enduring arena rock anthems -'Magic Power' and 'Fight The Good Fight'. Produced by the group themselves (vocalist/guitarist Rik Emmett, bassist Michael Levine, and vocalist/drummer Gil Moore), the nine-track album was certified Platinum, and has gone on to sell an impressive 2.5 million copies worldwide.
"I am excited that the Allied Forces LP is being re-released," enthuses Levine. "Vinyl was always my favorite audio format, because it has really nice warmth and depth. Yet another reason to polish up the turntable and crank up the volume!"
Allied Forces tracklisting:
Side A:
'Fool for Your Love'
'Magic Power'
'Air Raid'
'Allied Forces'
'Hot Time (In This City Tonight)'
Side B:
'Fight the Good Fight'
'Ordinary Man'
'Petite Etude'
'Say Goodbye'
Allied Forces is Triumph's fifth studio album. It reached #23 on the Billboard chart, with the singles 'Magic Power' and 'Fight the Good Fight' landing at #8 and #18, respectively, on the Mainstream Rock chart of 1981.
A remastered CD wa released in 1985 on MCA, then again in 1995 on the band's TRC label, and for a third time in 2004 on the band's label, TML Entertainment (formerly TRC Records).