WHITESNAKE Guitarist Doug Aldrich On Forevermore - "I Think This Is A Very Diverse Album"
April 6, 2011, 8 years ago
Classic Rock Revisited has issued a new interview with WHITESNAKE guitarist Doug Aldrich (ex-DIO, HOUSE OF LORDS, HURRICANE), conducted by Jeb Wright. The following is an excerpt:
Q: You have to be very happy with the results of the new Whitesnake album, Forevermore. I really like this album and since I got the promotional copy I have not been able to stop playing it.
A: "Coming from you, that really means a lot. We had a great time making this record. It is a very simple process. There is not a lot of drama; it is very natural and organic. We just started with one song and if we got stuck, then we just moved on. When we came back to it, then we had a fresh perspective. I think this is a very diverse album."
Q: 'Love Will Set You Free' is a great Whitesnake song. There is a classic sound here. Do you try to write in the style of Whitesnake or is it a coincidence?
A: "It is not a coincidence, as David Coverdale has influenced me since I was thirteen-years-old. One time my mom dropped me off at my friend's house, I remember it because I had just gotten my first really good guitar, which was a Les Paul Gold top; I had little Peavey amp. My friend and I spent the day trying to figure out 'Mistreated'. That is when I first heard David. If somebody had said to me then, that I would be jamming with him now, then I would have said they were crazy.
When you're writing songs you can't plan anything, really. If you want to get the best out of yourself, then you just have to let it flow. I will say that there are flavors of Whitesnake on the album but there are other influences of both David's and mine. I can hear THE FACES, LED ZEPPELIN, THIN LIZZY and THE ALLMAN BROTHERS. David is a huge Allman Brothers fan and I think that is one of the main places he picked up on the twin lead guitars.
When David split from DEEP PURPLE, the most obvious thing for him to do would have been to do another band just like Deep Purple. David took a bold step and went more towards the blues and made something new. Through the years, there were bands like the Allmans, SLADE and Thin Lizzy that all had that groove to them; almost like an Ian Paice kind of groove. There are tips of the hat to all of those bands on the new record."
Read the complete interview at this location.
Forevermore, sold approximately 12,000 copies in the US in it's first week of release, entering the Billboard 200 chart at #49. The album landed at #61 on the Canadian Album chart.
The album was released via Frontiers Records on March 25th in Europe, and on March 29th in North America in four different configurations.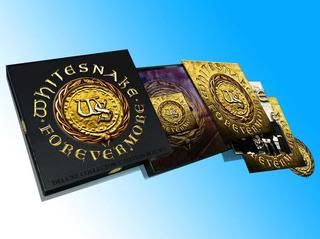 Forevermore is available as:
- a single CD
- a CD+DVD combo: the DVD features the 'Love Will Set You Free' video, the making of 'Love Will Set You Free' video, as well as a behind-the-scenes documentary on the recording of Forevermore; the CD includes three bonus tracks: 'Love Will Set You Free' (alt mix), 'My Evil Ways' (alt mix with drum solo) and 'Forevermore' (acoustic version)
- a 2LP gatefold sleeve
- a special edition box set which includes the CD, DVD, 2LP, as well as a cover litho, a poster and a logo sticker
Forevermore is specially released on a "Snake Pack" edition in the United Kingdom only. This very special release – arranged in conjunction with Future Publishing and Classic Rock magazine - comes with a collectors edition 132 pages deluxe magazine + A1 poster & metal pin badge and features exclusive cover art and 2 bonus live tracks, 'Slide It In' and 'Cheap An' Nasty', which serve as an appetizer for the forthcoming Live - Donington 1990.
Forevermore tracklisting:
'Steal Your Heart Away'
'All Out Of Luck'
'Love Will Set You Free'
'Easier Said Than Done'
'Tell Me How'
'I Need You (Shine A Light)'
'One Of These Days'
'Love And Treat Me Right'
'Dogs In The Street'
'Fare Thee Well'
'Whipping Boy Blues'
'My Evil Ways'
'Forevermore'
The first single from Forevermore, 'Love Will Set You Free', has been heating up at radio with serious spins at stations such as Planet Rock, Star FM, ARFM and Total Rock in the UK, Rock 'n Roll Radio (Italy), Radio Die Neue 107,7 (Germany), Radio 88,6 Vienna (Austria), Radio DRS3 (Switzerland), RNE/Radio 3 (Spain) and more.
The corresponding video, which can be seen below, received upwards of 230,000 views in its first two weeks. Directed by Devin DeHaven/Fortress Entertainment, the video was shot in Lake Tahoe, NV.