WITHIN DESTRUCTION - Debut Disc From The Depths Detailed
September 17, 2012, 6 years ago
Slovenian death metal act WITHIN DESTRUCTION has just released its debut album, From The Depths, through Austrian label Noisehead Records.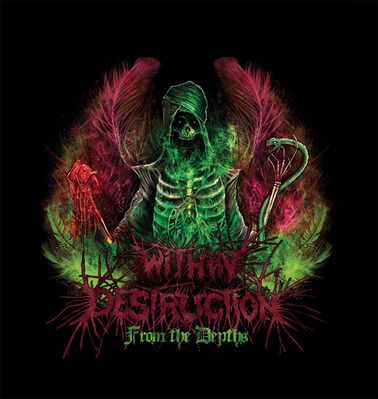 Within Destruction was formed in 2010 in Jesenice, Slovenia. Their music is a combination of death metal riffs, deathcore rhythm section, fast black metal melodies and blast beats. In 2011, they went into the studio and recorded their debut album, From The Depths, which features the following nine songs:
'King Of Serpents'
'Demise'
'This Misery'
'Cardiomyopathy'
'As I Drown'
'The Price Of Heresy'
'While She Was Dying'
'God Of The Soulless'
'Danse Macabre'
The band have scheduled a CD release party on October 18th at the Orto Bar in Ljubljana, Slovenia.
Within Destruction is:
Rok Rupnik – vocals
Ervin Besic – guitar
Matjaz Muhic – guitar
Tilen Simon - bass
Luka Vezzosi - drums
Check out the official video for 'Cardiomyopathy', as well as the audio of 'While She Was Dying' below: