ZZ TOP's Billy Gibbons - "Yes, 'I Gotsta Get Paid' Is Based On A Rap Song From The 1990's Called '25 Lighters'"
October 2, 2012, 6 years ago
ZZ TOP's Billy Gibbons - aka Reverend Willy G. - is featured in a new interview with Classic Rock Revisited founder Jeb Wright. An excerpt is available below:
Jeb: The album is out! You did it! For the last seven or so years I wondered if it was really going to happen. You not only got it out there…it kicks Texas sized ASS!
Rev. Willy G: "It's not as if we spent the last nine years (yes, that's how long it's been since Mescalero was released) doing this. We didn't really get around to writing, recording and such until about 2 or 3 years ago. We had a whole lot of touring to do: Argentina, Chile, Russia so we kind of concentrated on that for the most part but we're glad it's finally out there.
Jeb: I have some pointed questions later but lets go with the new album first and the new songs. 'I Gotsta Get Paid' is based on a Houston rapper's song…is that true? If rap sounded like this I would become a fan. How did it come to be?
Rev. Willy G: "Yes, it's based on a rap song from the 1990's entitled '25 Lighters' by Lil' Keke and Fat Pat. It was recorded at a Digital Services Recording in Houston and we worked there as well, so we got to know those guys and that song just stayed with us for all that time. It really stayed in our head for all that time while we figured out how to deconstruct it and transform it into a guitar-based, blues-infused rocker as you hear it on La Futura. That guitar breakdown is something of a tribute to the great Lightnin' Hopkins, another of our 'heroes of the Houston ghetto.'"
Jeb: Much of the album has an old school ZZ Top feel. Was that Willy G and the band or Rick's doing?
Rev. Willy G: "It's truly a collaboration. Rick's stated mission was not to reinvent ZZ Top but to give us a platform to be ourselves. He was very helpful but never pressured us which made the circumstance a truly enjoyable one."
Go to this location for the complete interview.
The first new studio album from ZZ Top in nine years is La Futura, set for release September 11 by American Recordings. The album harks back to the hallmark raw sound of the band's formative years and will, inevitably, be considered a return to form on multiple levels. La Futura, produced by Rick Rubin and Billy F Gibbons, the band's guitarist/singer, finds the legendary group infusing the newly recorded work with the electric blues/roots approach that typified ZZ Top's earliest work while, at the same time, reaching for new sonic horizons. At its fundament, this is the incarnation of the band whose influence resonates today with such artists as THE BLACK KEYS, JACK WHITE, QUEENS OF THE STONE AGE and many others.
Now celebrating their 42nd year with the same line-up, Gibbons along with bassist/vocalist Dusty Hill and drummer Frank Beard have come up with ten tracks that reflect the band's intuitive take on rock brought to new, sometimes surreal, plateaus. "We thought long and hard about what this album should be," commented Gibbons. "We wanted to recall the directness of our early stuff but not turn our backs on contemporary technology. The result of this melding of the past and the present is, of course, La Futura."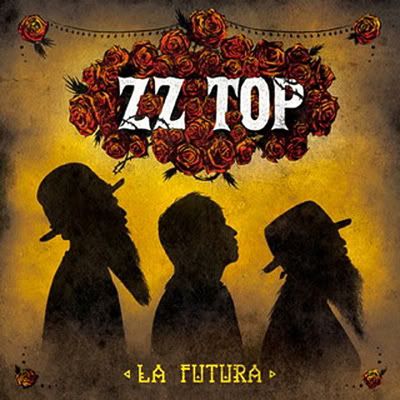 The fact that the new album's title is in Spanish is a nod to an early ZZ Top tradition manifested in the titles of some of the band's earliest albums including Tres Hombres, Fandango!, El Loco and Deguello. Known for decades by the sobriquet That Little Ol' Band From Texas, ZZ Top was inducted into the Rock and Roll Hall of Fame by Keith Richards in 2004 and has maintained a very active international and domestic touring schedule over the intervening years. They signed to American Recordings a few years ago and have been working on what would become La Futura in spurts since then. Last year they finally entered Foam Box Recordings in Houston, working full time to lay down the tracks that would comprise La Futura. Additional recording for the album took place at Shangri La Studios in Malibu, CA.
The four songs that kick off La Futura, 'I Gotsta Get Paid', 'Chartreuse', 'Consumption' and 'Over You' debuted last month as Texicali, a digital preview collection exclusively available from iTunes that achieved significant critical and sales success. 'I Gotsta Get Paid', performed by the band in video spots for the Jeremiah Weed line of beverages raised awareness of the song that was inspired by the 1990's underground Houston rap song '25 Lighters' by DJ DMD with LIL' KEKE and FAT PAT.
Also part of La Futura is, fittingly, 'Flyin' High'. The track made its interstellar debut when it was piped into the Soyuz spacecraft at the time of its launch to the International Space Station thirteen months ago. Before it was fully completed, the song was heard onboard at the request of NASA Astronaut Mike Fossum, a long-time ZZ Top fan and intimate who had caught wind of it in an earlier conversation with Dusty Hill.
La Futura also includes 'I Don't Wanna Lose, Lose, You' that has a real garage rock feel while 'Big Shiny Nine' is a double entendre tour de force. 'It's Too Easy Manana' is a down tempo lament, written by Gillian Welch and David Rawlings, whose chorus includes the lyric "it's too easy to feel good." 'Heartache In Blue' includes vocals shared by Gibbons and Hill and can be likened to country blues as reimagined for the 21st Century. The album closes with 'Have A Little Mercy', a down and dirty funky tune, complete with tempo shift, that should serve to underscore the ZZ Top motto that "you just can't lose with the blues."
ZZ Top is currently on an extensive tour of European concert halls and festivals that kicked off earlier this week at Moscow's Crocus Hall with other dates in Russia, Finland, Sweden, Denmark, Belgium, France, Switzerland and Norway. The band will embark on a string of U.S. dates thereafter, highlighted by a rare New York appearance at The Beacon Theatre the day after the release of La Futura. A major multi-tiered marketing campaign will coincide with the release of La Futura, bringing the good news that, at long last, there's a new ZZ Top album to the nation and the world.
La Futura tracklisting:
'I Gotsta Get Paid'
'Chartreuse'
'Consumption'
'Over You'
'Heartache in Blue'
'I Don't Wanna Lose, Lose, You'
'Flyin' High'
'It's Too Easy Manana'
'Big Shiny Nine'
'Have a Little Mercy'