BW&BK Exclusive: TIMO TOLKKI - The Road To SYMFONIA
November 8, 2010, 9 years ago
Former Stratovarius guitarist Timo Tolkki may be one of the most misunderstood personalities in metal. In the wake of band conflicts, publicity stunts, failed projects, label dust-ups and claims of mental illness spread over seven years, his once loyal fanbase has come to expect drama over music whenever his name surfaces in the press. News that his comeback band Revolution Renaissance, launched in 2008, had crumbled after only two years were met with an "I told you so" sense of dismissal more than heartfelt disappointment, and Tolkki's future outside of his immediate circle was regarded with an offhand interest reserved for tabloid fodder. Admittedly, BW&BK; had written Tolkki off after being informed he wasn't doing press for the new album, Trinity, unaware that he'd put the band to death two months before its official release. A week later, however, we received the unexpected offer from Tolkki himself for an exclusive interview; everything on the table, no questions barred. An intriguing offer but the question remained, why should we or anybody else care?
Tolkki gave a single five-part reason:
Timo Tolkki, Andre Matos, Jari Kainulainen, Mikko Harkin and Uli Kusch, collectively known as Symfonia.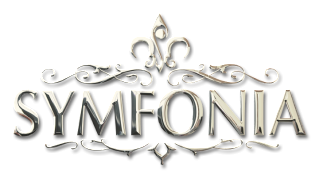 A new band and, on many levels, a new lease on life. The man credited as the creative force behind the Stratovarius success story has picked up the pieces of his life and, it seems, finally managed to put his career back on track. If the first taste of Symfonia material is any indication, his fanbase will have little difficulty forgiving and forgetting the poisonous drama of the last several years. There is the question, however, of how Tolkki's fans currently view him through a mountain of debris.
"I don't really know the answer to that," Tolkki admits. "Jens (Johansson / Stratovarius keyboardist) once told me, 'If you have to choose between boring and entertaining, be entertaining.' I guess I've been entertaining (laughs). It's like with Ozzy Osbourne; it's unintentional. I have a feeling that the North American fans think I'm completely nuts and Europeans might think that I'm weird (laughs). At the end of the day I am who I am, and that's the most important thing for me. When you're in the music business people will always say shit when they write about you, and you can't control that."
Understanding how Tolkki got back to business and essentially found himself again starts with his book, Loneliness Of A Thousand Years. Written in 2010 over a week, it describes his multi-facetted battle with manic depression and coming to terms with his father's suicide; a deep rooted trauma from childhood. He offers vivid descriptions of confronting the reality of mental illness, and reveals that he's finally able to cope with the day-to-day and feel like a human being.
"Yeah, I'm still on lithium and it acts as a buffer, so I don't become manic or extremely depressive but I still feel, whereas many modern anti-depressants can make you feel really weird. I know because I've taken them as well. I'm feeling very good. I've started to exercise after 10 years of not doing anything like that. I realized that I'm 44 year old and it's like, 'Fucking hell, it's been 10 years since I was out jogging.' My life is great."
At a mere 95 pages, the book has the innocent charm of a diary in spite of the heavy subject matter. No ghost writers, no attempts at polishing so as to sound like the next Stephen King or John Grisham.
"Which translates to: 'He can't write…' (laughs). It's not Shakespeare. I wrote the book last summer; I was completely alone and I wrote it in about a week. I can't say it was therapeutic because most of the stuff that's in it I'd processed already. It's just something I felt I needed to write."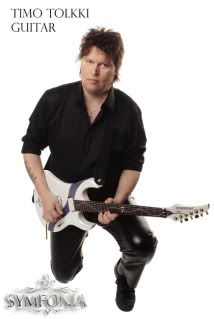 Interestingly, even though Stratovarius played a significant role in his life leading up to Tolkki's descent, he barely mentions the band.
"I mention Stratovarius three times in the book. The funny thing is I wrote another book about a year-and-a-half ago that completely slams my ex-bandmates. That's the book everybody wants to read but I decided not to publish it because I thought it was horrible to say those things. So, some people will complain that Stratovarius isn't in this book, but it's always the same. Whatever I do is wrong (laughs)."
Tolkki has no qualms, however, about addressing the questions surrounding his very public split from Stratovarius and when the bottom actually fell out for him.
"That was 2003. We completed the tour, and Elements Part 1 was the peak for Stratovarius as I know it. After that things started to go downhill. Our record label Sanctuary went bankrupt and the chemistry in the band got worse. The atmosphere was really poisoned, and it started to become clear that Stratovarius was just repeating the same formula over and over again. Plus I felt really disliked in the band, and it isn't easy for me to be in that position creatively. Whether I was really disliked or not I can't tell you for sure, but that's how it felt. I can even understand why the guys would have disliked me. This whole Stratovarius thing, though, people talk and talk about it, but we were together with the same line-up for 12 or 13 years. That's a very long time and we put out records almost every year. We worked really hard, and for me 13 years is a long time for a rock band."
"It was everything altogether," Tolkki says of the strife with the band. "Of course my mental condition was a very big factor, because when the band leader is in the hospital and the band is in the studio it's like 'What the hell?' I lost a lot of respect from those guys over those couple of years with all those stunts and everything."
The "stunts" in question included news in 2004 that Stratovarius vocalist Timo Kotipelto had been replaced by singer Katriina "Miss K" Wiiala, and Jörg Michael had been fired and replaced by HammerFall drummer Anders Johansson (Jens' brother). Additionally, Sanctuary Records issued a press release in March 2004 stating Tolkki had been stabbed by an "extremely agitated" fan in Granada, Spain. The following month, Tolkki was admitted to hospital for chronic depression.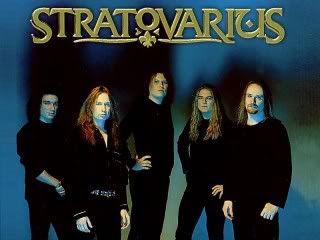 "I had a hard time believing that people believed it to begin with," says Tolkki. "It's nothing to laugh about, I know, and it was connected to my metal condition of course, but there were other people in the band that were in on it, too. The record company as well. Timo is a very moral guy so he was very much against it, but he didn't leave the band. Jörg was also really against it, and after a gig one time I actually saw him cry over the situation. I was at the height of my mania at the time, so basically that whole thing was a result of my illness. But then there's Jens, who is crazy, and it's very lonely out there (laughs) so he had the opportunity to feed ideas to the whole thing. Of course it backfired, and in my case it really became true and led to my collapse. I had to collapse, because the part of me that was responsible for those publicity stunts had to sort of die. The only thing true about that whole thing was that I really was in the hospital, but some people don't believe that either."
In spite of all this, Stratovarius reunited in 2005, with bassist Jari Kainulainen being the only casualty and subsequently replaced by Lauri Porra. They released a self-titled album that failed to impress the majority of the band's fanbase, but the band still embarked on a world tour in spite of Tolkki's delicate mental state at the time.
"It wasn't forced at all," Tolkki says of doing the tour, "but it was a difficult tour for me to do because I was on anti-psychotic medication. That was a heavy trip with the travelling we did. I like playing live and we had a record out so I wanted to go out and support it, but on the tour it became evident that there was something wrong. It led to me thinking about leaving the band. I just didn't feel good being there."
Asked if he remembers the moment when he knew he was done as Stratovarius' guitarist, Tolkki doesn't hesitate for a moment.
"That was at the Wacken Open Air in 2007. I was playing 'Last Night On Earth' and looking around, and I thought 'This is it, I don't want to do this anymore.' Four months after that I sent an email explaining in detail why I had decided to leave."
It wasn't a pleasant parting of ways, becoming a highly publicized exchange of heated press releases and mudslinging via the internet.
"That was something I shouldn't have done," Tolkki confesses. "It was stupid, but when you're angry you do all kinds of idiotic things. I don't think the guys in the band saw it coming, actually. I don't think they thought I'd really leave, but I had to. It wasn't because of my health, because I was getting better, but the emotions and communication in the band felt very strange to me. Stratovarius didn't feel alive to me anymore."
The final volley of back-and-forth slagging occurred in May 2008, with Tolkki giving up the Stratovarius name to his former bandmates. Now that the dust has settled he's able to take the situation as a positive development.
"I feel like they're still my buddies and I have no grudge against them. I really hope that they're happy and that they make the music that they love."
Which may sound rehearsed, but discussion of Kotipelto making open statements during the press junket for the Polaris album, about how Stratovarius is better without Tolkki, makes the guitarist laugh. In a good way.
"I think it's good that Timo talked shit because he never did before (laughs). Maybe it's a sign he's grown (laughs). I had small problems with him regarding that sort of thing because he was always so politically correct, so when I read something about him saying that Stratovarius has much more fun on stage now that I'm not with them, it's like 'Way to go, man…' (laughs). I don't doubt for a second that they do have more fun without me."
As for his replacement, the younger and musically volatile Matias Kupiainen, Tolkki disappoints any dramarazzi hanging around that are hoping for derogatory comments.
"Matias is a young guy and he stepped in to fill some big shoes, so I'm sure he was a bit scared on some level. He's a very good guitar player and he's way more technical than me, and I think he's a good composer as well. I think in a couple of years – maybe on their new album – we'll hear some pretty original stuff from him. All the guys in the band are very talented musicians and composers, so if they take the time to write the stuff they want to write rather than copying the Stratovarius formula they'll evolve into something really good. Not everyone wants them to evolve, of course, but I think they just have to keep on going and do what they want rather than listening to other people."
Pre and post Stratovarius chaos saw Tolkki take on a variety of projects including a rock opera, Saana: Warrior Of Light, and Return To Dreamspace – more to come on those outings – but Revolution Renaissance was Tolkki's attempt to get back in the game. Launched in 2008 with obscure and unknown musicians, the band lasted two years and three albums before fizzling out.
"It was just a band," Tolkki says. "You form a band, write some songs and see what happens, and nothing happened (laughs). The New Era (debut) record with Michael Kiske (ex-Helloween) and Tobias Sammet (Edguy / Avantasia) was more of a solo album than anything. After that I was thinking about whether I should start a band again. I had just turned 40 and was thinking I might be too old, that maybe I should open a flower store (laughs). I decided to give it a go and put an ad up on my MySpace page, and I got something like 2,000 mp3s as auditions. I chose some relatively unknown musicians, and Adagio singer Gus Monsanto."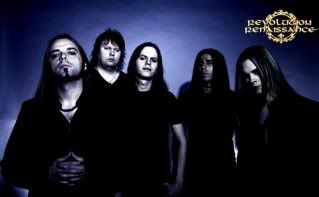 "Age Of Aquarius is a record that I'm really proud of," he continues. "It's the first album I've ever written songs with anybody else. I generally can't write with other people, but Aquarius was a team effort and it wasn't what people expected from me. They were expecting Stratovarius and it was nothing like that."
Tolkki's reasons for pulling the plug on Revolution Renaissance are quite simple:
"We tried to get gigs but nobody would book us. It was impossible. We were offered one tour supporting Sonata Arctica in Europe, which would have been really great, but it would have cost us around 50,000 euros. Not because of the Sonata guys, but because of the expenses like a tour bus. We couldn't do it because the label wouldn't give any tour support. I've been slagged about this as well, with people saying I didn't want to support Sonata Arctica, but that was totally untrue. I said yes to the tour, but what were we supposed to use to get around? A bike?"
"It was because the band was unknown. Maybe my name has some weight, but it's not enough to carry the whole band. These days, when the music industry is the way it is, people want big names on a tour. You had me, a new band, and the music was different, so it was sort of doomed from the beginning."
Things took an ugly turn in late October, with a message on the official Revolution Renaissance website referring to Tolkki as the "Milli Vanilli of heavy metal." A head- scratcher, and one that almost landed his former bandmates in a heap of legal trouble.
"It would be really easy for me to be really nasty, but when I saw that I told my lawyer to get them to take the page down. Basically, I would say it was the guys were disappointed by the failure of the band. I stopped it around May / June. It had been three years and no gigs, and the final straw was when no label in Japan wanted to release Trinity. I knew then that it was over. The whole record is very strange. We recorded the drums and vocals in Sao Paulo, Brazil, and it was a pretty comical accusation by the co-producer that he played the guitar solos on the record. I've been accused of lots of things, but this is the first time anyone has accused me of getting someone to play my solos. I was once accused of performing live with my guitars on tape, but this has never happened before. They used it as a blackmail thing so they could get the Revolution Renaissance name – again with the name (laughs) – rather than coming to me and asking if they could use it. That would have been the right thing to do, but there's no way that'll happen now."
Tolkki has since left said fiasco behind, focusing all his energy on Symfonia. The band sees him working with former Angra / Shaman frontman Andre Matos, ex-Helloween / ex-Masterplan drummer Uli Kusch, ex-Sonata Arctica keyboardist Mikko Harkin, and reuniting with original Stratovarius bassist Jari Kainulainen.
"Everything with Symfonia has been very fast," Tolkki reveals. "I don't want to use the word 'pre-destined', but after Revolution Renaissance I said, 'That's it, I'm opening the flower store…' (laughs). It's a weird story. It all started with Andre Matos because someone told me that he's living in Sweden now, in a village of something like 2,000 people. He comes from Sao Paulo, a city of 25 million people. I began thinking about it, that I had one of the best power metal vocalists practically living next to me. I know the guy very well, and I had nothing to do. I gave him a call and asked if he wanted to write some music, and Andre came to visit me in Helsinki. He spent the week here, went to sauna – where I showed the Brazilian what 'hot' really means (laughs) – and we worked on some music."
"The next one was Jari. Everybody thinks he was fired from Stratovarius (in 2005) but he actually decided to leave on his own for personal reasons. He's living in Norway now. I never had problems with him because Jari has this kind of Buddhist philosophy, and I always told him that I wished I could be like him (laughs). After he left Evergrey (earlier this year) he was in another band, and the strange thing was he left that band on a Tuesday and I emailed him by chance on the Wednesday. I had no idea he didn't have a band. We talked for about three hours on the phone and I felt like I was in a time warp, because I hadn't seen him in five years. It really wasn't a big issue having him come on board."
"After I had Andre and Jari on board I went back and listened to my whole discography from beginning to end. I actually had to borrow the CD (laughs) because I didn't have any of them. I tried to get a picture of what I've done so far, and I came to the conclusion that I need to crystallize what I'm all about. With these guys I can do that."
Kusch was invited to join Symfonia because, according to Tolkki, "I thought I should aim really high." The fact Kusch had moved from his native Germany to Norway a couple years ago sealed the deal. Harkin was last to join, convinced to take part based on previous tour experience with Tolkki and Stratovarius in 1999 and the rest of the musicians involved. And while Tolkki is the band "leader" he makes it clear that he isn't playing dictator nor is he using Symfonia as his ego trip.
"In this band I have guys like Andre and Uli, and they can write some amazing stuff, so the principle is the same as it was in Stratovarius. Anyone can bring in the song but there has to be somebody that decides whether it fits or not. Of course, when I've got someone like Andre Matos who is a classically trained guy, I can't just ignore what he's bringing to me."
Meaning he doesn't have an iron fist on the creative process even though the music, as far as we've heard, has an instantly recognizable Stratovarian sound.
"It was never like that, not even in Stratovarius," Tolkki says of the creative dictatorship claims. "I never said 'Play this.' When I compose a song it was more of a framework, and when I make the demos they sound horrible. They're so basic and so crude, if you were to hear them you would laugh. I'd give my demos to the Stratovarius guys and I swear to God, every single record I made, the reaction was the same: 'What the fuck is this?' Every time (laughs). Musicians have a tendency to fall in love with the demo versions because they learn the patterns and everything from them, which is why I try to make demos so minimalistic. They don't understand that because they don't hear what I already hear in my head. The Stratovarius guys had to contribute a lot, and it's the same for Symfonia. I'd like to have a collective kind of thing where people bring in stuff and we make the soup together. I believe the band should have a leader, but with that leadership comes responsibility."
At press time work on the Symfonia debut was underway. A release is planned for 2011, but when and how that happens is more or less up in the air at this point.
"We're signed in Japan already to Marquee Avalon and we're trying to figure out what to do for the rest of the world," Tolkki explains. "I'm very interested in the changes that are occurring in the music industry right now and all the tools that are available to bands. I think record companies might become extinct in the next five years, therefore to commit to a label that might not exist in a few years is something that I dread. I'm looking at different business models with the guys because there are many ways to do this."
"What's really important is to get out there and play; that side of it is actually more important. I'm really looking forward to getting back out there. I've been away far too long."
It's fair to say Tolkki has come full circle. On a personal note, in spite of everything that's happened up to this point the Timo Tolkki I first met 15 years ago is alive and very well. A little banged up, somewhat subdued, certainly misunderstood, but fully prepared to take what life throws at him from here on out.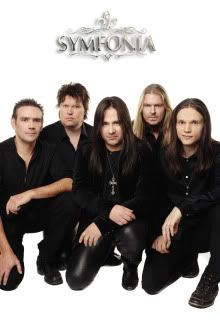 - Symfonia promo photos by Jussi Eerola
- live photo by Carl Begai
-
www.symfonia.fi