DORO PESCH Says She's Acquired Rights To WARLOCK Name - Full Band Reunion "Impossible"
September 28, 2011, 9 years ago
Metal maven DORO PESCH is celebrating her years in metal with the stunning new 25 Years in Rock (And Still Going Strong) CD/DVD set. Recorded at the ISS Dome in Dusseldorf, Germany, it captures the energy of the performance and the essence of the true Metal Queen. Doro called in to BraveWords.com to offer her thoughts on her raise to metal royalty.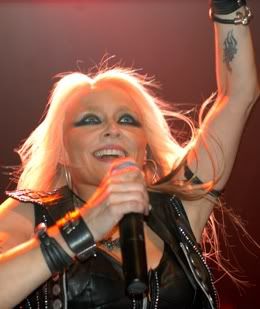 BraveWords.com: You live in the Tri-state area. What happened to you during Hurricane Irene?
Doro: "I live on Long Island and it was pretty bad. It was a little beach house and now it's totally gone. It got flattened and all my stuff got ruined. I can't stay there anymore. It's pretty bad."
BraveWords.com: After that happened, did you think about canceling your upcoming tour dates?
Doro: "No. For me, the most important thing is to tour. Everything else is second or third. I would never cancel a tour and everybody knows that about me. I'm so excited to place in places like Chicago, Philadelphia and New York. It takes my mind off the situation in Long Island. Something much worse would have to happen to have me cancel."
BraveWords.com: You'd had Mark Tornillo (ACCEPT) sing with you. In the past you did the song 'Dancing With Angels' with U.D.O. How do you compare the two?
Doro: "I love Accept and I love Udo too. I think both bands have a great thing going. They have great songs, great sound and great performance. I've been best friends with Udo for such a long time. I saw Accept at BB King's in New York with Mark and I thought he did great job. Wolf Hoffman is my favorite guitar player of all time. He's so amazing. I was blown away and I was so happy to see him live again. I grew up with Accept and I'm so happy that they're doing it again."
BraveWords.com: 25 Years In Rock (And Still Going Strong)...
Doro: "It's a double DVD and live CD. It took one year to prepare the show and nine months to prepare the Warlock. I'm so happy that it's finally coming out here (Canada/US). There are always so many obstacles to overcome so I'm so happy that it's out. I would love to tour in the States much much more, but it's not so easy. I love the States. I'm my heart I'm an American... with an accent."
BraveWords.com: Will you ever do WARLOCK reunion show?
Doro: "I'm so happy because I finally got the rights to the name back. It took so many years and I don't want to get into it, but our former manager had taken the name. It was an ongoing thing and finally I got the name back. It was a lot of lawyers and courts. It was a tragedy. He wanted the name because of the merchandise. We sold tons of t-shirts. Warlock merch was one of the biggest sellers back in the day, but our former bass player was so frustrated that he gave up playing music altogether. On our 20th anniversary, I convinced him to do something with us and we did one show at Wacken, but after that he said he never wanted to play bass anymore. He doesn't want to do music anymore which I can't understand, so the original band would be impossible to get back."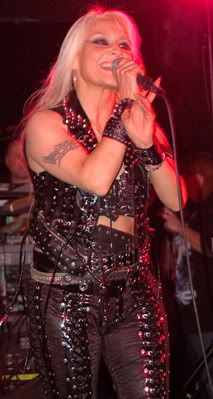 BraveWords.com: Would you want to go as as Warlock even if it's not all the originals? A lot of bands do it (KISS, CHEAP TRICK, BON JOVI, SCORPIONS, WHITESNAKE)
Doro: "That's a tough call. I don't want to say no, but we have such a great thing going with the band that I have now. Nick Douglas (my bass player) has been in the band for 21 years. I appreciate that so much. Many people are divorced three times in that time, but he's always been there. My drummer Johnny Dee joined the band in 1993. I wouldn't want to destroy that. We all live off of that. We tour for seven or eight months a year and I don't want to take away their foundation. We always been a great team. We've been through up and downs together, so I wouldn't want to mess around with that."
BraveWords.com: You survived over twenty-five years in the business. How'd you do it?
Doro: "My key is the fans. It's always been the fans. I love the fans more than anything else. That's the reason why I never settled down. I'm not married and I don't have any kids. To me, metal and the fans mean everything. I'm totally dedicated to it and every year this love and appreciation grows even more. I love it so much and I'm grateful for the fans. My heart is definitely with the fans."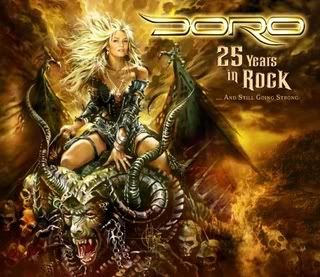 (Live photos by Mark Gromen)