DREAM THEATER - Awakenings
June 13, 2011, 8 years ago
Portnoy is out. Mangini is in. Deal with it.
Not to dumb down the situation – drummer Mike Portnoy's departure from Dream Theater is as shocking an event as Rob Halford ditching Judas Priest and Bruce Dickinson leaving Iron Maiden – but it's been almost 10 months since he opted to call it quits due to a nasty case of burnout. The internet babble over the hows and whys of his decision continue unabated, there's plenty of discussion about his replacement, Mike Mangini, and whether or not he's good enough for the castle that Portnoy built, but the reality is that the band has moved on. Bottom line: the fans should face front and prepare themselves for a bold new chapter in the Dream Theater legacy rather than look back.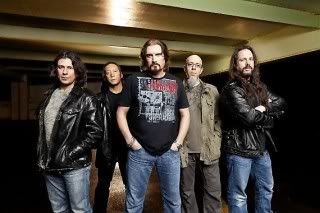 "We'd like to move on to greener pastures," vocalist James LaBrie says of having to rehash the Portnoy story interview after interview, even though he accepts this need to know from the people he comes in contact with. "Let me put it this way; the band is in a very positive light right now, we're all mutually involved in the music, we're all really receptive to one another, so there a really big and open communication going on. It's probably the closest that a band possibly get to a democracy. Rock n' roll bands are generally dysfunctional democracies (laughs) but this does tend to work and it's proven itself."
LaBrie does address the issue of Portnoy wanting to put the band on a lengthy hiatus in order to get his mojo back, and the refusal to do so that led to the drum legend's unprecedented departure.
"To be honest with you, when it all did go down, we didn't see it coming. But now in retrospect, when we look back at the tour we did with Iron Maiden and the last shows we did, we can kind of see it. There was a lot of thought and apprehension as to where Mike wanted to go with the band, and how much further along he wanted to go with the band at this particular point in his life. There weren't any telltale signs to say that he was miserable and not into it, but it was undeniable for us that there was nothing else to do but continue. We weren't ready to sit back and take a break, we weren't ready to say 'Let's do other things for the next three to five years.' Mike was hinting at a hiatus of that length and we were like, 'No. We're coming off a great tour, the album did really well for us even in today's, no way.'"
Portnoy was never "just" the drummer in Dream Theater. As one of the founding members he was a major creative force, and as the band's popularity grew, the filter through which most if not all aspects of Dream Theater's development passed. It stands to reason that the band's creative dynamics have changed considerably without him in the mix.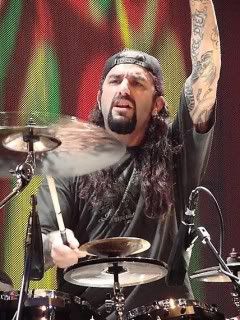 "Mike was involved in a lot of aspects of the band," confirms LaBrie. "If you look at how he orchestrated the DVDs, things with the label, the tours and the setlists we presented every night, and wanting to have the whole visual thing come across to the audience. Truth be known, though, two of the main writers are still in the band; John Petrucci and Jordan Rudess, who are both monsters when it comes to the creative end of things. That dynamic has always been extremely powerful. John Myung (bass) also contributed to the music on this album much more than he has in quite some time, and that's because of the how the dynamic changed in the band. So, was Mike involved? Absolutely. Has the dynamic changed? Yes, in the sense that he wasn't there when we were making the new album. In the past he would be a presence, so to speak, he would be very verbal and involved, whereas this time it was basically the four of us in there."
"Mike Mangini wasn't with us yet, so it was the four of us being able to sit around and really sink into ideas, and not feel pressured in any way to move on and get to the next idea. Everything kind of unfolded and everyone let things develop in a very relaxed atmosphere. As intense as it might have been, it was extremely relaxed. It definitely worked, and I think that'll be very clear when people hear the new album. The Dream Theater identity, it's undeniable that it's still very much intact."
LaBrie isn't one for trash-talking, but hearing him discuss this change of atmosphere opens up questions about just how much of a death grip Portnoy had on the Dream Theater formula. He certainly sounds like a control freak…
"That's just his personality. He's OCD, so he likes to have things a certain way (laughs). He's also opinionated and strong-headed, so it comes with the territory with people that have that kind of personality. They want to be in charge, they want things to be done their way because they have a clear vision of what they want. That was absolutely a part of Dream Theater, but now people also have to realize that there are five extremely capable individuals that are able to contribute creatively. I'm not talking about just musically, I'm talking about the whole. How do we want to present ourselves visually on the next tour? What are the setlists going to be like? The involvement of Mike Mangini, who is just phenomenal; I can't wait for people to hear what he did on this album."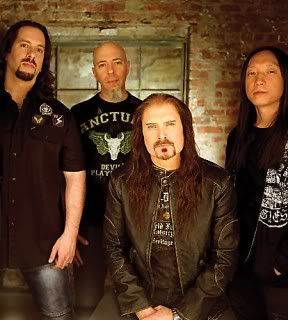 "We've come up with some frickin' incredible stuff, and I think the fans are going to be freaked out when they hear it. The fact is, Mike was great at what he did – his vision was well put into plan – but now you have five people that are constantly shooting ideas back and forth. It's more of a unified contribution with regards to how we're going to come off. On a creative end we're all more involved, and that continues with every other little aspect of this band. We feel that if we're going to do this, if this is a new chapter, we all need to be completely on the same page and very unified. It just makes for a stronger front."
Slipping into this new groove, says LaBrie, proved to be far easier than one might expect of a band that's lost a core member.
"In a way, Mike leaving really did show us that there is another side to Dream Theater that maybe we never would have discovered if something like this hadn't gone down. It's really opened up a whole new avenue, with us realizing some of our wants and needs and having some of out opinions being fulfilled. If this hadn't happened we wouldn't have known all this potential is here."
Word has it, however, that Portnoy did in fact change his mind and asked to come back to the fold a few months later. According to LaBrie there wasn't much soul searching on the band's part; they refused his "offer" and locked the door.
"How it actually went down was that in early November 2010, Mike had contacted us about the possibility of looking at the situation again because he wanted to come back. At that point we'd already auditioned the seven drummers and made the documentary of the process. We'd already decided who our new drummer was going to be, but we didn't let the world know because of all the logistics involved in making the documentary and keeping it exciting in the way it would unfold. We'd already let Mike Mangini know he was in the band and we weren't about to go back on that. Mike Portnoy was saying 'I don't want to have anything to do with the band at this point, my heart's not in it…' and then 10 weeks later saying he was interested again. It just didn't feel right, it didn't strike a good chord with us. We'd already taken on somebody we knew was unbelievably committed to what was going on and where we wanted to go, so it would have been an insult to Mike Mangini to suddenly change our minds. The game was well into play and we weren't about to change it."
Asked to describe the new album, which is due to surface in September as the aptly titled A Dramatic Turn Of Events, LaBrie feels the new energy in the band has turned out a record that will be embraced wholeheartedly by the fans.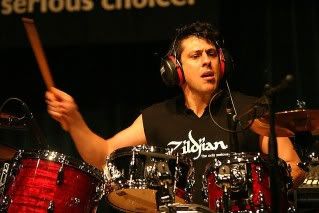 "It all comes down to what the listener interprets. To me it's a classic album of great progressive moments. I think we've really gone back to some of our classic glory, and at the same tine there's still some of that progressive metal Dream Theater in there, but in a more controlled and less bombastic sense. It's harnessed in a more complimentary direction that maybe Scenes From A Memory or Images And Words was. Progressive, but with those heavy elements in there, and not having one side overshadow the other. Melodically, the new album has come up to a whole new level; I was involved from beginning to end with the melodies. It's extremely well balanced, and there's some unbelievable interaction going on instrumentally on this album."
"John Petrucci (guitars) produced the album and he's been unbelievably committed to this. He's put so much time into the album and he's had a pretty clear vision of how he wanted it to unfold. When we were recording he did the drum programming, and some of the stuff he was coming up with was insane (laughs). It was great. We'd send the songs in completed form with the drum programming to Mike Mangini, he would take it and figure out what worked for him and where he wanted to put in some of himself. When he was laying down the drums, trust me, Mangini is all over this album. He was absolutely phenomenal."
"I've worked with him on three albums already, so my jaw had already hit the floor several times before he came in to do this one (laughs). And the other guys were doing the exact same thing when they saw him play for this album."
As for Mangini putting his signature on the band's older material – the biggest concern amongst diehard Portnoy supporters – LaBrie admits it's still a question mark. Chances that the fans will be disappointed are slim to none.
"Aside from the auditions, where we did three songs, I haven't heard him do any of the old stuff," LaBrie reveals. "He knows there are certain sections of various songs when he has to stick to the mold, and he knows when he can be himself. Mike Mangini is very intuitive and incredibly musical, and he's made it clear that he's going to be putting some of himself into the old songs, but when the sections or the pieces really call for him to stay on the MP train, he'll do so. That's admirable and that's professional."