FOZZY - Storming The Beaches Of Europe
June 12, 2011, 6 years ago
With wrestling legend Chris Jericho tentatively retired from the demanding physical toll that career can take on the body, he's flung himself close to full-time into his metal act, Fozzy, of which he shares helmsmanship with Rich Ward, of STUCK MOJO fame. The band recently played Toronto and scattered additional Canadian dates, in support of their blistering post-power metal stormer, Chasing The Grail, the band's second album of all-original material, a record at times thrash with classic vocals, at times prog metal with pounding rhythms, a record that defies category and crucially deserves a second look. Pre-gig on a sunny Toronto afternoon, Ward sat down to clue us in on happenings in the Fozzy camp.
"We're off to Europe in three weeks," begins Rich, "and the tour is selling great. It's been one of those things for us, for a number of years, as we've talked about before. Fozzy has been at the mercy of Chris' wrestling schedule, and I've always worked my projects, other projects, outside projects, around Fozzy, because I recognize that with so much limited time to allocate to the band, you know, working with Chris being my kind of creative partner in the band, I've always prioritized it, realizing that if I don't prioritize it when he's available, it just won't happen. And so he's now been off wrestling for several months now, but I think he'll go back."
"It was strictly a desire on his part to prioritize other things that were happening," continues Ward, clarifying that Jericho's break was not injury-related. "This Dancing With The Stars things he did, they offered it to him several times already, several seasons in a row, and I think he said hey, this is probably something I should try and do. It's a great opportunity to try to cross over into some mainstream press coverage, and Chris has a passion for acting, and I think he would like to see himself in some films. And he's a great actor. I mean, working with him on that mocumentary we did was amazing - his improv skills are great. And I think he wanted to put some time aside to really focus on Fozzy, so we did Australia, we did two tours of Europe, and then now, this is our third, Canadian, even though we're just hitting a province at a time. It's been good that we've been able to support the new album, whereas All That Remains, we did some stuff, but we weren't out there as much. So this has been really good for us, that he's taking time off, and I think when he's ready to go back… you know, he's healthy. To be a 40-year-old man and still have both his knees and his shoulders and his neck and his back all still healthy, you know, I think he looks at that as a blessing. But at the same time, he recognizes that as he gets older, that's when the guys get hurt."
And surprise – it really is full-speed ahead in the Fozzy camp… "Yes, Chris has written all the new lyrics to the new album. I've got five or six musical ideas that I haven't even showed him. We're just kind of in those beginning stages, but we'd like to have a new record out by January 2012. Probably after the summer touring cycle is over, I'll devote all my time to put it out and actually recording the record. Whether we have distribution in place to put it out in January, the goal is to have the record done by the holidays."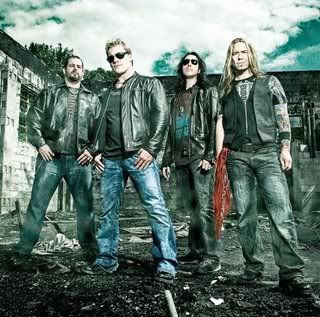 And where is it going stylistically, do you think?
"I think somewhere between All That Remains and Chasing The Grail is who we are. It's probably not a good idea for me to decide to try something different. I did that with Stuck Mojo where I had this epiphany that I love classic metal from the '70s, and I love classic rock from the '70s. I love '80s metal, and that instead of me finding a different vehicle for different styles, I tried to force all those styles on the one band, which… I love the album, but I recognize that Fozzy has a fan base based on two elements: fans of the music, and the wrestling fans who are interested in Chris as an entertainer and as a performer. I don't want to alienate those people who are now two albums of originals into it, and just on a whim decide I'm going to be someone else. And I think it works good for us, that slightly proggy, slightly tipping the hat to classic metal, and then there's the Stuck Mojo groove in it. So I think it perfectly sits in mine and Chris' comfort levels for metal."
"There's a lot of fantasy based stuff in there," notes Rich, on Chris' lyrics and lyrical themes for the new record. "I mean, one of Chris' favourite songwriters is Steve Harris. He loves the idea of taking historical topics and turning them into ideas for lyrics. He rarely likes to open up himself, from those, because I asked him – and I'm sure he won't mind me sharing this with you – I asked him, if you read his book, you know his mother was paralyzed and then over a lengthy period of time her body just degenerated to the point where she finally passed. And I thought man, I mean, for me, what a beautiful thing to write a song about, but he wrote about it in the book and said he doesn't want to touch it again. He had his chance to tell the story. And I think for Chris, he much prefers being the historic male, that guy that he looked up to, whether it was in HELLOWEEN or whether it was METALLICA or whether it was IRON MAIDEN. He gravitates towards those types of messages and lyrics, whereas for me, I'm almost like, 'Man, open it up!' I take those stories and those things that may be who you are. And we've got a couple of those; on Chasing The Grail, there are a couple moments where he really opened up, and I like that. And those are my favourite songs on Chasing The Grail. He really kind of made himself vulnerable in those lyrics, and I love that! I love that in people I know. I don't know if you are like this, but when you read a set of lyrics and you're listening to a band song, and you get a chance to meet them and know them, it's interesting that they have revealed this part of themselves, not just to you, to his friend, but to everybody! And I mean, that's like a special gift; it's cathartic or some type of therapeutic, a release, and at the same time, what a special gift it is to a lot of people to have that insight into that that person's heart and mind. And so I think there might be one or two of those kind of personal experience messages."
"But most of them… like, the big piece that he is most proud of is this song called 'Storm The Beaches', where he took letters from soldiers who wrote home after Omaha Beach, and he took bits and pieces of that and kind of rephrased them into letters from that soldier to their mother, and wrote them and modified them into song form. It's really cool. And again, hey, has it been done before? Of course. But it hasn't been done the way he's doing it (laughs)."