GUS G. - Ozz, Wind And Fire
October 17, 2010, 8 years ago
During the summer of 2009, Firewind guitarist Gus G. did the unthinkable:
He took Zakk Wylde's job.
Nobody outside the Ozzy Osbourne camp saw it coming, including Gus, which rocketed the inevitable online drama into the stratosphere. Rumours of an irreparable rift between Osbourne and Wylde persisted, blowing the situation out of proportion and leaving Gus at the mercy of the metal police until he'd proven himself on stage. By the summer of 2010 the dust had settled, with Wylde back full time with his beer-swilling Black Label Society and Osbourne with a new album entitled Scream under his belt. Like it or lump it, fans had to accept the fact Gus G. was the new axe on the Ozzy block. And although he's come to terms with working side-by-side with a living legend – this interview took place during a tour stop in Helsinki – Gus is still hard pressed to explain how he ended up there.
"I have no idea (laughs). You'd have to ask Ozzy about that. I guess I was on their radar for a while, which proves that I've been doing something over the last 10 years. I was contacted by Blasko (Ozzy's bassist), then I spoke to management, and they basically told me that Ozzy was interested in having me on board. There were no major connections anywhere on my side (laughs)."
As once in a lifetime opportunities go, working with Osbourne ranks near the very top of that list. Thus the question of whether or not Gus had second thought about accepting the invitation is beyond stupid…
"If you do that you're a fucking idiot."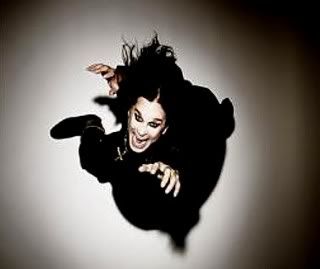 Meaning Firewind was once again put on the backburner, something Gus has done repeatedly almost since the band's inception thanks to stints with Mystic Prophecy, Nightrage, Dream Evil and Arch Enemy over the last decade. This time, however, it was more a question of when rather than if the new album Days Of Defiance would be released during his run with Osbourne.
"The new album was written more or less before I got the gig with Ozzy," Gus explains. "We worked on it in the first half of 2009 and that summer I joined Ozzy's band. I was back and forth to LA to do a couple shows with him, and after that was done I tried to find time to record this album."
Firewind is Gus' baby, but the album is a collaborative effort, with the songwriting process having been opened up to the other band members over the last several years.
"On (previous album) The Premonition and this record we followed the same formula. I would come up with the main ideas and then Bob (Katsionis / keyboards, guitars) would contribute some song ideas and riffs or melodies to my songs, and then we gave the songs to Apollo (Papathanasio) so he could work on the vocal lines and the lyrics. That's been the songwriting team for the last three albums."
Said team has turned out what is a strikingly solid listen, head and shoulders above The Premonition. Of particular note are the number of songs on Days Of Defiance that recall guitarist Yngwie Malmsteen's early works Rising Force ('84), Marching Out ('85), and Trilogy ('86). A pleasure for metal fans who grew up in that classic era.
"I'm glad you're excited about it because I think this is a really strong record. It's easily our best effort to date. I love Yngwie and his early Rising Force stuff, and there were actually a couple songs on the new album where I wanted to get that Malmsteen vibe in there. We had that on the first couple Firewind records, actually, so there are a couple moments like that on Days Of Defiance. I think the beauty of this band is that we're able to do the really heavy songs, the more rock-oriented stuff, ballads, instrumentals… that's our style. We can do all that stuff but it doesn't sound like we're switching gears to such an extreme that you don't know it's Firewind."
Such as 'Cold As Ice', not to be confused with the Foreigner classic of the same name but certainly one of Firewind's more commercial efforts.
"That song is definitely very '80s," Gus laughs.
Not an unsightly blemish on Firewind's catalogue, unlike the cover of the Flashdance hit 'Maniac' that graced The Premonition and even found legs as a single. Personal taste speaking, of course.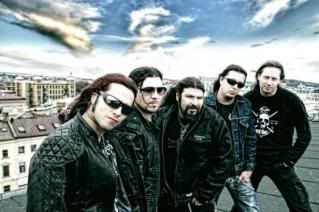 "The 'Maniac' cover did well for us," says Gus, "but it got to the point where people were asking me what the next cover song was going to be. It was like, 'There aren't going to be any more covers.' I mean, doing cover songs is great but I don't want to have a career based on them. In the moment that we did 'Maniac' it was great, and we loved playing it, but now it's enough of that and time to focus on our songs."
"I thought the last album was quite heavy," he adds, "but I wasn't very happy with the production and neither were the other guys. We were talking about it and realized a lot of the songs sound too polished, overly compressed, and some of the song ideas we had got lost in the final mix. We didn't want that kind of production again which is why you're hearing more of a raw edge to the music this time."

Additionally, Papathanasio has never sounded better. He's earned his stripes as Firewind's singer since coming on board in 2006, but this is the first outing where his voice doesn't sound like it has to compete for space against the Gus G. shred. His performance is geared heavy on all counts from top to bottom.
"I'll tell you why that is; Apollo really put a huge amount of work into the vocals," Gus offers. "For the last album we had eight out of 11 songs done and then he started working on lyrics and vocal lines. This time he was in it from the beginning, he demoed all the stuff before we went into the studio, and as a result the vocals really stand out."
Putting Days Of Defiance up against Scream, Gus' playing has taken on a different shape in Osbourne's realm. He is not, however, trying to be Zakk Wylde's shadow.
"It is different," Gus says of the music on Scream, "but everything was written before I was asked to join, so all I had to do was play guitar. I didn't write any of the songs, but I was able to maintain my identity and style on the album. It was a very big challenge for me, but as I said, there was no way I wasn't going to take it. The guitars were written by the producer, Kevin Churko but he's not a guitar player, so the demo tracks were just basic tracks and I had to put more life into them."
"It's an honour for me to be with Ozzy," he continues. "Recording an album with him and then travelling all over the world with him to support it? That's insane (laughs). I know that some Ozzy fans have checked out Firewind because of me working with Ozzy, and the reactions have been great. In some cases it's been like 'Where have you guys been hiding?' and I have to admits that feels good (laughs)."