RIOT's Mark Reale - - "The Interest In This Is A Little Bit Mind-Boggling"
October 31, 2011, 5 years ago
Long Island, NY guitar legend Mark Reale, at this point, couldn't have done any better for RIOT fans.
Think about it. Both the band's legendary, early-era singers are dead, and we know how important singers are to the identity of a band. So what's the next best smooth move? Well, reform the major label, two-record lineup directly following the RHETT FORRESTER era, and reform it exactly, namely Mark plus Tony Moore on vocals, Mike Flyntz on guitar (not an official member then but touring guitarist), Don Van Stavern on bass and Bobby Jarzombek on hurricane force drums.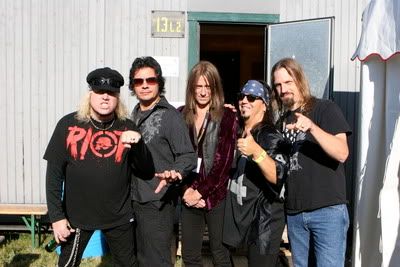 These are the long-haired maniacs that made Thundersteel in '88 (one of America's first modern-era power metal albums ever?) and The Privilege Of Power in '90, and then dissolved for a spell, went underground, whatever ya wanna call it… actually persevering and making a lot of cool records but… well, this is way more exciting, innit?
"A couple years ago we started talking to each other," explains Reale, asked about putting together the band that has created the new and stirring metal feast called Immortal Soul, out now on SPV. "Bobby has been playing with Rob Halford, SEBASTIAN BACH, and he's been a side man and it got to the point where he contacted me and he wanted to be part of something more solid, like a band. So we all started talking to one another and I contacted Don, but the whole big linchpin was Tony Moore. Because Tony… we've all been in the industry, playing, doing whatever, I've had different lineups and stuff, but Tony has been out of it for over 25 years. So that was one issue, but he was into it. He said those were the best years of his life, so he was on board. And we're all alive and well and we decided to do it."
Linchpin indeed – Moore's vocals on the record are classy, bluesy but mostly power metallic. With a bold bevy of near classic rock melodies applied to full-speed Euro-metal, add Tony on top, and you've got a record with depth and hue.
"What we decided to do," continues Reale, on the construction of the thing, "was, because we all live in different parts of the country now… me and Mike, the other guitar player, live in Long Island, New York, and Bobby and Don live down here in San Antonio where I am now, visiting my girlfriend. And Tony lives in LA. He moved out to LA a couple of years ago with his wife. So what we did was in 2009, I came down here for three weeks and worked with Bobby and Don writing new material. Mike Flyntz came down for a few days, and we basically wrote the foundation of what the record is, the music. Tony wrote all the lyrics, but the four of us convened down here and we pretty much put the music together. And then what we did was, we did a show down here in San Antonio which was awesome. Because we didn't know what was going to happen, man. Because Tony's been out of it for over 25 years and he was really nervous. He came down here with his wife, but the first rehearsal we did was magic. It was like no years had passed. I think we did 'Johnny's Back' or something. Tony was completely put at ease at that point. And we did a show down here on a Tuesday night and it was sold-out and it was packed."
"The interest in this is a little bit mind-boggling," muses Mark, and why shouldn't it be? As we all move through the years, I'm sure there are little Riot armies all over the friggin' place that find the Guy Speranza music and the Rhett Forrester music foreign to their metal experiences, a little light and '70s-feeling. What I'm saying is, it's not hard to imagine Thundersteel and The Privilege Of Power being seminal magic metal moments for all sorts of metal fans who are now in their late 30s. But back to the tale…
"So we did the show here, and we went to do Sweden Rock, and then we came back home, went back over and did Spain. Then we went to Japan which was sold-out, and it was great, the band was great, and so we went forward with the record. Which is going to be coming out soon. And already we're getting all kinds of interest. I mean, we haven't skipped a beat, man. We didn't have a problem getting a record deal, and there is all this interest in this lineup. We've got this four-week tour that's supposed to start on October 28 in Europe, and then we've got this crazy, friggin' boat cruise going on in January (laughs). We go on a boat from Florida to the Caribbean islands, with all these heavy metal bands. And it's all good, man, and this tour were doing is with HAMMERFALL… I know Hammerfall are fans of my band; they covered one of my tunes, which is way cool. And I'm sure that the Hammerfall singer will get up and do it with us (laughs). As of right now, it's all good."

In closing, asked to provide a comparison between Immortal Soul and late '80s Riot on CBS, Mark figures, "Basically when we kind of hatched this whole plan of doing this reunion, being a music fan myself, I knew that we had to deliver something that compares to Thundersteel. I think what we tried to do was do something that was like, for instance, if in 1991, Tony never left, and we carried on from that point. I think this is the next gradual step that we're taking. We know what we have to do. This is like the Thundersteel reunion, and for fans of that era, this is what they expect from us. So the way we approached it… and the thing about it is that it's kind of a natural thing, because the way the whole Thundersteel thing happened all those years ago, was the fact that, me and Don Van Stavern concocted the whole thing, because he's the metal dude. He writes all the riffs; he's like the speed metal guy and he writes all the riffs, and I'm like the BEATLES fan, I'm like the melodic dude. And that was the formula that worked. Because I like that testosterone guitar-driven craziness, but at the same time, I've gotta have choruses. I'm really into melodicism. And the only thing that's different on this record, is that there's a third guy involved, Mike Flyntz, the other guitar player, who is pretty much akin to me, in terms of being melodic. And Don is the metal guy. He comes up with the crazy riffs, and we try to mold a chorus around it, and Tony Moore writes the lyrics. And so it's pretty much a natural move from where we were at that point in time. I think hopefully we achieved what we were trying to achieve in that respect, without disappointing anybody. As a musician and as a guitar player, I'm really diverse. A lot of people probably don't know that, and that's why I had to have the band WESTWORLD. It allowed me to not have to be pigeonholed into a situation. But it's like with Riot, I try to keep Riot true to what people expect from it. Especially this lineup - they know what to expect from us."