ROCK MEETS CLASSIC - On This Flight Tonight
December 21, 2010, 9 years ago
PRIMAL FEAR bassist / co-founder Mat Sinner has invested considerable time and energy in a variety of side projects over the last several years – VOODOO CIRCLE, KISKE / SOMERVILLE, bandmate / vocalist Ralf Scheepers' solo album to name a few – as well as his other band, SINNER, which is enjoying renewed interest from the fans. His most ambitious outing to date, however, is Rock Meets Classic. A low key affair that kicked off with a short European tour in January 2010, it featured iconic rock vocalists Dan McCafferty (NAZARETH), Bobby Kimball (TTOTO) and Lou Gramm (FOREIGNER) performing their respective bands' hits backed by an orchestra, with Sinner, ex-Primal Fear guitarist Henny Wolter, and vocalist Amanda Somerville on stage to give the show some added backbone. The production was a rousing success, paving the way for a bigger go-round in January 2011. At this point it's too early to start drawing comparisons to the world renowned TRANS-SIBERIAN ORCHESTRA, but there is serious potential for Rock Meets Classic to grow into something equally as popular.
Sinner appreciates the sentiment, but his feet remain planted firmly on the ground.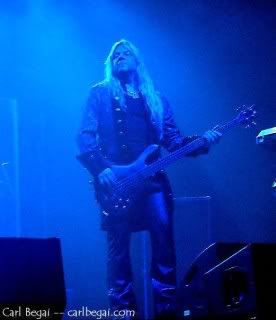 "It was alright," he says of the debut run. "There were some mistakes made here and there, but the whole team behind the production has improved and we've got a great line-up for this new tour. The whole show will be a little bit different, the concept is cool, the new stage looks good. I think it'll be a really nice upgrade from the first tour. The whole event this time will be close to three hours."
"The most important thing is that I'm not responsible for the financial aspect of it (laughs). I work like crazy trying to make things better, because last time it wasn't exactly a smooth ride with the marketing and promotion. I work hard on trying to improve things. It's a great thing for me because I like the concept and I enjoy doing things outside of Primal Fear. It was a big challenge last time, for example, getting the band to play Toto songs because the guys in Toto were some of the best musicians overall. Steve Lukather, Steve Porcaro, Simon Philips, they're all amazing, so it was a real challenge playing those songs and not reading the score on paper to do it (laughs)."
The billing was strong for the 2010 run of Rock Meets Classic, although there were differing opinions as to who should have received the so-called headline slot. It went to Gramm for the duration of the tour.
"We chose who went by the number of albums sold," Sinner explains, "but that was a learning process for everybody. We had three singers who aren't playing in venues as big as they played in the past; they all have great songs but they're not at the peak of their career at the moment. We had to start from a certain point and see where we could take it. With the orchestra, the whole package was about 70 people on the road, so it was as I said a learning process for everybody."
The production has since grown in terms of size and scope, and the bugs from the 2010 debut run have been worked out. Most of them, at any rate.
"Yes, of course, but the reality is always a little more tricky than you expect (laughs). I think it looks good on paper – it's great – but we'll see how it works. We did an upgrade on the orchestra; it has a bigger string section now to make it a little more bombastic. We have a direct signal from the microphones being used so that the classical aspect of the show will be a little more prominent this time. We have four singers, we have great songs, so I think it's going to be very interesting."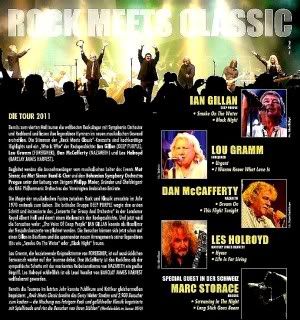 Gramm and McCafferty make a return to the roster for 2011, accompanied by Les Holroyd of BARCLAY JAMES HARVEST, and DEEP PURPLE frontman Ian Gillan as the headliner. Additionally, KROKUS frontman Marc Storace will hit the stage for two shows in his native Switzerland. Sinner admits he would have preferred a completely new line-up for the tour, but was forced to make a few compromises in the interest of increased promotional support. He explains:
"Antenne Bayern, which is the biggest radio station in Bavaria, has four highlight presentations every year and they wanted to present Rock Meets Classic as the one for the first quarter of 2011. They're officially presenting six concerts, so they have influence on the whole thing. They wanted Lou Gramm again because they saw the show last year in Munich and really liked it, and Foreigner is still one of the most played bands in their program. The boss of the company liked McCafferty's performance so they wanted him back again, and from there they had us choose the other two artists. I wasn't exactly happy about that because I felt we should go on with a totally new line-up, but we had to make that compromise because six heavily promoted shows by Antenne Bayern means there will be two or three thousand people in those seats instead of just one thousand."
"The thing is, with Ian Gillan as the headliner and still being active with Deep Purple, it's a real upgrade from the last time. With Steve Lee (GOTTHARD vocalist), we had a guy that opened a lot of doors in Switzerland."
Sadly, Lee was killed in a motorcycle accident on October 5th, 2010 while on vacation in Nevada . A tragic loss for the Lee's family, friends, and the metal community. For Sinner it was the passing of a friend rather than a business associate.
"I worked with Steve for many years. First at the record company, later we met as friends at summer festivals and shows in Europe and South America. We always talked about working together, and then we got Steve for the Rock Meets Classic tour. We had several conversations before he left for his US trip about the songs and arrangements for his Rock Meets Classic performance, and we were both looking forward for our first common tour. I was in Sweden on tour with Primal Fear and got this SMS, later on the phone call with the horrible news. I couldn't believe it. I was really looking forward to sharing the stage with Steve and now this tragedy. I'll remember him as one of the greatest singers in rock, and as a gentleman."
Watch for 2011 tour coverage and interviews with the Rock Meets Classic roster, coming in February.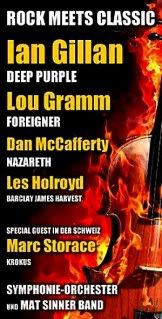 Rock Meets Classic 2011 dates include:
January
5 - Frankfurt, Germany - Jahrhunderthalle
6 - Prague, Czech Republic - Telsa Arena
7 - Wien, Austria - Stadthalle
8 - Linz, Austria - Tip Arena
9 - Nuremberg, Germany - Frankenhalle
11 - Passau, Germany - Dreiländerhalle
12 - Bamberg, Germany - JAKO Arena
13 - Kempten, Germany - Big Box
14 - Genf, Switzerland - Arena
15 - Sursee, Switzerland - Stadthalle
16 - Zurich, Switzerland - Kongresshaus
18 - Basel, Switzerland - Congress Center
20 - Regensburg, Germany - Donau Arena
21 - Aschaffenburg, Germany - Frankenstolz Arena
22 - Halle/Westfalen, Germany- Gerry Weber Stadion
23 - Berlin, Germany - Tempodrom