AEROSMITH Frontman Steven Tyler, Guitarist Joe Perry Featured In 105.7 The Brew Radio Interview
October 10, 2012, 5 years ago
AEROSMITH frontman Steven Tyler and guitarist Joe Perry are featured in a new interview with Daveman at Columbus, Ohio's 105.7 The Brew radio station in Columbus, Ohio. Check it out below:
On November 6th, Aerosmith will release Music From Another Dimension! on Columbia Records. It marks the band's 15th studio album and their first studio album of all-new material in 11 years. The album was recorded in Los Angeles and at the band's studio in Massachusetts; it was produced by Jack Douglas, Steven Tyler and Joe Perry, with the exception of three tracks produced by Tyler and Marti Frederiksen.
"It's not that it took ten years," Steven Tyler says, "but that we were busy getting ready!"
"This is the album we wanted to make since the band got back together in 1984," Joe Perry says. "Can't complain about number one singles or album-driven sold-out world tours, as we blaze the Aerosmith trail with our fans. But this is the record that when the five of us are in a room yelling turn up the volume, that room could be 1325 Commonwealth Avenue (a reference to the band's first apartment where they lived and wrote their first song)."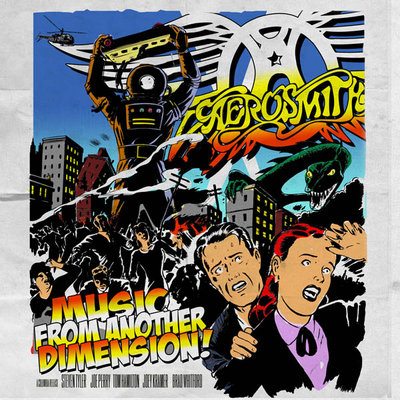 A deluxe version of Music From Another Dimension! will include:
- Four live performance videos: 'Rats In The Cellar', 'Train Kept A Rollin'', 'Oh Yeah' and 'Same Old Song and Dance'
- Exclusive interviews with the members of Aerosmith band members
- Three exclusive new bonus tracks: 'Up On A Mountain', 'Oasis' and 'Sunny Side of Love'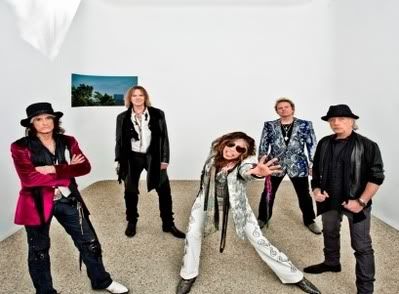 Music From Another Dimension! tracklisting is as follows:
'LUV XXX'
'Oh Yeah'
'Beautiful'
'Tell Me'
'Out Go The Lights'
'Legendary Child'
'What Could Have Been Love'
'Street Jesus'
'Can't Stop Loving You' (with CARRIE UNDERWOOD)
'Lover A Lot'
'We All Fall Down'
'Freedom Fighter' (with JOHNNY DEPP)
'Closer'
'Something'
'Another Last Goodbye'
Two new tracks - 'Lover A Lot' and 'What Could Have Been Love' - can be heard below:
Aerosmith recently sat down with Fuse to talk about their upcoming Global Warming tour, and how Johnny Depp ended up singing on their new album, Music From Another Dimension. Watch below:
Aerosmith recently announced the second leg of The Global Warming Tour, which will include support act CHEAP TRICK. Tickets are on sale now at LiveNation.com. For VIP ticket packages, including opportunities to meet band members, backstage tours, great tickets and more, visit Aeroforceone.com.
Dates:
November
8 - Oklahoma City, OK - Chesapeake Energy Arena
11 - Wichita, KS - INTRUST Bank Arena
14 - Kansas City, MO - Spring Center
16 - Austin, TX - Frank Erwin Center
20 - New York, NY - Madison Square Garden
23 - Atlantic City, NJ - Revel Resorts – Ovation Hall
25 - Columbus, OH - Nationwide Arena
27 - Toronto, ON - Air Canada Centre
December
1 - Las Vegas, NV - MGM Grand Garden Arena
3 - Los Angeles, CA - STAPLES Center
6 - New Orleans, LA - New Orleans Arena
9 - Fort Lauderdale, FL - BB&T; Center
11 - Tampa, FL - Tampa Bay Times Forum
13 - Nashville, TN - Bridgestone Arena