AEROSMITH Premier 'Something' Track; Joe Perry Comments
November 5, 2012, 4 years ago
AEROSMITH will release their new album, Music From Another Dimension!, tomorrow, November 6th via Columbia Records. It marks the band's 15th studio album and their first studio album of all-new material in 11 years.
RollingStone.com have been premiering the album, one track at a time, in the weeks leading up to the release.
'Something' begins with an inspirational swelling of Hammond organ right out of Southern gospel. Things quickly get nasty from there with some bluesy guitar crunch from Joe Perry, who wrote the song, and bounces from a Rolling Stones-style twang to a melodic BEATLES-like chorus. Aerosmith's guitarist also sings this one himself, sneering to villains past and present, "You knew there was dreams I had in my corner/ I made you a dollar and you gave me a quarter."
For Perry, the bite and drama comes from a real place. "I wrote 'Something' a long time ago, back when there was a whole other batch of people around us: lawyers, managers that I was really pissed off at," the guitarist tells Rolling Stone. "It's a short bit of angst and pissed-off-ness about these people that ripped us off forever. The funny thing is that 20 years later, there's a whole new batch of people I'm pissed off at. The lyrics still work."
Read more and here 'Something' at this location.
A deluxe version of Music From Another Dimension! will include:
- Four live performance videos: 'Rats In The Cellar', 'Train Kept A Rollin'', 'Oh Yeah' and 'Same Old Song and Dance'
- Exclusive interviews with the members of Aerosmith band members
- Three exclusive new bonus tracks: 'Up On A Mountain', 'Oasis' and 'Sunny Side of Love'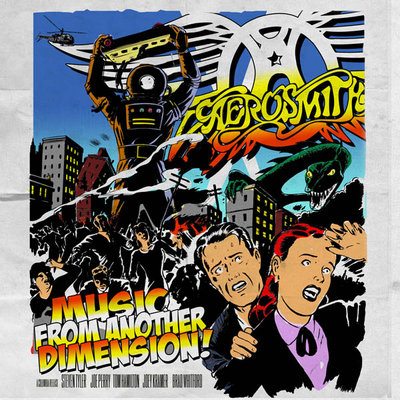 Music From Another Dimension! tracklisting is as follows:
'LUV XXX'
'Oh Yeah'
'Beautiful'
'Tell Me'
'Out Go The Lights'
'Legendary Child'
'What Could Have Been Love'
'Street Jesus'
'Can't Stop Loving You' (with CARRIE UNDERWOOD)
'Lover A Lot'
'We All Fall Down'
'Freedom Fighter' (with JOHNNY DEPP)
'Closer'
'Something'
'Another Last Goodbye'
Check out BraveWords.com scribe Martin Popoff's new Aerosmith feature, in which Brad Whitford talks about the band's new album, at this location.
Aerosmith will play 1325 Commonwealth Ave. in Boston, MA today (Monday, November 5th).
In the clip below frontman Steven Tyler and guitarist Joe Perry exclusively tell AXS TV what this day means to them.
In addition, the duo discuss the influence of the 'Walk This Way' Collaboration with RUN DMC.
AXS TV will air the Commonwealth Ave. show live at 12:00 noon EST / 9:00am PST.
Aerosmith recently announced the second leg of The Global Warming Tour, which will include support act CHEAP TRICK. Tickets are on sale now at LiveNation.com. For VIP ticket packages, including opportunities to meet band members, backstage tours, great tickets and more, visit Aeroforceone.com.
Dates:
November
8 - Oklahoma City, OK - Chesapeake Energy Arena
11 - Wichita, KS - INTRUST Bank Arena
14 - Kansas City, MO - Spring Center
16 - Austin, TX - Frank Erwin Center
20 - New York, NY - Madison Square Garden
23 - Atlantic City, NJ - Revel Resorts – Ovation Hall
25 - Columbus, OH - Nationwide Arena
27 - Toronto, ON - Air Canada Centre
December
1 - Las Vegas, NV - MGM Grand Garden Arena
3 - Los Angeles, CA - STAPLES Center
6 - New Orleans, LA - New Orleans Arena
9 - Fort Lauderdale, FL - BB&T; Center
11 - Tampa, FL - Tampa Bay Times Forum
13 - Nashville, TN - Bridgestone Arena
On November 1st, Steven Tyler and Joe Perry were guests on CBS's Late Night With David Letterman. During their appearance, the former Toxic Twins talked about sex, drugs and rock and roll; see for yourself: