AMANDA SOMERVILLE On Metal Female Voices Festival 2012 - "It Was Even Harder Than I Thought It Would Be Playing Without Our Simonovsky"
October 24, 2012, 2 years ago
TRILLIUM, featuring vocalist Amanda Somerville, performed at the Metal Female Voices Festival on October 21st in Wieze, Belgium. Somerville has checked in with the following update: "Back from MFVF and, though it was even harder than I thought it would be playing without our Simonovsky, we were blown away by the response. Thanks so much to everyone for coming out and to all of the amazing crew - you rocked!"
A picture gallery courtesy of MC Sharq is available
here
. Trillium keyboardist Simon Oberender passed away in September. He appeared on several other albums, including AVANTASIA's 2010 releases The Wicked Symphony and Angel of Babylon, EDGUY's Age of the Joker (2011), EPICA's Requiem for the Indifferent'(2012), RHAPSODY OF FIRE's The Frozen Tears of Angels (2010) and KAMELOT's Silverthorn. As an engineeer, Oberender worked on albums by Avantasia, Edguy, Epica, Mayan and others. Oberender was a part of Trillium's live line-up this past spring for the band's European tour supporting DELAIN with HALCYON WAY. He was due to hit the road with Trillium again this fall supporting MAGNUM in the UK.
Trillium's schedule is now as follows: November 18 - Bristol, UK - O2 Academy 20 - Liverpool, UK - O2 Academy 21 - Glasgow, UK - Garage 22 - Newcastle, UK - O2 Academy 23 - Holmfirth, UK - Picturedrome 24 - Manchester, UK - Ritz 25 - Nottingham, UK - Rock City 27 - Leamington, UK - Leamington Assembly 28 - Southampton, UK - The Brook 29 - London, UK O2 - Academy Islington 30 - Pontypridd, UK - Muni Arts Centre December 1 - Wolverhampton, UK - The Wulfrun 2 - Norwich, UK - Waterfront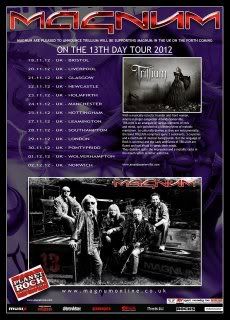 Trillium played their first ever UK show at the HMV Institute in Birmingham on May 12th. Fan-filmed quality footage is available below: