ANIMETAL USA – "Is Speed Metal A Characteristic Of Me?"
August 5, 2012, 7 years ago
By Martin Popoff
Crazier things have been proposed, but here we are, Rudy Sarzo, CHRIS IMPELLITTERI, Mike Vescera and John Dette (replacing JUDAS PRIEST's Scott Travis) transforming themselves into superheroes in face makeup and delving into the world of Japanese anime.
Superheroes or not in the animation world, ANIMETAL USA is undoubtedly a heavy metal supergroup. Blast their show tunes and one quickly surmises that the music lives up to the bulging pedigree of the players pounding it. Animetal USA play an exhilarating form of vocal-swirled power metal, intriguingly juiced by those Japanese metal melodies that originally wrinkled noses through BOW WOW and LOUDNESS and EZO.
"Well, not really," laughs a good natured Sarzo (QUIET RIOT, OZZY, WHITESNAKE, DIO, BLUE OYSTER CULT – whew!), when confronted with the idea that such pan-world power metal is a little outside his game. "I've played with a lot of different metal artists. You know, Ozzy and Dio, and at one point, Quiet Riot was considered a metal band, until metal got heavier, and then the category of metal got raised, and we became a hair band. And then with TONY MACALPINE, we did a metal record with PROJECT: DRIVER. So, you know, is speed metal a characteristic of me? No, but there's a lot of different styles I play, that people might not be aware of. I've been playing for a long time. I started playing in the early '70s, well, professionally anyway, in the clubs and so on, and in those days, you had to be able to play everything and anything in order to be in a band. In your set list you would have KOOL & THE GANG and LED ZEPPELIN, so it runs the gamut."
So here we are, Animetal USA semi-stars in the Land Of The Rising Sun, a happenstance that unsurprisingly involves Mega-shred transplant MARTY FRIEDMAN. "Marty was responsible for all of the arrangements, I would say 90% of the arrangements on the first record," explains Sarzo. "We're on our second album. And as a matter of fact, the Century Media release, which is called Special Edition, is a compilation of songs off the first and the second record. So Marty was instrumental in making the arrangements on the first record, and most of the arranging on the second album was done by Chris Impellitteri."
Did ya get that? The album we are getting shortly through the venerable Century Media imprint includes material from the debut Japanese phenom, plus the second album that is being readied for Japanese release as we speak.
"The original intent of Animetal USA… not only was it because it's based on the Animetal version, that existed in Japan, but this version is leaning more towards a global appeal," explains Sarzo, providing a glimpse at the delicate positioning of things, necessary when one gets into this fecund, creative multi-media world. "Since right now, anime is popular around the world… case in point, we just performed at the Anime Expo in Los Angeles two weekends ago, and they had about 75,000 people there and it was just an incredibly successful event. And there's more anime expos around the world. But basically the core of the reason why we got together – Mike Vescera, Chris Impelliterri, myself, originally it was Scott Travis , and now our current drummer is John Dette – you know, I've been playing and touring in Japan, personally, for the last 30 years, and everybody else as well since they started with their own bands. And we've been supported by the Japanese audience for 30 years, again, in my case. And I was so blessed, if I played there either with Ozzy or Quiet Riot or Whitesnake or Dio, I just went in there, did my metal thing and then I just left. Whereas being part of an anime-centric band gives us an opportunity to embrace the Japanese culture, and say thank you to the Japanese fans for all the support. So this is completely different. You know, now with Animetal USA, we are part of Japanese pop culture. For example, we do their television shows, like their version of the David Letterman show, Good Morning America and so on. We are part of the Japanese culture in a way that I've never been involved with previously."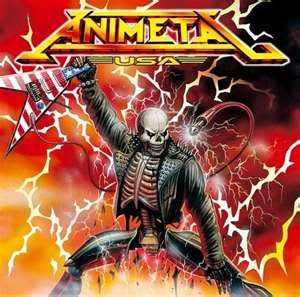 So besides shredding melodically and brightly like STRATOVARIUS making a FREEDOM CALL on HELLOWEEN, what else do Metal-Rider, Speed King, Storm Bringer and Tank do?
"Well, they're developing some stuff now, that's going to be turned into an animated series. So yes, not only are we musicians, but we're also characters, superheroes basically, which is one of the reasons why we work with the outfits and the makeup. Because it's not just us individually; we are playing a part – we personify these certain characters."
And while one is headbanging nimbly to songs like 'Thesis Of Cruel Angel', 'Pegasus Fantasy' and 'The Spaceship Yamato', another layer of pastime consists of spotting the quoted classic metal riffs…
"First of all, you always have to clear it with the record company of the particular publishers, that represent the artist and band and management and so on," explains Sarzo on bringing this idea into it. "So that has pretty much been the request of the record company, because traditionally that was one thing that was started by the original Animetal band. You know, originally our first album was exclusively for the Japanese market. Now that the band is picking up and we're appealing more to the global market, we're going to become less Japanese-centric and more about global appeal, in terms of the decisions in our records. So we're probably going to start minimizing using iconic riffs included in our recordings."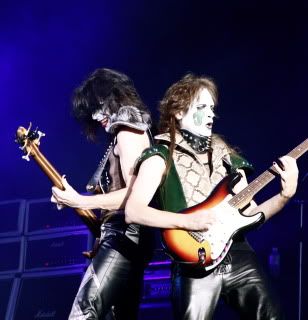 So this is Rudy's focus now for the foreseeable future. No more BOC, and obviously his last major role before that, as part of the great Ronnie James Dio band, can be played no more. Still, Sarzo reflects on the richness of those days, working with the metal icon. "Ronnie was one of those guys that leads by example. I mean, we've all been doing this for a long time, so you are either getting get it or not, you know? And when you're working with somebody like Ronnie James Dio, there's so much to learn from him. I was just in awe of his performance, just the way that he communicated with the audience, and communicated with all of us. On stage, just to hear him sing and watch him become one of the characters from his songs, right there in front of my eyes, it was magical. It was a magical experience working with Ronnie James Dio. And so many people really love him. I think he's the most beloved, truly loved… not in his celebrity status, but in a heartfelt status, you know what I mean? I've played with some really super, super well-known people from a celebrity standpoint, but the thing with Ronnie, it was more that it was heartfelt."
Look for Animetal USA to become more menacing as the beast is released to fend for itself in the wild… Reiterates Rudy, "The one that's being released through Century Media, the Special Edition, is a compilation of the first and the second album. That's the difference. It's leaning more towards the first album than the second record. But the second one is heavier, it's darker, it's more metal." And the records in totality are not exactly concept albums. "No, not in the sense of like storytelling. You see, what happens here, each song tells a story that is connected with the anime, as a theme. So on the new one, we picked heavier anime scenes to be included. The storylines are heavier, so the music is way darker – absolutely."