BLOOD STAIN CHILD - Second Full Length Audio Clip From SAVE THE QUEEN Side-Project Available
January 1, 2012, 8 years ago
BLOOD STAIN CHILD's female vocalist Sophia recently revealed she took part in a project called SAVE THE QUEEN in early 2011, using the name Somnium, featuring music from the video game Touhou Project that had been rearranged and beefed up by guitarist/bandmate Ryu. A full length clip of the song 'Ex-Termination' is available below. It was featured on the album Barrage Am Ring / Side A , which was issued in Japan in the spring of 2011.
As previously reported, Blood Stain Child will return to the USA in 2012. They have been confirmed to perform at Naka-Kon 2012 in Overland Park, Kansas, which runs from February 10th - 12th. Go to this location for event information, stay tuned for updates.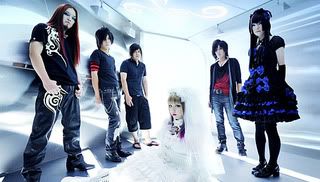 Blood Stain Child's new album, Epsilon, is out now via Coroner Records. The tracklist is as follows:
'Sirius VI'
'Forever Free'
'Stargazer'
'S.O.P.H.I.A.'
'Unlimited Alchemist'
'Electricity'
'Eternal'
'Moon Light Wave'
'Dedicated To Violator'
'Merry-Go-Round'
'LA+'
'Sai-Ka-No'
Check out BW&BK;'s review of the album here.