BRUJERIA, PANZERFAUST Confirmed For Mexico's Hell & Heaven Metal Festival 2011
November 9, 2011, 3 years ago
BRUJERIA and PANZERFAUST are now confirmed for the Hell & Heaven Metal Festival 2011, being held in Guadalajara, Mexico, on November 19th. The full line-up for the festival is as follows.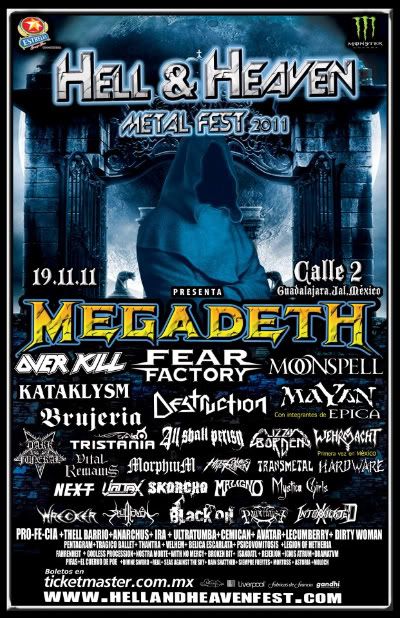 Headliners: MEGADETH OVERKILL FEAR FACTORY MOONSPELL KATAKLYSM BRUJERIA DESTRUCTION MAYAN DARK FUNERAL TRISTANIA WEHRMACHT PANZERFAUST WITHIN THE RUINS VITAL REMAINS LIZZY BORDEN PROFECIA Mexican acts: HERE COMES THE KRAKEN TRANSMETAL HARDWARE NEXT VOLTAX SKORCHO MALIGNO MYSTICA GIRLS WRECKER SPLIT HEAVEN THELL BARRIO ANARCHUS IRA ULTRATUMBA CEMICAN AVATAR LECUMBERRY DIRTY WOMAN PENTAGRAM TRAGICO BALLET THANTRA VELHEM BELICA ESCARLATA PSICOVOMITOSIS LEGION OF HETHERIA FAHRENHEIT GODLESS PROCESSION NOSTRA MORTE WITH NO MERCY BROKEN BIT ISAKOATL REJEXION IGNIS ATRUM DRAMATUM PIFAS EL CUERVO DE POE DIVINE SWORD REAL SEAS AGAINST THE SKY RAIN SHATTHER SIEMPRE FUERTES MORTOSS ASTORIA For more details visit
Hellandheavenfest.com
.