CHICKENFOOT - Düsseldorf Show Filmed For Germany's Rockpalast Program; Live, Interview And "Soundcheck" Teasers Online
January 22, 2012, 5 years ago
On January 19th, CHICKENFOOT performed in Düsseldorf, Germany at the Mitsubishi Electric Hallle. The show was filmed for the WDR network's long running Rockpalast program and will air on February 27th. A live teaser clip of 'Down The Drain' is available here, and an interview with the band can be found at this location.
In addition, backstage "soundcheck" footage can be found here.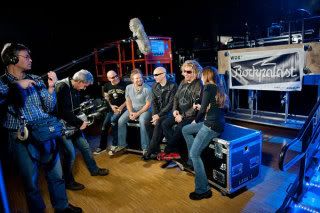 As previously reported, on January 31st Licklibrary will release an instructional guitar DVD, Learn To Play CHICKENFOOT.
It features Danny Gill, a former pupil of Chickenfoot guitarist JOE SATRIANI, teaching you how to play the following five songs note for note, complete with all the riffs and solos:
'Oh Yeah'
'Down The Drain'
'Soap On A Rope'
'Big Foot'
'Last Temptation'
A preview is available below:
Pre-orders are currently being accepted at this location.