DEF LEPPARD/THIN LIZZY Guitarist Vivian Campbell - "I Probably Ripped Off GARY MOORE More Than Any Other Guitar Player"
February 8, 2011, 8 years ago
DEF LEPPARD and current THIN LIZZY guitarist Vivian Campbell spoke with BraveWords.com's Mitch Lafon yesterday about the tragic death of guitar legend GARY MOORE.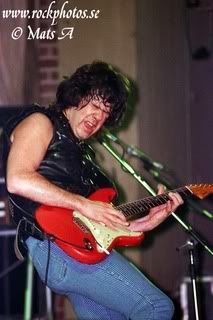 When asked what Gary Moore meant to him, Campbell stated: "Frankly, his passing didn't mean anything to me. I didn't know the guy personally, but at one stage in my life he was a huge guitar influence. I probably ripped off Gary Moore more than any other guitar player. They say imitation is the sincerest form of flattery. So, I was a fan… certainly in my teenage years. Somebody asked me a couple of days ago who my guitar hero was and it's sad to think that I don't have any guitar heroes anymore (and this was before Gary died). Gary was a huge influence on me in my teenage years and early twenties, but I lost touch with was he was doing. To be honest, I was really really impressed with the roads he was forging in the blues world. I came across a YouTube video several months ago where he was playing the blues with B.B. KING and before it even started I thought, 'I know where this is going. He's going to be all heavy handed. He's going to play all over him. He's not going to get it.' I remember, after having watched the video, to being very very impressed. He out blues-ed B.B. King and I don't mean as a player. He played authentically. He played the blues with B.B. King and he out-played him. It was amazing. B.B. does what he does, but Gary… had a real authenticity to his blues playing and ultimately that's what he excelled at. He was well known in other genres like rock, hard rock, metal and jazz-rock. Gary Moore, first time he came to my attention, was with COLOSSEUM II. A friend of mine, who was a real record fan, first turned me on to that. I was impressed with Gary's technical ability. It's amazing how the longer you play the instrument the more you tend to go back to the essential elements of it."
Bravewords.com: You've recently joined Thin Lizzy. What does that mean for your involvement with Def Leppard?
Campbell: "This was actually suggested to Scott Gorham by Joe Elliott. I'm still very much a member of Def Leppard. Leppard has taken the last year and a half off and this has been a labour of love for me. It's not like I'm leaving Def Leppard."
According to the Mirror.co.uk, Moore died of a suspected heart attack, a postmortem revealed yesterday. The former Thin Lizzy star, 58, was on holiday with his girlfriend and died in his sleep. Forensic experts have ordered further tissue tests on his body ahead of a report, an inquiry heard.
Relatives including Gary's brother, Cliff, are in the Costa del Sol, Spain, to make preparations to fly his body back home.
Moore, of Belfast, died at the five-star Kempinski Resort Hotel, in Estepona, at the weekend. Paramedics were called at 4 AM on Sunday after his girlfriend raised the alarm.
The pair had earlier eaten a burger and a sandwich, washed down with champagne and brandy.
A police spokesman said yesterday: "His death is not in any way suspicious. An inquiry has been opened to find the exact cause."