DEW-SCENTED Stream New Song; Icarus Album Tracklisting Revealed
June 5, 2012, 5 years ago
German thrashers DEW-SCENTED have released a stream of the new song, 'Sworn To Obey', from their upcoming album, Icarus, which you can hear below:
Vocalist Leif Jensen comments: "'Sworn To Obey' was an obvious candidate to open up the new album and it was actually one of the very last tracks we finished in the songwriting sessions for Icarus. Already when working on the final arrangements for the song, we knew it would become an extremely heavy and catchy piece! Kicking in after the anthem-like 'Hubris' instrumental intro, 'Sworn To Obey' is a sweet punch in the gut in true Dew-Scented style and smoothly helps to set the album's pace in the right fashion! I simply love the lead-guitar part and the crazy bass-lines afterwards. I'm sure this one will be real fun to play live…"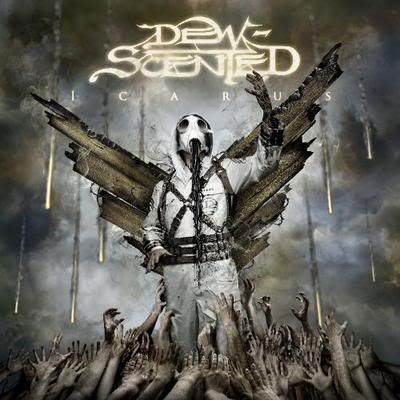 Icarus will feature the following tracklisting:
'Hubris' (Intro)
'Sworn To Obey'
'Thrown To The Lions'
'Storm Within'
'Gleaming Like Silver'
'By My Own Hand'
'The Fall Of Man'
'Reawakening'
'Destined To Collapse'
'A Final Procession'
'Perpetuated'
In order to allow a closer look at the studio work for Icarus and also to showcase some of the new bits of music, a second online teaser for the album was now launched. Check it out both teasers below:
Icarus was recorded at Soundlodge Studio with Jörg Uken (NIGHTFALL, SUICIDAL ANGELS, GOD DETHRONED) as producer and will be released on July 27th in Germany, Austria, Switzerland, on July 30th in the rest of Europe via Metal Blade Records as well as on July 31st in North America via Prosthetic Records.
Dew-Scented recently announced their brand new lineup. As presented in the promotional photo below, by Ester Segarra), the band's brand new 2012 lineup is as follows (pictured from left to right):
Rory Hansen – Guitars
Marvin Vriesde – Guitars
Leif Jensen – Vocals
Joost van der Graaf – Bass
Koen Herfst – Drums
Leif Jensen comments as follows: "I'm more than proud to be able to present you a new chapter in the history of Dew-Scented! By early 2011, after four weeks of European touring with NILE, it showed clearly that our previous Invocation lineup was collapsing and one member after another left the fold for different reasons. We decided to play some final festival shows together in the summer and then after Party.San Open Air and Brutal Assault Festival, Dew-Scented went away from the spotlight in order to re-group and regain new focus. And here we finally are again, back with an improved lineup and a really strong new album coming up in July: Icarus!"
The new lineup (re-)introduces Marvin Vriesde (SEVERE TORTURE, ex-BIO.TORCH) as main guitarist and songwriter. Not a stranger to Dew-Scented's path of life, Vriesde's ties with the band go as far as back as 1996, when he played lead guitars for Dew-Scented on the band's first ever proper tour (with EDGE OF SANITY, LAKE OF TEARS and SADIST), as well as for some additional shows supporting MORBID ANGEL. He later on returned, among other occasions, as live-session guitarist for a European tour with CANNIBAL CORPSE in 2002 or also for runs in Europe, Japan and North America all throughout 2005, as well as appearing with guitars-leads on the Issue VI album and also performing on the 'Turn To Ash' video clip.
Jensen adds: "I'm truly happy to have finally managed to team up with my buddy Marvin in Dew-Scented. Being one of my closest friends in music and the band's 'longest running companion', it's amazing to be able to finally put the band's musical present and future in his hands, giving our music a new safe home with his talent and dedication. I can't wait for you all to hear the great start-up results we achieved with Icarus!"
Marvin Vriesde checks in to comment as follows: "Me and Dew-Scented have a long history together. I helped the band out on several occasions in the past, studio as well as live situations. So when Leif suggested joining forces for real on the new record I was thrilled! This allowed me to write Dew-Scented songs that I would really want to hear from the band, from a fan's point of view."
Drummer Koen Herfst (I CHAOS, live session for EPICA, etc.) and bassist Joost van der Graaf (I Chaos, ex-CREEPMINE) rounded off the Icarus lineup organically, as Vriesde explains in regards to the pre-production process for the new album: "The writing process went really smooth and focused. Me and Leif were bouncing all these awesome ideas around. We realized that these songs deserved to be recorded in the best form possible. That's why I asked a good local friend of mine, Koen Herfst, to handle the drums. On his turn he brought in Joost van der Graaf to handle the bass duties for the album. Both are amazing musicians…and that's what sets "Icarus" apart for me. I think everyone brought something extra to the table, which really took the album to a higher level. "Icarus" is a really heavy album, but it somehow has a darker feel to it in comparison to the previous Dew-Scented albums."
Last but not least, guitarist Rory Hansen (I Chaos, ex-Blo.Torch) was added to the band's ranks as second guitarist shortly after the album recordings. On recommendation of all the other three new members, his presence paves the way for a really skilled and menacing dual-guitar-team.
The new Dew-Scented lineup will make their debut shows on July 20th at Metalsplash Festival and July 21st at Queens Of Metal Festival in order to also present the Icarus material live on stage in perfect timing for the album's release.
This summer, the group will play several festivals and support Six Feet Under on a short European tour; dates appear below.
July
19 - Steinbach-Langenbach, Germany - Queens of Metal Festival
20 - Rotenburg/Wümme, Germany - Metalsplash Festival V
August
11 - Leewaurden, Netherlands - Into The Grave Festival
12 - Berlin, Germany - Postbahnhof
13 - München, Germany – Backstage
14 - Pratteln, Switzerland – Galerie
15 - Essen, Germany – Turock
16 - Kerkrade, Netherlands – Rock Temple
18 - Hamburg, Germany – Grünspan