DREAM THEATER - Free MP3 Download From New Album Available Tonight
May 5, 2009, 8 years ago
Starting on May 5th at 12AM EST go here to download a free MP3 of 'A Rite Of Passage', the first track from DREAM THEATER's upcoming album Black Clouds & Silver Linings, in stores June 23rd. The free MP3 will be available for 24 hours. After that, the track will stream on RoadrunnerRecords.com.
In addition to the standard version CD of Black Clouds & Silver Linings, the album will also be available on vinyl LP, as well as a three-disc Special Edition CD that will include the full album, a CD of instrumental mixes of the album and a CD of six cover songs, the titles of which will be revealed at a later date.
Six weeks prior to the June 23rd street date, Roadrunner will release one cover song per week through digital retailers.
Drummer Mike Portnoy and guitarist John Petrucci are once again at the helm as producers, while Paul Northfield (RUSH) mixed the record.
The band will embark on a world tour in support of the album beginning in Europe throughout June which will be followed by the second edition of the band's Progressive Nation tour featuring ZAPPA PLAYS ZAPPA, PAIN OF SALVATION and BEARDFISH throughout North America in July/August.
The tracklisting for Black Clouds & Silver Linings is as follows: 'A Nightmare To Remember', 'A Rite Of Passage', 'Wither', 'The Shattered Fortress', 'The Best Of Times', 'The Count Of Tuscany'.
Pre-order details for the release can be found at this location.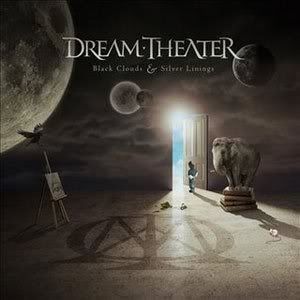 Progressive Nation North American updated tour dates incluide:
July
24 - Fillmore at Jackie Gleason Theater - Miami, FL
25 - Rock Hard Live - Orlando, FL
28 - The Tabernacle - Atlanta, GA
29 - Thomas Wolfe Auditorium - Ashville, NC
31 - Philadelphia, PA - Tower Theater **
August
1 - Merriweather Post - Washington DC *
2 - Bank Of America Pavillion - Boston, MA
4 - The Palace Theater - Albany, NY
5 - Wallingford, CT - Oakdale Theater **
7 - Asbury Park, NJ - Convention Hall **
11 - The Agora - Quebec City, QUE
12 - Bell Center - Montreal, QUE
14 - Molson Amphitheater - Toronto, ONT
16 - The Burton Cummings Theater - Winnipeg, MAN
18 - MacEwan Hall - Calgary, AB
19 - Shaw Conference Center - Edmonton, AB
21 - The Orpheum Theater - Minneapolis, MN
22 - Riverside Theater - Milwaukee, WI
23 - Chicago Theater - Chicago, IL
25 - Temple Hoyne Buell Theater - Denver, CO
27 - San Jose, CA - Event Center **
28 - Las Vegas, NV - The Joint **
29 - The Greek Theater - Los Angeles, CA
* with QUEENSRŸCHE