FIREWIND Guitarist Gus G. On Few Against Many - "It's A Very Different Album From The Ones We've Done In The Past"
July 4, 2012, 7 years ago
Kelley Simms at Hails And Horns recently caught up with guitarist Gus G. (FIREWIND, OZZY OSBOURNE) to discuss the new Firewind album, Few Against Many. An excerpt is available below: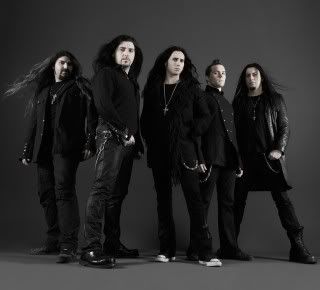 Q: Overall, the quality of songs on A Few Against Many is excellent. How did you approach this album?
Gus: "It's a very different album from the ones we've done in the past. It's safe to say that it's the heaviest-sounding Firewind album of all. I think a lot of it had to do with that there's just a lot more guitar stuff than in the past. I just felt inspired again to write a lot of guitar-orientated stuff, where in the past I was writing a lot with Bob (Katsionis) … a lot of keyboard stuff. Nothing wrong with that, we wrote a lot of good songs together. But this time I was on the road with Ozzy and we had a lot of off-days on the tour and I had a guitar backstage, had a guitar in my hotel room. So I would just come up with a lot of riffs."
Q: At 10 tracks and 45 minutes in duration, it's the perfect amount. Were you trying to keep it short?
Gus: "I didn't really think about it. There were just 10 or 11 tracks that I came up with. I just wanted the best material possible. I didn't want to have any filler material on there. I actually went for different kinds of arrangements as well. There's a lot of changes on a lot of the songs. There's different changes in tempos, different elements. Some songs have middle parts that goes on to a whole other musical section; going faster or slower, more groovy. I tried to experiment with all that stuff to try and spice things up."
Go to this location for the complete interview.
Firewind recently released their new video, which was shot during the band's latest shows in their homeland Greece by Colin Marshall. Check out 'Wall Of Sound' below. For more details on Firewind visit Firewind.gr.