Former GUNS N' ROSES Drummer Steven Adler, L.A. GUNS' Stacey Blades Help Raise Money For Skylar Neil Foundation
August 2, 2011, 6 years ago
The Skylar Neil Foundation, RockForRecovery.com and event organizer Nick Culves presented the Cruefest Hollywood benefit concert, sponsored by Rock-n-Roll GangStar, on Saturday, July 30th, at the Whisky A Go Go in West Hollywood, CA, to raise money for The Skylar Neil Foundation, a non-profit organization in memory of Skylar Neil, the young daughter of MÖTLEY CRÜE frontman Vince Neil, who tragically died of cancer at the age of four in 1995.
The evening began with a press conference at the Sunset Marquis Hotel in West Hollywood, CA. Then moved up to the Whisky A Go Go where several bands, including DAISY DE LA HOYA, HARDLY DANGEROUS (Featuring JAMES BROWN's widow Tomirae Brown and, Mötley Crüe drummer Tommy Lee's sister Athena) and ROSIE AND THE COBRAS.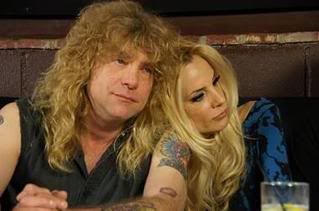 In the evening, a benefit jam including Steven Adler (ADLER'S APPETITE, GUNS N' ROSES), Chip Z'Nuff (ENUFF Z'NUFF, Adler's Appetite), Colby Veil (DOPESNAKE, ex-Adler's Appetite), Stacey Blades (L.A. GUNS), Willie Basse (BLACK SHEEP, CANNED HEAT), Nadir D'Priest (LONDON), Daisy De La Hoya (Daisy of Love), Dan Winton (HOLLYWOOD ROSES) and many more played.
Sharise Neil, Skylar's mother and ex-wife of Vince Neil, was an honored guest at the concert.
Several items, including signed guitars, private music lessons and prints signed by all members of Mötley Crüe were also auctioned during the evening to raise additional funds.
The Skylar Neil Foundation's mission is to honor Skylar by raising money and awareness through unique charitable events and grant and award the money raised to medical, research and educational institutions/groups/individuals who are doing breakthrough work to find cures for cancer, AIDS and other diseases. To date, Vince and the Skylar Neil Memorial Foundation have donated millions of dollars to various organizations.
For more information on how to donate, email contact@skylarneil.org, call (925) 327-1700, or contact:
The Skylar Neil Foundation
2410 Camino Ramon, Ste. 198
San Ramon, CA
94583