FREDDIE MERCURY - The Great Pretender Director Rhys Thomas - "It Also Shows A Flawed Side Of Freddie, The Fact That Not Everything He Did was A Success, Yet He Wasn't Bothered By It, He Just Bounced Back"; New Q&A Online
September 24, 2012, 8 years ago
Tomorrow, September 25th, Eagle Rock Entertainment will release FRDDIE MERCURY - The Great Pretender, on DVD and Blu-ray.
A new Q&A; with director Rhys Thomas is available online. An excerpt follows:
Q: Knowing you and how passionate you are on the subject matter, how did this differpersonally from a QUEEN project?
A: "I preferred this in a weird way, as it was less about the music and more about the person. It also shows a flawed side of Freddie, the fact that not everything he did was a success, yet he wasn't bothered by it, he just bounced back. Days Of Our Lives was a group effort really, it was both Simon's dream, and mine to make that. This felt more like it was my thing. I had more confidence to go alone. Simon was busy on other projects so couldn't be there, but came to the first showing and we have both worked together for so long, know what we both like."
Read more at this location.
Check out the official trailer for The Great Pretender below:
Created by the same team behind the widely acclaimed Queen: Days of Our Lives BBC documentary, The Great Pretender, in similar vein, presents a compelling insight into its subject matter, unearthing previously undiscovered or rarely seen footage and presented for the first time in High Definition.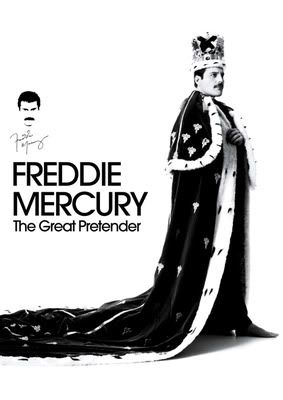 Produced and directed by Rhys Thomas, life-long Queen fan and expert (to the extent that Rhys famously broke the Mastermind all time record points score with a specialist subject of Queen), Rhys has this time turned his attention to the Freddie archive, going back as early as 1976 in search of vintage gems which reveal more than ever before the inside story of Freddie's life and career and the solo projects he worked on outside of Queen.
The extensive archive footage is drawn from rare interviews with Freddie, concerts, video shoots and personal material, much of it being seen for the first time, along with newly filmed contributions from fellow Queen members Brian May and Roger Taylor, Queen manager Jim Beach, soprano Montserrat Caballé, composers David Arnold and Mike Moran, lyricist Tim Rice, comedian and lifelong fan Matt Lucas and many more.
From it emerges a portrait of a man who was very different to his flamboyant onstage public persona.
Among the treasures to be anticipated, The Great Pretender includes for the first time ever Freddie and ROD STEWART singing their demo for 'Take Another Piece of My Heart', an unreleased song from 1984, a snippet of the unreleased MICHAEL JACKSON / Freddie Mercury collaboration 'There Must Be More To Life Than This', and Freddie with the Royal Ballet 1979 – never seen in full before.
Rhys, whose extensive scouting for lost material turned up a copy of the band's first TV appearance among the belongings of late comedian Dick Emery, brings to the light Freddie's earliest filmed interview from 1976 unearthed in Australia and another unseen interview from 1976 filmed by NBC in the USA.
Rhys also found 10 cans of Freddie's 39th Black and White birthday party in Mrs. Henderson's nightclub in Munich in 1985. Originally filmed for the video for 'Living On My Own', and promptly banned by Freddie's record company because of its cross-dressing theme, there's much to be enjoyed in watching Freddie and his friends go full out in their efforts to help Freddie celebrate his last birthday before turning 40.
On top of this, The Great Pretender has a feast of outtakes from the video shoots for 'I Want To Break Free', 'One Vision', 'Days of Our Lives', 'I Want It All', 'A Kind Of Magic', 'Princes of the Universe', 'Living on My Own', 'Born To Love You', 'Great Pretender', 'Made In Heaven' and 'Who Wants to Live Forever'.
As bonus features (that will not make up part of the version to be broadcast by the BBC) the program includes Freddie Mercury Goes Solo and an extended interview with MONTSERRAT CABALLE.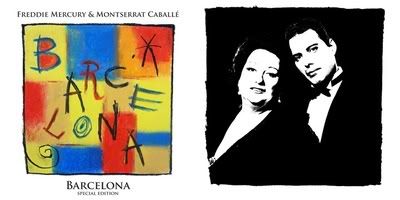 Coinciding with the release of The Great Pretender DVD will come the release of the new Barcelona: Special Edition album with Freddie and Montserrat's original album re-recorded with full 80 piece orchestra [a feature on the making of this album is included on both formats] and a new book, also entitled The Great Pretender with matching artwork, in September.
Complete details can be found at this location. Watch the making of the album clip below: