GARY CHERONE On HURTSMILE, EXTREME, VAN HALEN's "Vaults Of Music"
February 18, 2011, 8 years ago
By Mitch Lafon
Singer Gary Cherone has had a tumultuous career in rock. At one time, he rode to the top of the charts with EXTREME's ubiquitous ballad, 'More Than Words'. A few years later he became the leper in the VAN HALEN colony. Since then, Cherone has reunited with his Boston bandmates in Extreme and released a string of solo albums under various 'band' names. His most recent venture, HURTSMILE have recently released the eponymous, Hurtsmile, album. The band takes the listener on a musical ride that touches upon the best of everything Cherone has done before. Bravewords.com caught up with the singer to find out more.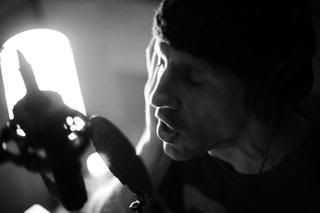 Bravewords.com: You've played with Extreme. You've played with Van Halen and you've released a few albums under different band names? Why not make a proper Gary Cherone solo album?
Gary Cherone: "That's a good question. My only attempt at something like that was in 2004 or 2005 when I put out an EP. It was a very limited pressing on CD, but I think you can get it on iTunes and Amazon. I had a lot of material that I didn't record for that, so there will be an official solo record some day, but I've always been comfortable being the singer in a rock band."
Bravewords.com: What does Hurtsmile mean for Extreme? Have you done the reunion and stopped or is this just an 'in-between' project?
Cherone: "Extreme is alive and well. Nuno (Bettencourt) and I are separate, but writing. We plan on recording this year and if the right tour comes up (like WHITESNAKE for example), Extreme will be on the road too. Before Extreme got together in 2007, I started Hurtsmile and put out a couple of songs on the Internet. Then, it was put on the shelf because of Extreme's record and tour. Then Nuno had the opportunity to tour with RHIANNA, so I had 2010 to finish the Hurtsmile record with my brother, Mark, but there will be more music with Extreme."
Bravewords.com: How is it touring with Mark? The fact that he's your brother does it lead to sibling rivalry?
Cherone: "The band is in the honeymoon stages because we've yet to tour. We're rehearsing and people are getting along, but once we get in a van and are playing some shitty club with some bad monitors and… that'll be the true test. Mark and I have been very close, but musically there's always tension. The advantage of having your brother is that I know him as well as he knows me. He knows my moods and I know his. I'll stay away from him when he's in a bad mood."
Bravewords.com: The theme of the new album – Let's start with Daniel Faulkner. What the connection with him? He was a police officer who was gun down in Philadelphia in the 1980's. Why did you write about him?
Cherone: "It was a song that I wrote outside of the band at first. It was an experiment in trying to tell a story. I was a big BOB DYLAN fan and I was a fan of how he could tell a story. So, why was I attracted to that subject? It was something that I was drawn too and decided that I was going to do some research and I'll write it from the scene of the crime and tell the story of how it unfolded. I looked into it as objectively as I could and tried to stay away from the politics. I wrote the song and I came across a book written by the widow that was very interesting. I was motivated to get a hold of her and to tell her that I wrote a song and that I'd like to send it to her. There was no motivation to release the song. I sent her the song and a year later she called me and said 'there's a documentary being made. Would you mind if they use the song?' I said, 'of course not, it's your song'."
Bravewords.com: It, lyrically, does tell the story very well. The other songs on the album seem to touch on the themes of reconciliation and finding your saviour. Where does that come from? You also talk about the murdered journalist, Daniel Pearl…
Cherone: "I don't know what drives me to these subjects. When you talk about Daniel Pearl, I'd have to stick my head in the sand to not be affected by what surrounds me now. When you look at this in a general sense you go, 'ok, is this political, philosophical…' but to me the song 'Kaffur (Infidel)' may have been inspired by Daniel Pearl, but it's not about that. It's one of the heaviest songs on the record."
Bravewords.com: I've always found your lyrics to be very cerebral and the music is always very busy. When you listen to your songs with headphones on, there's always something going on.
Cherone: "Thank you very much and I'll give credit where credit is due. I do like textures and surrounding… The layers and musical themes are important. On the Hurtsmile record, we do have our meat and potato songs. Our three-piece rockers like 'Just War Theory'; musically it's stripped down. There's no rhythm guitar during the solo so it's pure what you are going to hear live. The sequence of the album is also very important. The record starts off very sparse and grows into a more elaborate… It takes you on a journey. Beyond The Garden epitomizes the bell and whistles that comes in and out of the mix. Lyrically, it's very philosophical and if you don't give it something musical to change the mode it misses the mark."
Bravewords.com: Speaking of the song, 'Just War Theory', were you a fan of the THE B-52s? You seem to have taken on the persona of Fred Schneider, their lead singer, for this song.
Cherone: "(laughs) "I'd say it's more Johnny Rotten than Fred Schneider. That opening track guitar is very raw. It channels a little Johnny Rotten. I sound like a snotty rock star bitching about the world. I booked ended the record with Just War Theory and the sort of reggae-ish Just War Reprise. I wanted cynicism to run through the lyrics of the opener and the same lyrics were presented in a more positive light at the end with, musically, the reggae uplifting fun… I would hope people would really listen to it. That was the point, so hopefully people will get it."
Bravewords.com: What are the bands touring plans?
Cherone: "There's only been a couple of gigs booked, but we're building something in America. There's a promoter in Italy that has offered us a couple of gigs and we want to build a European thing to it. Japan looks good. It'll be easier to play the states, but fingers crossed I'm hoping to get this to Europe and Japan. Realistically, it was very difficult for even Extreme to get on a major tour, so we're prepared to play some clubs and build this. I'm looking forward to it, but I'll be bitching in the van (laughs)."
Bravewords.com: What can fans expect from a Hurtsmile show?
Cherone: "It depends on the venue. If we're doing a festival, I'll put some more familiar stuff because you don't want to give a festival audience twelve songs of obscurity. If were headlining a show it'll be more Hurtsmile. We're actually writing new material and are planning to release it via the 'Net. Hopefully, by the time we get out on the road and people will be able to hear some newer material and have prepared for it."
Bravewords.com: Over the years, I've found that lyrically you've had a lot to say. Have you ever thought of writing a book?
Cherone: "I've been asked a couple of times, but I've always rebelled against it because I'm not a poet. Some songs were poems that were morphed, but I'm a songwriter not a poet. Would I love to be able to write a book? Sure, but it's a comfort zone thing and I still see it as a challenge. I like the medium of songwriting."
Bravewords.com: So, The Poetry Of Gary Cherone book is not coming out next year…
Cherone: "(laughs) "No, and not anytime soon. I'm sure everybody has a story to tell, but I'm not ready. My managers asked me to write my Van Halen story (my three years in the band), but I told them that that stuff is going to be taken to the grave."
Bravewords.com: Speaking of Van Halen. The one thing I begrudge the record company is the unreleased live album. You recorded a show in Pittsburgh in 1998. The release was announced on the one-sheets and before it was due out. It was scuttled. I really wish they'd release it. It drives me crazy knowing that it's locked away in a vault somewhere.
Cherone: "I'm surprised that it's not out given the different technologies today."
Bravewords.com: You can find it out there on the 'Net if you look, but I want the official properly mastered version. Not some bootleg.
Cherone: "You want it official. You want it remixed, tweaked and EQ-ed. You know it's funny I completely forgot about that gig. It was a good gig…"
Bravewords.com: And it should have been released.
Cherone: "Let me get on that for you (laughs)."
Bravewords.com: Are you surprised that Van Halen hasn't released any new music since you left the band?
Cherone: "I'm not surprised. When I was there, there were vaults of music. Eddie is not lying when he says he has a garage full of music. The rumor is that they're in the studio right now and Eddie is in good shape. Nuno actually bumped into him recently and told me that he sounded great. There will be new music. They did the reunion with Sammy in 2004 and Eddie wasn't in the greatest shape. They did the 2007 reunion with Roth, which I thought was great. I thought Roth was great and from that they are moving to this. I'm as big a Van Halen fan as anyone else and I'd love to hear new material from them and knowing Eddie – he doesn't want to live off his catalogue. The fans want to see them tour, but Eddie is an artist and he needs to put out new material. So, I'm looking forward to it."
Bravewords.com: What's the agenda for Extreme? When do you head back into the studio?
Cherone: "It's contingent upon Rhianna's touring schedule. I'm kidding. Nuno is on the road for another leg of that tour, but we plan on getting together and recording later this year. We should be doing something in the summer in between the cracks of Rhianna. If there was some time off in between tours, I think I'd push Nuno to go out and do a string on dates. It's just as important as new music from the band. We have to keep the profile out there. It'll soon be two years and people tend to forget. Extreme is a strong band, but we need to play out as much as we can."
Bravewords.com: What was different about Extreme this time out? You had a run back in the late '80s  & early '90s. The band broke-up, VH1 tried putting you back together and Nuno said 'no, thanks'. Why have you chosen to work together again?
Cherone: "The popular TV version of Extreme is that, not hate, but that we didn't get along. During that 'Bands Reunited' thing, Nuno and I were talking. What Nuno was pissed about is that they lied and surprised him. Nuno was under the impression that he was going to meet them to do an interview for a book and he was pissed. So, he didn't want any part of that. It was around that time that he was doing Perry Farrell. We were getting together, but it was just a matter of when. People think we weren't getting along, but we were getting along even when I was in Van Halen. We always talked about, not if, but when… so 2007 came around and we did it on our terms. As for Bands Reunited, Nuno said it best 'you guys are only going to put us on the editing room floor and show thirty seconds of 'More Than Words'. We didn't want any part of that. We would reunite on our terms and not them exploiting the band."
Bravewords.com: Are you still resistant to singing 'More Than Words'?
Cherone: "Don't get me wrong. There was a short period of time in 1994, but in hindsight…"
Bravewords.com: The song painted you into a corner…
Cherone: "You got it and we took it out on the song rather than on the powers that be. Looking back on it, had we not written More Than Words we might have never recorded the album Three Sides To Every Story. The success of that song made us tour two more years on Pornograffitti. We couldn't buy a tour before that. We ended up on tour with BON JOVI and ZZ TOP. We wrote Three Sides during that period. We had the record company's support. We had the money to go to Abbey Road with a 70-piece orchestra. We had the QUEEN tribute and this was all a domino effect to the success of 'More Than Words'. With Extreme, when we get together it doesn't take much for us to be full of piss and vinegar. We always leave it out the stage and if anybody has seen the band; they know that's the real deal. We always leave it out on the stage."
Bravewords.com: You certainly do. I was watching your Van Halen in Australia footage and I see you jumping around, rolling down the aisle and more…
Cherone: "I got a few scars from that show that are still on my body. I remember that Australian show. We started the tour in New Zealand and the Australian show was the fifth show of the tour. I remember tripping down one stair and thinking 'ah, what the hell just roll'. So, I rolled down the stairs and people always ask me if it was on purpose. Well, it didn't start on purpose, but it ended on purpose."
Bravewords.com: When you're writing, how do you decide which songs go to Extreme and which songs go to Hurtsmile?
Cherone: "This will actually be the first time that I will be juggling both bands. In the past it was either Tribe Of Judah or the solo thing or Extreme, but I don't think I'll have a problem. I'm usually inspired by the music, but it'll be very interesting and it'll depend on where my head's at and where the music takes me. I remember hearing the music to 'Infidel' while I was out on the road with Extreme. I was sent a rough demo of the instrumental stuff for 'Infidel' and I thought 'whoa, this is heavy. I'm not going to be singing She Loves You Yeah! Yeah! Yeah! to this'. The music dictates where I go."
Bravewords.com: Time to plug. What's the website?
Cherone: "Nice and easy – it's Hurtsmile.com. The record is out and is available at iTunes, Amazon, Best Buy, and more. Please get a copy and get turned on to Hurtsmile and come see the band live. Mitch, I enjoyed our conversation and I appreciate you digging a little deeper into the lyrics. I very much appreciated that."