GEOFF TATE - "I Think Most People Attracted To QUEENSRŸCHE's Music Tend To Be A Little Bit More Intelligent Than The Average Metal Fans"; Tate's Queensrÿche To Tour US, Europe, South America
November 5, 2012, 4 years ago
Metal Kaoz' Maria Voutyriadou and Dimitris Kontogeorgakos recently conducted an interview with GEOFF TATE, who revealed his future plans about QUEENSRŸCHE, talked about his new solo album and about wines.
An excerpt follows:
Q: You have one more band coming up with Glen Drover, Rudy Sarzo, Bobby Blotzer. So, what is the latest update on that?
A: "Well, we have dates being booked now and I think we are going to start late March/early April...
Q: …(interrupting) are we talking about US dates, right?
A: "Well, there are some US dates but there are some European dates too and then some South American dates as well. We are going to try to take it anywhere we can."
Q: So, this band has a name?
A: "Queensrÿche."
Q: That's a little bit strange for the fans' point of view.
A: "I don't think so."
Q: I'm saying that because the fans don't know what is behind the scenes and what did happen between you, guys. It might be don't care about it. But still there are some fans taking sides. Isn't that strange? I mean, I don't have an idea what happened with you and I cannot express an opinion about what happened.
A: "I suppose for some people this would be confusing but I think most people attracted to Queensrÿche's music tend to be a little bit more intelligent than the average metal fans and they are able and capable to go to GeoffTate.com look at all the information and find out what's going on. So, they will not be confused anymore."
Q: Have you discussed about the setlist that you are gonna play with these guys? Have you personally decided what the setlist would be?
A: "Not totally but we have a really good idea."
Q: Can you give us a hint?
A: "No, it's gonna be a complete (high-pitched) surprise! We have a bunch of announcements coming up by the end of November."
Q: Are you thinking making an album with these guys?
A: "I'd like to. We'll see what happens. You know, you never know till you get in a room together. Some people are really good players and not a lot of people are good writers. And you never know. Sometimes they are both. You just never know."
Read the full interview here.
Tate's second solo album, Kings & Thieves, is out tomorrow, November 6th, in North America.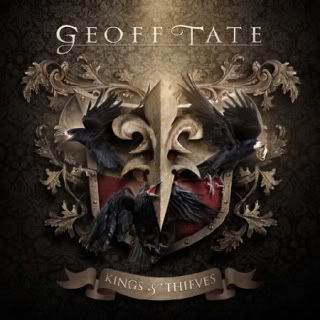 Tracklisting:
'She Slipped Away'
'Take A Bullet'
'In The Dirt'
'Say U Luv It'
'The Way I Roll'
'Tomorrow'
'Evil'
'Dark Money'
'These Glory Days'
'Change'
'Waiting'
Audio samples of all tracks featured on Kings & Thieves are available via Amazon.de. Click here to check them out.
Watch the 'Dark Money' lyric video below:
Kings & Thieves will be Tate's first solo album in more than a decade, and his debut release for InsideOut Music. The album is available for pre-order via Amazon.com using the widget at the bottom of the page.
As one of the most well-known and respected vocalists in the history of hard rock and heavy metal, Geoff Tate has sold over 20 million records and received four Grammy nominations.
Tate's tour schedule is now as follows. It includes a string of November dates in Canada supporting ALICE COOPER (**):
November
7 - Calgary, AB, Canada - Southern Jubilee Auditorium **
8 - Saskatoon, SK, Canada - TCU Place **
9 - Moose Jaw, SK, Canada - Mosaic Place **
11 - Medicine Hat, AB, Canada - Medicine Hat Arena **
13 - Dawson Creek, BC, Canada - Encana Events Centre **
14 - Edmonton, AB, Canada - Northern Jubilee Auditorium **
16 - Vancouver, BC, Canada - Queen Elizabeth Theatre **
18 - New York, NY - B.B. King's Blues Club
21 - San Antonio, TX - Backstage Live
23 - Dallas, TX - Trees
24 - Houston, TX - Warehouse Live
27 - Shiprocked