GEOFF TATE - "I Thought I'd Make A Traditional Rock Record"
October 8, 2012, 5 years ago
Patrick Prince of Powerline recently interviewed former QUEENSRŸCHE frontman GEOFF TATE, who will release his second solo album, Kings & Thieves, on November 6th. An excerpt from their chat follows:
How is this solo record different than the last one? What have you learned from the last one?
Tate: "They're really two different animals. The first solo album, for me, was really an exercise, exploring my musical influences. So there were a lot of jazz influences, R&B; influences, classical influences, that kind of thing on it. But not very much rock. There are only three kind of rock tracks on the record. When I was gearing up to make the new one, I thought how I really wanted to go out and tour solo, so I have to have enough material to really put on a good show. I thought, you know, I think I"m gonna make a rock record. And I'm kind of a list-maker so I started making lists of what kind of record I wanted to make. I started looking at my rock influences, really, and those were FLOYD and GOLDEN EARRING and DEEP PURPLE and RAINBOW, these kind of bands, that I have all their records and I love all those bands. And then I thought I'd make a traditional rock record with that kind of traditional instrumentation that those bands used, you know. That's kind of my thinking going into it, really, to make a solid rock record and one that I could play live — one that could balance out my material that I have solo-wise."
You have said that your goal with this record was to make a solid rock album. You made it a conscious effort to make it more rock than metal? … whatever metal is nowadays.
Tate: "Yeah, I don't know. People say that to me all the time and I don't know. You know, it gets really difficult because of the time and era I grew up in, rock music didn't have all these genres. And so it was a very creative time because artists didn't have to fit in this little tiny niche of a box. We were all just making rock music, you know. And somewhere in the '90s it started getting all specialized, I guess, or trying to."
To read the interview in its entirety, click here.
The official lyric video for 'Dark Money', a track from Geoff Tate's Kings & Thieves, can be seen below:
Audio samples of all tracks featured on Kings & Thieves are available via Amazon.de. Click here to check them out.
The artwork and tracklisting to Kings & Thieves is as follows: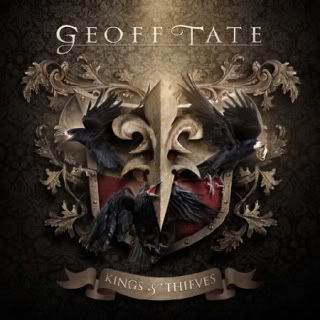 'She Slipped Away'
'Take A Bullet'
'In The Dirt'
'Say U Luv It'
'The Way I Roll'
'Tomorrow'
'Evil'
'Dark Money'
'These Glory Days'
'Change'
'Waiting'