George Lynch Says New LYNCH MOB Will Be Done In October; Working Title Revealed, 'Slow Drag' Video Unveiled
August 15, 2012, 2 years ago
Despite the behind-the-scenes drama with DOKKEN and LYNCH MOB, guitarist George Lynch is a marquee guitar hero throughout the world and for 25 years his custom guitars have long been a hallmark for ESP's Signature Series. Now, with Lynch Mob set to take the world by storm again, the man who many feel is one of the most gifted and innovative guitar players in the history of the genre recently spoke with with BraveWords.com correspondent Matthew O'Shaughnessy (from
WVOX.com
) about Lynch Mob's Sound Mountain Sessions EP out now on Rat Pak Records and more in the always rocking life of Mr. Lynch.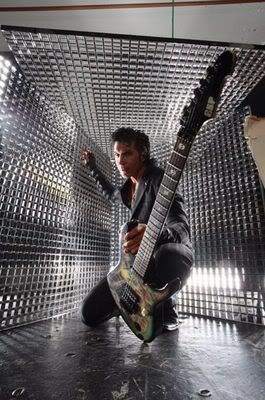 WVOX.com: Lynch Mob is back with another great piece of hard rock art. You've gotta be extremely happy with how Sound Mountain Sessions turned out. I know it has been very well received.   George Lynch: "Thank you, Matt.  It's always nice to hear a little bit of appreciation. Everything that we all do, yourself and everybody reading this. Most of us work very hard respectively no matter what it is. I tell my wife and kids this; we all like to be appreciated. It's all men want is just to be appreciated once in a while for working hard becuase that's what we're designed to do and that's what expected to do. I speak for myself as well as the band, Lynch Mob, as well as SHADOW TRAIN and TOOTH AND NAIL; the three projects I am currently involved in. We all work really hard because we love what we do and we feel inclined to do it. It's not just duty, it's sort of a calling. Being a musician is a calling.  It's really a calling. You really can't do anything else. It's something you feel compelled to do. It's not that we've decided to do it; it's just that we love doing it and it's important. I put this on the liner notes of the new EP: 'We do this not because we want to be rich millionaire rock stars, but because there is music in our heads and there's music people want to hear and if you put those two together it creates an alternate universe that makes people happy. Sort of this mysterious entity that exists in the world that is very beautiful and life without it would be kind of bleak.' I find, also, there is really no disconnect between the observor and the creator or the conduit; I consider myself a conduit more than a creator. And I think the lines are being blurred between the person that produces music and the person that listens to it. So, it's an interesting time in music. I just hope I am around long enough to see where it goes.  There are some guys in my camp who are old school and they are purists and they think, well music should be created by a specific few elite; the era of the supergroups. It's kind of a good old boy network and it should be the domain of the chosen few. I think that that's not true. It's fascinating to me."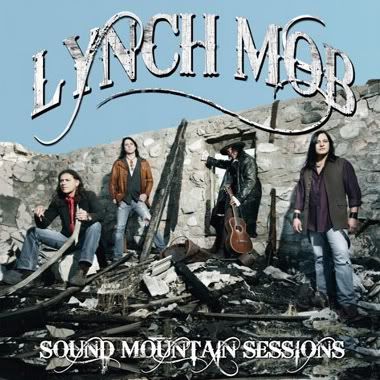 WVOX.com: Give us a behind the scenes look into the making of Sound Mountain Sessions.   George Lynch: "What we've done with this record sort of accidentally is recreate what we were about back then on all levels. We have Robbie Crane back in the band on bass who was the original bass player before Anthony Esposito. And what we did is just went into this abandoned house up in the mountains with no idea of what we were going to do. We didn't have any songs written! We set up very old school. We sort of created this studio in the house. Brought in equipment; we lived there, ate there, slept there. We were immersed in the music. We basically lived in the creative atmosphere of that record for a week. It was a beautiful and wonderful experience. I'm so proud of the fact that we went in their as a family and as brothers and friends and came out of their with something really beautiful. And got us back on track as far as what people can expect and what we are. And we are going to continue with that.  We're doing a full length record that will be out early next year that will also be recorded in the same place as Sound Mountain Sessions. We're very proud of what we've captured on the new EP!"   WVOX.com: Sound Mountain Sessions features four blues-based hard-driving tracks: Tell us your thoughts on the some tracks on the new EP.   George Lynch: "'Slow Drag' is right up the middle; it's our new Wicked Sensation. It's meat and potatoes. We did a video for that song and it will be coming out very soon. It's a very nice performance piece and very cool video that we did in Houston, Texas about a month and a half ago. The last song on the EP, Sucka, was the final song we wrote and we were all just sitting around going,  'Ok we need this fourth song; what should it be about, and Oni Logan shouted out, 'We need a burner, something balls-to-the walls, something kick-ass,  like old school Van Halen - that sort of vibe. And so we just sat around in the living room with guitars and acoustic guitars and came up with a riff and it just took off and we created this barn burner of a song which is kind of old school. 'World Of Chance' is a little more 'arty' I guess is the word, a little more complex as far as the musicality of it. Not as meat and potatoes. But Lynch Mob has that side to us where we play from the gut. 'Slow Drag' and 'Sucka' are from the gut and the heart and the groin.'World Of Chance' is something that was a little more introspective and a little more cerebral.  So, when we wrote the words to the songs we would just sit out up there in the mountains, put out folding chairs, get the barbecue going and we would all have our pads of papers and just started writing ideas and feeding off our environment and each other. It was just really a wonderful experience. It adds so much more depth to the record for me, you know, rather than going into a million dollar Hollywood studio with a high end producer with all the bells and whistles. We just captured what we are at the moment. A space in time. A week in the life of Lynch Mob. Instead of waiting for the big opus record to come out next year, we thought let's just put something out now that just captures where we are right now. Let's re-establish ourselves. And I think it has served that purpose because it has been really, really well received. We have no regrets. It also proves you don't have to spend a million dollars to do what you do!"   WVOX.com:  It's an exciting time for this kind of music and for you and Lynch Mob. What would you ideally like your fans to come away with after listening to Sound Mountain Sessions?   George Lynch: "Well, I would say for a certain spectrum of listeners including myself that there's a certain void out there with the kind of rock that we do; it's blues - based with a twist. It's desert music but its got some brains behind and it definitely has players behind it.  And I think that's kind of missing from the landscape musically right now. There's obviously a lot of alternative and metal out there and pop music and hip hop out there... and it's all great but it's not what we do. I think we sort of stuck to our guns through all these years and I'm sensing that it's coming back around. People are understanding that we might be filling a much needed gap in the musical void that exists out there. And that's what I hope people recognize and I think they are. "  
WVOX.com: George, you've been at your craft - the business of hard rock music for a long time now, over thirty years. You have some of the most devoted fans around the world. What would you want to say to them now?   George Lynch: "Well, we went through some lean times in the '90's, as you know, for guitar-based hard rock music. There was a point in the '90's where myself and my contemporaries were almost ashamed to admit that we played guitar the way we played guitar; we almost had to sort of tone it down out of necessity. I remember doing records in the '90's where well, I was like ,'do we really need a solo here?' It was almost like you had to avoid playing them or do anything you felt inclined to do. It was a tough time. But what I found is that that love for this kind of music still existed , it was just kind of underground for a while and all those people are still there and that appreciation is still there. As you said, it's a wonderful time right now to be playing the kind of music that we're involved in and other bands. It's a pretty huge niche. Basic blues-based hard rock is never going to go out of style!. I am very happy that it has come back around."   WVOX.com: You mentioned Lynch Mob's next full length record which is on the horizon. What can you tell us about it?   George Lynch: "We've been working on this full length record for about a year; we've had some hangups with drummers coming and going that has sort of stopped us in our tracks here and there but we continue to soldier on. We have five songs in the can including a version of 'Burning Sky' by BAD COMPANY which is really, really awesome and so fun to play! And four other originals which are just awesome and I can't wait to get this record out there. We're going back in sporadically throughout the rest of the year to finish the record. We'll have it finished hopefully by the end of October and released on Frontiers Records as was Smoke and Mirrors. And this new record is really an evolution beyond Smoke And Mirrors. As you can see with Sound Mountain Sessions we've evolved and really focused on who we are and that's being expressed really well on this new full length record that will be out early next year. We have a working title right now of I Am Weapon. It will not disappoint!" Check out the new video for 'Slow Drag' from Lynch Mob's Sound Mountain Sessions featuring George Lynch, Oni Logan (vocals), Robbie Crane (bass) and Brian Tichy (drums) below: