Headliners EINHERJER Cancel Heathen Crusade 4 - "We Are Just As Pissed Off As You Are!"
February 13, 2013, 4 years ago
Norwegian Viking metal veterans EINHERJER have cancelled their headlining appearance at this year's US viking/folk/pagan metal festival, Heathen Crusade 4, will take place on March 9th at Station 4 in St Paul, MN.
A band statement reads: "Ok, it seems we need to clear up any misunderstandings regarding the cancellation of our performance at Heathen Crusade. We are not able to perform because we didn't get any money from the promoter. No money for flights, no money for visas. We've tried our best to find a solution, but the deadline for the working visa application left us no choice but to cancel. We're really sorry it came to this....and we are just as pissed off as you are!"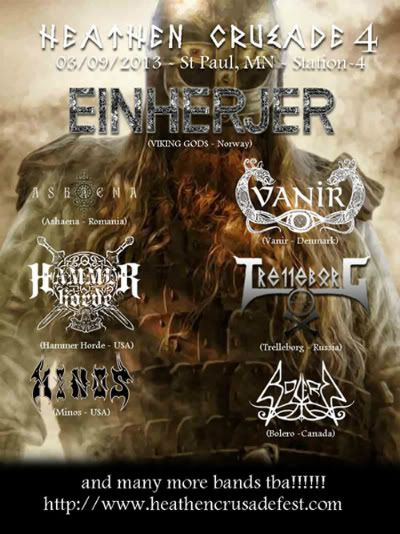 Acts on the bill now include: WAYLANDER, ULVEHEIM, VANIR, ASHAENA, TRELLEBORG, HAMMER HORDE, BOLEROS, SIG:AR:TYR, BATTLESOUL, WINTERHYMN, MINOS, VESPERIA.
Further details at this location.