HYPOCRISY's Mikael Hedlund - "We're Focusing On Writing A New Album"
November 10, 2011, 7 years ago
Metal Shock Finland has issued an interview with HYPOCRISY's Mikael Hedlund. The following is an excerpt from the interview, conducted by Mohsen Fayyazi:
Q: Have you any plans to go in the studio to record a new album this year or next year? If yes, do you want to continue those brutal themes that you used before in your music or will you surprise us?
A: "We're focusing on writing a new album. That's the most important thing for us at the moment. It's too early to say what it's going to sounds like but all I can say is that it's not gonna be any change of style. It will be a classic Hypocrisy album with no compromises. We already got some material and we're really looking forward to entering the studio again. We don't know yet when it will be, but hopefully after the summer 2012. Nothing is confirmed yet. We're doing the MetalFest tour in May/June plus some other festivals. That's the plan at the moment."
Read the full interview at this location.
Hypocrisy, , ENGEL and F.K.Ü are the latest acts confirmed for the 2012 edition of the Rockstad: Falun Festival which is scheduled for August 16th - 18th at Lugnet Falun, in Falun, Sweden.
Confirmed acts now include: HYPOCRISY, ENGEL, F.K.Ü, SABATON, AMARANTHE, NOCTURNAL RITES, and IN MOURNING.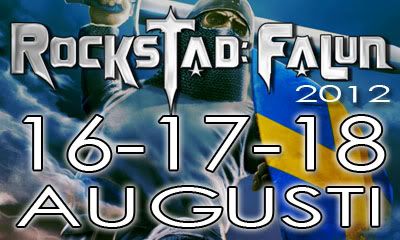 All ticket info can be found at this location. Further festival information here.