JACK RUSSELL Apologizes To Manager Alan Niven In BraveWords.com Exclusive
May 17, 2012, 7 years ago
Former GREAT WHITE singer JACK RUSSELL has issued the following statement exclusively to BraveWords.com:
"I recently did an interview on
F.I.B. Music
and I made a comment about our first manager Alan Niven. In the interview I said something to the effect of 'when Alan and myself and Mark or Michael wrote songs together he would take half of the publishing as as an outside writer, then he would commission our percentage.' This information came to the band and myself after we parted ways with Alan from a person we felt was reliable I have since found that this is not correct. Not only did he take only his equal share, he did not even commission ours as he was trying to be helpful to us.
First I extend my apologies to Alan and my apologies to you for any confusion this may have caused. I have always made sure that any information I give to the public to be honest information, therefore I wanted to straighten this out. I hope he's not too pissed at me, but then again we've been butting heads for thirty years. Two roosters in the henhouse I suppose."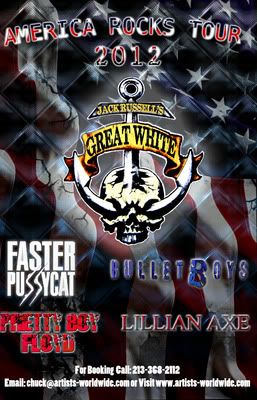 Catch JACK RUSSELL'S GREAT WHITE headlining the America Rocks Tour along with FASTER PUSSYCAT, BULLETBOYS, PRETTY BOY FLOYD, and LILLIAN AXE at the following shows:
June
15 - Santa Clara, CA - Avalon Theatre
16 - Salinas, CA - Fox Theater
17 - San Diego, CA - 4th And B
19 - Salt Lake City, UT - Club Alure
22 - Savage, MN - Neisen's Events Center
23 - Glendale Heights,IL - Shark City
24 - Vienna, WV -Yellow Beards
26 - Etobicoke, ON - The Rockpile
27 - Portsmouth, OH - Columbia Music Hall
29 - Columbus, OH -Alrosa Villa
30 - Sayreville, NJ - Starland Ballroom
July
1 - Springdfield,VA - Empire Ballroom
3 - Sevierville, TN - Rock N Roll Theatre
4 - Florence, AL - Spirit Of Freedom Festival
6 - Laredo , TX - Casablanca Ballroom
7 - San Antonio, TX - Backstage Live
8 - Dallas, TX - Trees
10 - Phoenix, AZ - Marquee Theatre
August
16 - Hollywood CA - Whiskey A Go Go
17 - Sacramento, CA -Ace Of Spades