JOHN CORABI Does His Own Thing
August 4, 2011, 6 years ago
By Mitch Lafon
SCRAP METAL, founded by Mark Slaughter and Gunnar Nelson, headline the Scrap Metal summer rock event tomorrow, August 5th, at the Mohegan Sun Wolf Den in Uncasville, CT. Joining SM for this special occasion will be former VIXEN vocalist Janet Gardner, ex-RAINBOW frontman Joe Lynn Turner, Gunnar's brother Matthew and former MÖTLEY CRÜE vocalist JOHN CORABI. Corabi sat down with BraveWords.com to talk about his involvement in the project.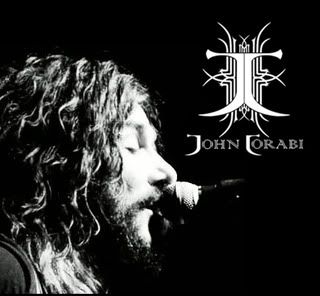 "I've known all the guys for years," starts Corabi, "and unfortunately due to scheduling I've never been able to be a part of it, but this time it just worked out. I'm on tour right now with CINDERELLA and I had this week off. They said, 'come up to Mohegan Sun' and I said 'alright, cool.' I'm very excited to be a part of it. It should be a very cool night."
What should fans expect of a Corabi with Scrap Metal evening?
"They've been talking about learning some of my stuff," begins Corabi, "and they play stuff everybody is familiar with. Gunnar told me to pick songs that I love singing and we went through a list of stuff. It's going to be really cool. They last time they got together they did songs from everybody's career and a big jam at the end with songs like 'Tie Your Mother Down' (QUEEN cover) and other classic rock shit."
Does John plan on playing more dates with Scrap Metal?
"It all depends on scheduling," opines the frontman. "I have the Cinderella thing and I'm going to be doing more dates with them in September. I got offered to go down to Florida to play on some band's record and then I have a run (tour dates) in Canada to do. At the same time, I'm trying to rehearse my full band to get ready to go on the road by mid-October. I'm a busy-beaver and to boot, I have an acoustic record coming out."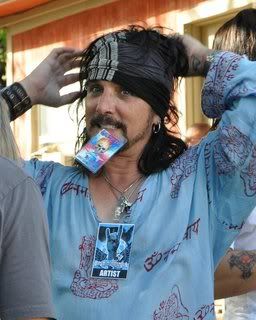 (Photo: Aaron DelBono)
Elaborating (on his upcoming acoustic album) Corabi states, "The album is simply called John Corabi Unplugged. It's finished, but I'm just trying to sort out getting it mixed and mastered, but I'm shooting to have the album out by the end of August. I'm very excited about it, so just keep checking JohnCorabi.com."
As for what songs fans can expect to hear Corabi offers, "I took 'Hooligan's Holiday' and recorded it two different ways. One is a stripped down version with all-acoustic guitar and bass (we didn't use any drums). It has congas, shakers, tambourines, all that stuff and it's my voice with three or four part harmonies. I did another version with pretty much the same layout (same chords and same arrangement), but we did it with drums, band… I played it for the guys in Cinderella and Fred Coury said, 'dude, I love that. It sounds like CCR/LED ZEPPELIN covering a Mötley song. There's 'I Don't Love You Anymore' from the UNION record, 'Man In The Moon', 'Father Mother Son', 'Never Loved Her Anyway', 'Loveshine' (another stripped down version). There are five or six new songs on there that I'm pretty excited about: 'If I Had A Dime', 'Crash', 'If I Never Get To Say Goodbye' and I found this song from my very first band ANGORA. STEVE VAI originally produced the demo for this song, so we did a stripped down acoustic version of it."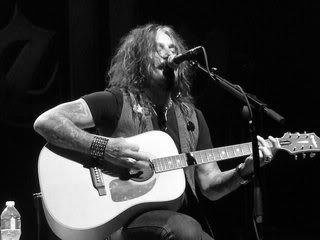 When asked about the 1994 self-titled Mötley Crüe album he sang on, Corabi graciously states, "I had an amazing time doing that record. I have no regrets about that thing at all. Still to this day, I meet people (like SEVENDUST, STAIND and all the guys in my son's band) that fucking love that record. It was heavy, but had melody. Our playing was great and I'm very proud of that thing. The bottom line is (I have it tattooed on chest in Italian) that 'life is as it should be'. I'm proud of the fact that a lot of people think that's the best work Mötley has ever done and that it's a classic record that has stood the test of time. I'm happy about it because it's a great record."
"I want to make John Corabi a brand name," says Corabi about his future. "At times, I've been a little more than discouraged with the music business. It's discouraging when you have record company guys go, 'well your songs are great… this is great…that is great, but you're 50.' I'm not a fucking line backer for the Green Bay Packers. I play frigging guitar and I sing songs. I don't understand why there has to be some over-the-hill retirement age for entertainment. My entire career I've been where that line is between obscurity and fame. I have to try this one more time. I want to find a decent publicist. I want to work the Internet. I want to write more music. I want to do more records. It's funny, I've made money for everybody else and now I want to see what I can do on my own."