JON OLIVA'S PAIN Gearing Up To Release Details Of Forthcoming Album
October 16, 2012, 5 years ago
JON OLIVA'S PAIN drummer/producer Chris Kinder has checked in with the following update:
"News of a new record and release dates coming soon. Working out the final details and confirmed info in the next few days....onward and upward we go!
Our massive and awesome backdrop from the 25th Anniversary Hall Of The Mountain King tour will go on sale later this week. Feel free to contact me if you are interested. Cheers one and all."

Contact Kinder via the band's official Facebook page here.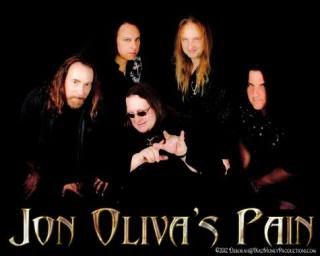 Vocalist Jon Oliva (SAVATAGE) recently discussed the band's forthcoming album with MetalBlast.net. An excerpt is available below:
Oliva: "I've got some weird ideas that I wanna try and I've got some time to do it. I don't wanna do just 'another' JOP record, I've done four of those already. I wanna do something different. I have some material that I've wanted to put out for a while, that I'll talk with the record company about, maybe putting something out quickly, like in the next four or five months, to give me more time to do this JOP record, because I want that to be special, and I've got some friends from other bands that are going to come and play. We're going to do a regular JOP record and then a bonus disc with guest stars, kind of like the AVANTASIA thing but not a whole story. Tobias Sammet does a magnificent job with it, but I don't have that much fucking time to write a whole story, so I'll just have some friends from various bands come in."
Click here for the complete interview.