JOURNEY Biographer Neil Daniels On Singer STEVE PERRY - "It's Best To Remember Him As The Great Vocalist He Once Was"
April 26, 2011, 7 years ago
BW&BK; scribe Mitch Lafon spoke with author Neil Daniels (pictured at left) about his upcoming book, Don't Stop Believin' - The Untold Story Of JOURNEY, which will be published by Omnibus Press on May 3rd.
Q: Why did you choose to write a book about Journey? What does the band mean to you personally?
A: "Well, I wanted to write a book on the band a few years back just after I wrote a bio of JUDAS PRIEST but the timing wasn't right. Then of course Glee happened and the whole 'Don't Stop Believin'' craze which has done wonders in terms of raising the band's popularity. They also got a lot of publicity for the hiring of Arnel Pineda and Revelation was a big chart success so I pitched it to Omnibus Press and hooked up with a literary agent in London who happens to be a massive Journey fan. It all fell into place after that. To get a book published on a band like Journey is a great triumph given publishers' usual snobbery and ignorance of AOR and melodic rock. I just hope they take notice of the recent interest in AOR and acknowledge that there is a big fan base out there. I'd love to write more bios of other AOR bands but unfortunately I can't see it happening... unless of course this Journey one sells a shit load of copies."
Q: Journey found their current singer on YouTube? What are your feelings about that and do you think more bands will use the Internet to find replacements?
A: "My first thoughts were that it was just a gimmick and a cynical marketing attempt but it worked, didn't it? I dunno; I'm iffy about the whole thing. BOSTON did a similar thing and INXS did that TV show. I guess it's the way of the world now and bands are going to embrace it more in the future. It's cheaper but is it fair on the fans? Is it any different from the way Judas Priest hired Tim Owens? There are so many questions. The fact is Pineda is a fantastic singer and Journey might not be here with a new album if it weren't for YouTube."
Q: How would you rate (and rank) the singer's in Journey singers: Steve Augeri, Arnel Pineda, Steve Perry, Jeff Scott Soto, Robert Fleischman, Gregg Rolie?
A: "Steve Perry is the greatest AOR singer of all time. He remains unparalled. I still get goose bumps every time I hear his voice. Through various sources, he doesn't always come across as a nice guy in my book but everybody has the utmost respect for him as a singer and performer. Robert Fleischman is underrated and I'm glad he is back with a new band called The Sky. He's done some good stuff in his past but he's no Steve Perry and neither is any other singer in Journey's thirty odd year history. Steve Augeri is a very good singer as well, but Journey's demanding back catalogue burned him out. Jeff Scott Soto, as all fans of melodic rock know, is one of today's best performers but he wasn't quite right for Journey. But he is brilliant at what he does no question. Pineda is the best of the post Perry replacements but I think he's got only one or two more albums left before a new singer is uncovered. Journey's songs are just too tough to sing live as their history proves. Gregg Rolie is a legend; one of the best in his field and an asset to Journey back in the pre-Escape days."
Q: How did you go about researching Journey for this book?
A: "I got in touch with people like Robert Fleischman and Herbie Herbert to ask if they wanted to be interviewed for my book. Thankfully they agreed. Quite a few former members turned me down because they're not allowed to talk to anyone about Journey without the band's say so. I also interviewed Jeff Scott Soto and others. I compiled a lot of research from magazines, newspapers and the internet and wrote a timeline of events going back to when the band was founded in 1973. I then wrote the barebones of the book and built the research into it. I had a contracted word count that the publisher specified but thankfully there was room for a bonus chapter on Steve Perry's solo music."
Q: What are your feelings about Steve Perry? Do you think he'll ever play with Journey again? Why has he disappeared from the scene?
A: "Apparently he is working on new material now. He made a lot of money from Journey and was one of the biggest rock stars in America during the eighties so maybe he just wants to be remembered for how great he was rather than for being a fading rock star which he might be if he was still recording/touring. I doubt he could sing like he used to these days and Journey always insist on playing the exact keys and notes on stage so it would be too hard to do at his age. It's best to remember him as the great vocalist he once was. I mean, we're always reading about the vocal struggles of ROB HALFORD, DAVID COVERDALE, and MEAT LOAF et al. Perry knew when to call it quits. He's not a has-been. I doubt he'd ever reunite with Journey. I just can't ever see it happening. It's a dream. That's it. People need to forget that idea and move on."
Q: What is the ultimate Journey album and what makes it so? What album is Journey's greatest failure and why?
A: "Interesting question. For me Escape is the pinnacle of Journey's career and American melodic rock but I also love Frontiers. They're both great albums in their own right. I guess Trial By Fire really doesn't do it for me; it lacks focus and it just doesn't rock the way the other Perry fronted albums too. Of the non Perry fronted albums, some complained about the production of Generations but I like its versatility and Arrival has some good songs. But the best remains Revelation. I have yet to hear Eclipse but I have heard nothing but glowing reports."
Q: Same question for songs - what is the ultimate Journey song? And which one left you scratching your head?
A: "'Separate Ways (Worlds Apart)' is a great song with a lot of depth. I also love three songs off the Raised On Radio album: 'Be Good To Yourself,' 'Girl Can't Help It' and 'I'll Be Alright Without You.' Those latter two are great ballads. 'Escape' is great ditto 'Only The Young' and 'Ask The Lonely.' As for the not-so-good songs, I'm not sure: some of the songs on Trial By Fire don't really do it for me like 'She Still Cries' and 'Colour Of The Spirit'."
Q: Tell me about Neal Schon. Would you say he's an under rated guitar hero and why?
A: "Man, I think Neal Schon is the most underrated player today. I don't get why this guy isn't as highly recognised as Steve Vai or Satriani when he's clearly in a league of his own. He's like the American Brian May – his sense of melody is one in a million. He's responsible for some killer solos and not only that but he has dexterity and versatility. It's a crying shame he's not labelled one of the greatest rock guitarists in the world. I have nothing but good words to say about him as a fan."
Q: Despite numerous line-up changes the band has been able to maintain a strong touring presence and fans still want new music from the band. Why do you think the band has been able to survive and thrive despite the changes?
A: "It's because of back catalogue, in particular their Greatest Hits which is really their bread and butter. Without that collection of songs and its consistent record sales they might not be here today playing new music. They also have a very strong work ethic and even when times have been tough they have persevered. Of course the band is led by Jonathan Cain and Neal Schon and they have always had clear visions of what they want to do with Journey. They've managed to capitalise on their past without being relics of the past if you get what I mean. They still make worthwhile music but they know fans will always want to hear the same old stuff."
Q: Journey has released two albums with the current singer Arnel Pineda - What are your thoughts about them? Classic Journey or new band?
A: "I think Revelation was definitely classic Journey – I haven't grown tired of hearing 'Change For The Better.' What a great song! I've yet to hear Eclipse but I've heard it's more challenging than past albums, certainly on line with Frontiers with some amazing guitars and much heavier for Journey. I think that's a good thing! I can't wait for the UK tour with Foreigner and Styx. It's a killer line up and about time us UK fans got a line up like that. My book is published by Omnibus Press on 3rd May."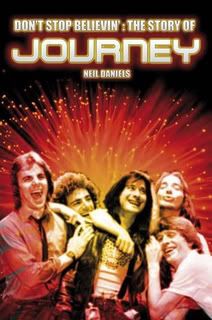 Journey are one of the most successful American melodic rock bands in history with record sales of over 75 million. The recent phenomenal success of 'Don't Stop Believin'' – the most downloaded song of all time – has given Journey a new lease of life and as such they have undergone a massive rise in popularity. For the first time ever, their entire history is explored in depth in this definitive biography which charts the many highs and many lows of one of America's most beloved rock bands.
'Don't Stop Believin'' is not only Journey's signature song but also a motto they have lived by which has taken them through some difficult times. The previously untold story begins in 1973 when the band was hastily assembled in San Francisco, California and takes the reader on a journey through the early jazz fusion years, the dramatic change in sound to AOR/melodic rock, the numerous line-up changes, the hiring and firing of their first frontman Robert Flesichman and of course, the enormous success they would achieve with STEVE PERRY as well as those years following Perry's first (and second) departure. The topsy-turvy life of the band thereafter with three more singers is also explored in detail. Journey's renewed popularity with the Philpino singer Arnel Pineda and the success of the hit TV show Glee has meant that Journey's music is played in millions of households all around the world.
Journey are now at the top of their game and receiving more acclaim and exposure since their early eighties peak years with the iconic multi-million selling Escape and Frontiers albums. Using original interviews and a wealth of research, The Untold Story Of Journey follows their career as they formed; matured and flourished and succeeded and failed. It is a story filled with heartache, bitterness and behind the scenes squabbles but also creativity, dedication, passion and drive. Journey gave the world songs such popular songs as 'Wheel In The Sky', 'Ask The Lonely', 'Any Way You Want It' and of course, 'Don't Stop Believin'', and quite literally invented the term 'stadium rock'.
Pre-order the book via the Amazon link below: