JUDAS PRIEST Are Back With A Vengeance And The New Album "Is Some Of The Most Powerful Metal That We've Played In A Long Time" Rob Halford Tells BraveWords.com
September 7, 2012, 6 years ago
By "Metal" Tim Henderson
Yet another landmark is upon us and as the years pass by, we are jetted back in time to remember some of the glory years of heavy metal, truly in it's infancy to a certain degree when the heavy-weights of British metal were matching wits with the thrash and hair band scenes in the early '80s. It was truly a snapshot in music history for those that can recall the denim and leather, the drunken debauchery and of course all those beautiful sounds that we still wave our horns at to this day. It was July 17th, 1982. Some Judas Priest fans were still bewildered with Point Of Entry's softened approach, that it was hard to figure out what the next plan of attack would be. It kind of reminds me of another heavy rock institution (LED ZEPPELIN) that followed the confusing acoustics of III with the bombastic untitled fourth album to silence critics and elevate their status ten-fold. Judas Priest's Screaming For Vengeance was that album. And with the onslaught of 'The Hellion' blowing speakers around the globe, the metal gods had yet again delivered the goods and saw their fame achieved with British Steel take them to heights unimaginable. A true landmark had been created led by the twin-axe attack of Glenn Tipton and K.K. Downing and the metal god himself Rob Halford, the trio composing some of the band's most memorable works of art. From 'Electric Eye's space-age grip colliding with the Harley-friendly 'Riding On The Wind' to the sultry appeal of 'Pain And Pleasure', '(Take These) Chains' and 'Fever', the album's depth was hard to swallow in one sitting. Throw into the mix the thrashing title track, the glorious 'Devil's Child' and 'Bloodstone' ... and oh yeah, a catchy tune added to the album last minute called 'You've Got Another Thing Comin''. Combine the molten metal with the stark image of the cover artwork and a band that fired on all cylinders on stage, Judas Priest were leading the charge during heavy metal's heyday.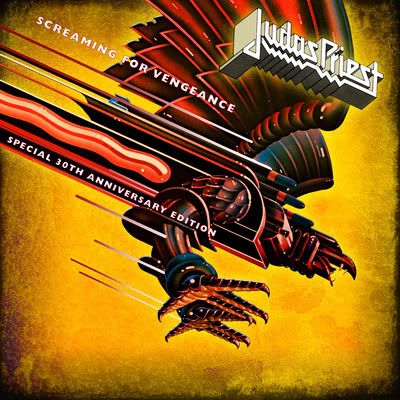 So to celebrate the 30 year anniversary, Screaming For Vengeance – Special 30th Anniversary Edition has been unleashed, containing not only the re-mastered original album plus bonus tracks, but also a live DVD from the 1983 US Festival show, filmed in San Bernadino, CA on May 29th, 1983 in front of a record 375,000 people!
Singer Rob Halford spoke to BraveWords.com recently about the album that saw heads roll and a band that would take no mercy as they screamed for vengeance.
"Isn't this amazing, we're celebrating another metal milestone," the metal god revels on the phone from the band's management offices in the UK.
Certainly Judas Priest had its peaks and valleys, but for the most part every album was a milestone to some degree. In 1981 you triumphed with British Steel and then the band threw fans a bit of a curveball with 1982's Point Of Entry. What were the feelings after you headed down the highway that inspired Screaming For Vengeance?
"I think we were just going full on like any band attempts to when you become successful. It's just a wonderful feeling. There's so much energy and excitement surrounding everything that you do. You're constantly inspired by the fans that are growing into your life. You're just going for it full roar and that's how we were when we returned to Ibiza to make Screaming For Vengeance. I will tell you what is cool Tim, like you pointed out already, if you look at the first few years of 1980, we were literally banging out a record every year, with a world tour. And I don't know know how we did that? I just know that we'd come off a world tour, we'd have a couple of weeks to take a breath, then we'd go into the studio, more often than not with practically no songs created, just fragments of ideas. The main point that we enforce is that 'You've Got Another Thing Comin'' was the last track we wrote in those Screaming For Vengeance sessions. It wasn't exactly an afterthought, it's just that we needed one more song and that was the one. It just turned out that the last song turned out to be the biggest one for the band, particularly in the States. Just a lot of great memories, full of life and energy and vitality."

You lead off with the majestic serious tone, somewhat feeding off the metal scene itself with 'The Hellion' and 'Electric Eye'. It was like you were saying; 'we're not just going to be part of this, we're going to lead the charge.'
"You know, people have said, just because of the texture, the attitude and the atmosphere of Screaming For Vengeance, were we on some kind of agenda after the way Point Of Entry was received. Prior to that of course British Steel was a very, very important successful record. I think all you can say in terms of the way the metal flow kind of goes back and forth; if you are in any band that's had longevity, certain records get more prominence than others. And certain feelings and things happen that you have no control over. The riffs that came together for Screaming For Vengeance were obviously destined to happen at that particular time. Not before or since. Every single record that any band releases is like a metal time capsule of what you're doing and where you are at. And how you are writing and how you're feeling at that particular moment. So, that's just the magic of what we do. We've always said if you try to control it, it becomes artificial. So a lot of things that are out of your control come into play. You're just doing the best that you can at that particular time. A lot of it is a game of luck and chance because you have no idea what you're going to come up with when you go into the studio and turn the amps on and start riffing. As it tuned out of course, some of the most exciting songs in Priest's back catalog took place in those sessions."
Describe those sessions in Spain. The main writing trio - Halford, Tipton and Downing - was on fire.
"Oh Lord … you probably heard the stories of Ian destroying half a dozen rental cars, on ending up in the pool outside the studio. Nights at the infamous clubs in Ibiza called Pacha and Ku. I don't know how we got that record made. It might show some of the benefits of procrastination. Not that musicians are very timely people anyway. Dear me, forget the weekends. Between Fridays nights and Monday morning anything could happen. Me and Glen driving really seriously drunk - I'm not laughing at this in an approving way - it was just like, man the risks we took it;'s just remarkable. There was a party going on in that studio and there were guests coming and going, friends we'd made coming and going. Let's face it again, it was the start of the '80s, the infamous decade of debauchery that Priest and a lot of other bands were diving into and enjoying. Out of all that came this masterpiece! It's a miracle really."
And Screaming For Vengeance appeased the diehards and 'You've Got Another Thing Comin'' appeased everyone else it seems! The album certainly has depth and I'm surprised more songs didn't take off since they had a radio flair to them, particularly '(Take These) Chains', 'Pain And Pleasure', 'Fever' and even 'Bloodstone'.
"Yeah, again once you've made your record, you can look at it, you can listen to it, you can sit down with your label and all the important people that are part of the equation and go; 'yes, that track could be big in America.' I keep emphasizing America as far as the radio connection goes, it was and it still is vital. If you want to be in a successful band you need to have some tracks that are accessible to radio. You've got to have that. So, I agree. And again, as it turned out, 'You've Got Another Thing Comin'' was a track we literally buried on the back of the album. And that was the one that was discovered by radio and made into the hit that it was. That side of it in Priest's world is one of excitement and surprise when tracks have been picked up and given airplay and so forth. Again Tim you know this. I don't think we ever specifically sat down and said 'today we're going to write a Top 40, rock radio hit.' Because we've never been able to do that. That's not part of who we are. It's just that we've been lucky with some of the songs we've made, that they have achieved that attention."
What's remarkable is that the song that really pushed Screaming For Vengeance over the top was buried on the second side! So you had to flip the record over and it came crashing out of the gates when the title track finished.
"It's amazing isn't it. Twenty minutes a side! I mean, call me an old metalhead, I still miss those days just because of the atmosphere that surrounded listening to music, going to your record shop and just hanging out. That just made music more of an intimate experience on a personal level. I'm sure that's the way people feel about it now in various generations. The artwork, the big twelve-by-twelve screaming eagle which was also another part of the success of that record. People would walk into the record store and see that display and go man what is this, I've got to check it out! I think as a record it's more than the music. It captures a lot of things in and outside of the Priest world, particularly from the fans perspective and rock n' roll history in general. 1982 was a very important part of the life of Priest. And if you look at rock n' roll's history, every single decade has something exciting going on and it usually happens generally in the first three years. At the start of every decade you see something really amazing and exciting happening in music in general. And Priest was involved in that particular experience in the world of metal."
And you weren't screaming for vengeance throughout the album, there was love songs and sexual appeal thrown in to the mix.
"'Pain And Pleasure' … I was drunk when I wrote those lyrics. We were just playing up to the S&M; thing. It was like 'look at what Rob's wearing.' It was part of the appeal of the visual of the band. We were just having fun with pain and pleasure. Songs like 'Fever' are kind of edgy in terms of the message. Lyrically it was an interesting record. We go from talking about spy satellites to tying people up! (Laughs)"
With no disrespect intended, on the title track, it almost sounds like you're trying to keep up with the song, almost attacking it like the song was attacking us.
"I really enjoy talking to you because you have interesting observations. What I remember about that track was that we got the song, we got the components for the instrumentation together. But I went into the studio with literally no idea what I was going to sing, or the lyrics. I was just doing like scratch vocals. I grabbed the mic and just jammed. Then we listened to it and it was garbage, making strange noises and words. But we were so excited by the immediacy of what was happening that we aid, 'let's try to make some sense out of this.' We actually took some of the phonetics and the sounds that I was making and put the words together. 'Tie a blindfold all around your head' and all that - those were kind of subconscious words that were coming out of me as I was doing the track. I think the sense of urgency is in that trying to catch lightning in a bottle moment. I was kind of cool really. I don't think I've ever done anything since in that kind of manner. Now I just take a long, long, long time to get my vocal chops behind anything. We have so much in the past that we've covered, we just think kind of differently right now. It is, in the sense of the music, a really full-throttle song isn't it? With those extraordinary kind of rhythm breaks between the versus and the bridges. They make you out of breathe just listening to it rhythmically. So I think it all ties into quite an unusual performance."
The aggressiveness of the song could be looked at as a precursor to Defenders Of The Faith.
"I suppose to some extent it is, but again, like we've always said, we've never gone into the studio with no real agenda apart from Nostradamus, which we had a blueprint for, factually and historically laid out for us. All of the Priest records they just start from scratch, start from a riff, a melody and develop from there."
Just because of the Canadian connection, I must ask about working with Bob Halligan, Jr., who famously wrote HELIX' 'Rock You' and of course penned 'Take These Chains' and later 'Some Heads Are Gonna Roll' with Judas Priest.
"He was just an extraordinary gifted song-writer. I can't remember how we connected with Bob, and if you can find him he probably has a better memory than me. I do recall we were looking for some kind of connection with radio and somebody from the label suggest Bob and we met. We loved the guy and we heard some of the demos that he was presenting and we just jumped into 'Take These Chains', with hope that might give us some access to an area that was something our label was looking for. He's tremendous, just a great writer. I don't think he does that much now. I met him on the Halford tour. I can't remember when, but I wanted to say thank-you for what he did for Priest. He also rote 'Twist' for me (from 2000's Resurrection). When we approached him to do something for the Halford band he said that he hadn't written that kind of music for ages. He'd gone into new age, kind of floaty music. He said 'the reason I took it on was because I was excited to see what could still do. I think it proved he's got the chops still to do those kinds of songs."
Let's talk about the memories of the US Festival in 1983, where fans outside of California were glued to their TVs and their stereos to see/hear the simulcast. Judas Priest join only a short-list of bands that have released the footage properly (TRIUMPH, QUIET RIOT are among the short-list of others).
"To actually look at the full show that we played, it again and more than anything reinforces what we've always said about metal; it's timeless and will live forever. It is literally that flashback… a tremendous flashback to a fantastic time. The numbers have been adjusted to 375,000 people, it's inconceivable. I think it's still a record for the largest attendance for a rock festival. We were in the company of other great talent and hopefully those other bands will look at that footage that we all have and clear the legal hurdles to release it. I think it would be great if there was a full DVD with most of the talent on it. But you walk out on stage - or stroll out like I did - you just can't get your head around it. It's just too many people! You think Wacken is big, Rock In Rio, but you walk out there and all you have to do is concentrate on doing the best gig that you can and I think Priest pulled it off. When you see the band playing in broad daylight ion 120 degree heat, it's just magical to watch. It makes you feel good and makes you feel proud that you're in a band like Priest and I think everyone will enjoy it."
Fast-forward to the present - is Rob Halford in break-mode or writing-mode?
"I'm in litigation with my solo stuff so I can't really talk about that. We're all under the firing squad from the label and management about talking about the new (Judas Priest) record. I will give you an exclusive and say it's some of the most powerful metal that we've played in a long time the way it's coming together. It's real strong metal from Priest. So that should give people a boost."
Happy belated birthday (August 25th)!
"Yes, thank-you Tim. I'm in my swinging '60s now (61 to be exact)! But I don't have a sling I have a garden swing!"
Halford closes by saying that hopefully the new Judas Priest album - the first featuring the metal god, Tipton, bassist Ian Hill, drummer Scott Travis and latest addition guitarist Richie Faulkner - will be out early next year.
Check out a BraveWords.com review of Judas Priest's Screaming For Vengeance – Special 30th Anniversary Edition here.