JUDAS PRIEST - Epitaph DVD/Blu-Ray Teaser Uploaded
March 12, 2013, 4 years ago
JUDAS PRIEST played the final show of their Epitaph world tour on May 26th, 2012 at the Hammersmith Apollo in London, UK. The show was professionally filmed for a DVD release, expected later this year. A teaser for the release can be seen below:
Judas Priest's setlist was as follows:
'Rapid Fire'
'Metal Gods'
'Heading Out To The Highway'
'Judas Rising'
'Starbreaker'
'Victim Of Changes'
'Never Satisfied'
'Diamonds & Rust'
'Prophecy'
'Night Crawler'
'Turbo Lover'
'Beyond The Realms Of Death'
'The Sentinel'
'Blood Red Skies'
The Green Manalishi (With The Two-Pronged Crown)'
'Breaking The Law'
Drum Solo
'Painkiller'
Encore:
'The Hellion'/'Electric Eye'
Encore two:
'Hell Bent For Leather'
'You've Got Another Thing Comin''
Encore three:
'Living After Midnight'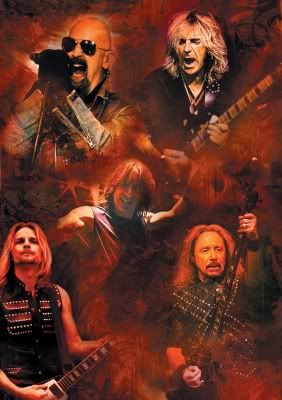 Judas Priest recently offered up a long-awaited update on activities after spending 2012 celebrating the 30th anniversary of Screaming For Vengeance.
A band update reads: "The guys are working in the studio on their new album - and all is going is really well! We will be releasing the live Epitaph DVD and Blu-ray soon - release date to be announced shortly! We're keeping the sites quiet for now whilst the guys are in the studio - more details to be announced soon!"
Judas Priest's long-awaited follow-up to 2008's Nostradamus - and first to feature new guitarist Richie Faulkner - is expected later this year.
About the new studio effort, Rob Halford told BraveWords recently: "I will give you an exclusive and say it's some of the most powerful metal that we've played in a long time the way it's coming together. It's real strong metal from Priest. So that should give people a boost."
"I think it will be fantastic to have a brand new Sabbath record and a brand new Priest record," Halford added about two heavy metal forefathers releasing new material. "In general, I think we are going to have a very strong, very simple, straight-forward classic Priest album. If you push me - and I can hear you push me - it's like a little bit of British Steel, a little bit of Painkiller, a little bit of Screaming For Vengeance. That's what I'm feeling. It's all fresh material, brand new. There's nothing from the past. It's all original riffs. It's shaping up to be a killer record. That's great to know that on this farewell tour, there's something new looming on the horizon."