KATATONIA "Strip Down" Dead End Kings For Pending Release
February 8, 2013, 4 years ago
KATATONIA's Anders 'Blakkheim' Nyström has issued the following update:
"Just done with stripping down the Dead End Kings album to an atmospheric sound void of any metal. Early on we felt it was both peculiar and Interesting how the songs could breathe on their own taking a different minimal approach, so we wanted to go back and explore this in a very spontaneous and unpretentious way. Vocals, keyboards and acoustic guitars are in and distorted guitars/bass and drums are out! Stay tuned for a release date!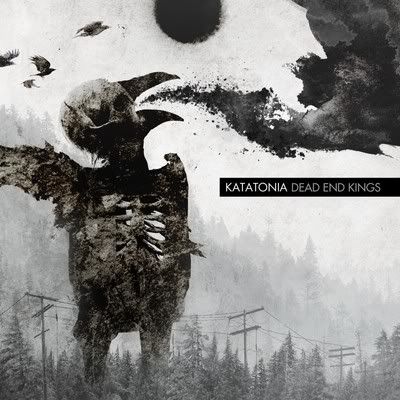 And from one big project to another... the next upcoming weeks I'll be spending diggin' into old boxes and transferring ancient VHS cassettes and DV tapes to digital media, so we can finally get goin' on the actual edit on the documentary that will hopefully wrap up the anniversary DVD that's been taken forever!"

Katatonia has announced several headlining North American tour dates in addition to the group's supporting run with OPETH this spring. Katatonia headliners are confirmed for Montreal, QC on April 25th, Farmington, NM on May 22nd and Los Angeles, CA on May 27th.
More dates were recently confirmed for Opeth's North American Heritage Tour 2013, featuring direct support from Katatonia. The upcoming run will conquer over 30 cities this spring beginning April 18th in Buffalo, NY.
The tour will make two special stops, the first in Worcester, Mass. on April 20th where Katatonia returns to play the New England Metal & Hardcore Festival, then in Clifton Park, NY on April 28th where acclaimed PORCUPINE TREE frontman STEVEN WILSON will join for the night. A full list of confirmed dates can be seen below.
April
18 - Buffalo, NY - The Town Ballroom
20 - Worcester, MA - New England Metal & Hardcore Fest
21 - Quebec City, QC - Capitole
23 - Halifax, NS - Halifax Forum
24 - Moncton, NB - Casino New Brunswick
25 - Montreal, QC - Petit Campus (Katatonia headline)
26 - Guelph, ON - Guelph Concert Theatre
27 - Allentown, PA - Crocodile Rock
28 - Clifton Park, NY - Upstate Concert Hall (with Steven Wilson)
29 - Brooklyn, NY - Music Hall of Williamsburg
30 - Norfolk, VA - NorVa Theatre
May
2 - Ft. Lauderdale, FL - Culture Room
3 - St. Petersburg, FL - State Theatre
4 - Athens, GA - Georgia Theatre
5 - Raleigh, NC - Lincoln Theatre
6 - Asheville, NC - The Orange Peel
8 - Lexington, KY - Buster's Billiards & Backroom
9 - Indianapolis, IN - The Vogue
10 - Flint, MI - The Machine Shop
11 - Joliet, IL - Mojoe's
12 - Cleveland, OH - House of Blues
14 - Fargo, ND - The Venue
15 - Des Moines, IA - Wooly's
16 - Sauget, IL - Pop's
17 - Lincoln, NE - Bourbon Theatre
18 - Tulsa, OK - Cain's Ballroom
20 - Boulder, CO - Fox Theatre
21 - Boulder, CO - Fox Theatre
22 - Farmington, NM - Top Deck (Katatonia headline)
23 - Tucson, AZ - Rialto Theatre
24 - Los Angeles, CA - The Roxy
25 - Agoura Hills, CA - The Canyon Club
26 - Santa Cruz, CA - The Catalyst
27 - Los Angeles, CA - The Roxy (Katatonia headline)