KISS Kruise Electric Setlist From Night One Revealed
October 15, 2011, 5 years ago
The first-ever KISS Kruise launched in style on October 13th from Miami. Over 2,500 KISS Army members became inaugural members of the KISS Navy. Following is the electric setlist from Night One of the kruise:
'Room Service'
'Two Timer'
'Comin' Home'
'Strutter'
'Nothin To Lose'
'Love Her All I Can'
'All The Way'
'She'
'Take Me'
'Goin' Blind'
'Parasite'
'Rock Bottom'
'Got To Choose'
'Shout It Out Loud'
'Lick It Up'
'C'mon And Love Me'
'Hard Luck Woman'
'Beth'
'Rock and Roll All Nite'
Watch for video footage from the set to surface over the course of the day.
Photos of the KISS crew setting up on the Lido Deck for the unplugged, non-makeup concert and Q&A; are available below.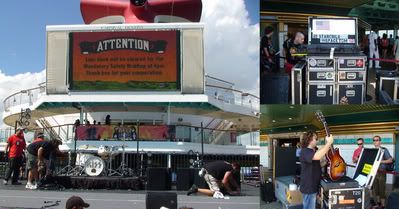 The live and unplugged non-makeup set aboard the KISS Kruise featured a mix of KISS classics, songs that haven't been dusted off in a few years, and attempts at extreme rarities:
'Hotter Than Hell'
'Calling Dr. Love'
'Sure Know Something'
'Christine Sixteen'
'Do You Love Me?'
'Shandi'
'I Love It Loud'
'Forever'
'See You Tonite'
'Black Diamond'
'Hard Luck Woman' (Paul Stanley lead vocals)
'Beth' (Eric Singer lead vocals)
'Every Time I Look At You'
'Just A Boy' / 'I' / 'Mr. Blackwell' (partial songs performed as an Elder medley)
'Anything For My Baby' / 'Two Timer' (songs attempted then aborted)
'C'Mon And Love Me'
KISSOnline reports: "KISSonline has been filming all kinds of great video from the Kruise! Unfortunately, internet access from the ship is very slow, and it's difficult to upload full-quality videos while we're at sea. Enjoy these lower-res videos from KISS's unplugged show and band Q&A; session yesterday, and we'll post higher-quality videos when we return from our voyage. Stay tuned for more!"
Check out the video footage below:
When speaking to USA Today about the KISS Kruise, Gene Simmons commented, "The KISS Kruise is a chance for all of us - the band and the fans - to have a ball. Just let your hair down and not worry about it at all. KISS has always been about breaking the rules. We've never liked that moat - the stage - separating the band from the fans. So whenever we do a show, we try to take the action right to your face. A cruise will let the fans get up close. We try to take it inside you, we want you to smell it and taste it and feel it."