KISS To Deliver New Album Early Next Year - "There's No Plan To Sit Around In 2012" Eric Singer Tells BraveWords.com In Part II Of Exclusive Chat
August 1, 2011, 8 years ago
KISS drummer Eric Singer recently sat down with BraveWords.com scribe, Mitch Lafon, for an all-encompassing three-hour chat. Part I of the sit-down can be found here. In Part II, Eric discusses more of KISS' upcoming plans.
On the upcoming KISSology IV DVD Box set: "It should be out before Christmas. It'll be about twelve hours of stuff. Tommy has been putting it all together, but I can't tell you exactly what is on it because we still have to get the rights to some of the stuff. The band has to buy the rights even if it's only one song like on David Letterman or Jay Leno. Even though it's your performance, it's their show and they own it. KISSology IV picks up where the last one left off. For the most part it runs chronologically, but there is some old vintage stuff on there that they had been trying to find. It's all a matter of clearance and them getting permission to use certain stuff. There's an A list of stuff we want, a B list of stuff we know we can use and C list of stuff we have to wait and see if we can use, but I do know there will be a Cobo Hall (Detroit) concert from 2009."
On the topic of Paul Stanley: "Paul is the consummate pro. Paul never complains. He's calm before the show, but when he walks out on stage he flips the switch, goes 100%, gives it all and never ever complains. This is a guy who has had both knees replaced, his hip (on the right side) replaced twice and torn both rotator cuffs (in his shoulders). He might say, 'I'm really sore, so I'll need a massage or I'm staying in bed today, but still after all he's had done he never complains."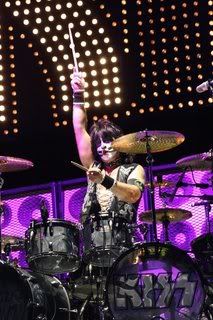 KISS maven, Gene Simmons: "Gene is the archivist in KISS. Anytime there's an article about KISS, Gene tears it out nicely and he puts them in these big coffee table sized books. He used to have them stacked at home under the bed at his mom's house, but I don't know where he stores them now. He collects anything and everything KISS."
As for Gene's love of money, Singer says: "I laugh when people say that all Gene Simmons cares about is money. Nobody really knows who Gene is. Nobody loves KISS more than Gene… NOBODY! Gene eats, breathes, and lives everything KISS. That's what he does. Gene is a workaholic. We're on a day off right now and I'm at home, but Gene's in Vancouver doing demos with local musicians. He's working on song ideas for the new record. He did it in Toronto last week on his day off too. Gene can't sit still. He can't just relax by the pool and get some sun. That's just the way he is. He's got work ethic like nobody's business. There's nobody more driven and with a better work ethic than Gene. Gene is 24/7 KISS. Everything he does is because of KISS."
On KISS' work ethic, Singer states: "These guys don't fuck around. When we meet at rehearsal, they put on the guitars and gear and we run the set from front to back and it's see you guys later. Let's say the set takes two hours to run down, we're there no more than three hours. Other bands goof around for hours, but these guys come in and 'bam' they run this shit down and get it done with. They do their work and leave. Still to this day (38 years or whatever later), they still do the work and whatever it takes that you are supposed to do to be in band. They will talk to Joe Fucks website. Whatever interview list they give us to do… we do it. In other words, we do the work. That's why, for any of the naysayers out there, we get along and this line-up works. This is why Gene and Paul still want to play and enjoy it. We're all completely different in our personalities, but when it comes to being in a band everybody treats KISS professionally and with respect. It's about being respectful to it and being serious. Bottom line is that this band has given everybody a life style that is better than most people and that comes from them doing the due diligence, doing the work, treating it with professionalism, respect, and not running away from the work. It gets done. I've learned a lot from Gene and Paul about those things that are taken for granted by most musicians. Much smaller bands will sit there and have an attitude about doing interviews… 'I don't want to do this or I don't want to do that,' and you know Mitch – you hear it and see it all the time. Then you see a band like KISS, that will do whatever they have to do."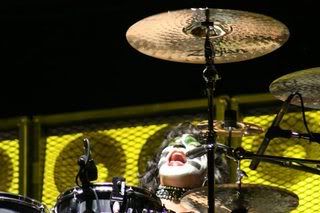 On the new KISS album currently being recorded: "It will be completed in the next couple of months. The plan is to put it out at the beginning of the year and to do a tour with a new stage (new staging and new show) and maybe even new costumes. There's no plan to sit around in 2012."
When asked if the new album will be a Walmart exclusive (much like their last offering, Sonic Boom): "I don't know. What's changed more than anything, is in the old days you toured to support a record, but now you make a record so that you have a reason to tour. It's exactly the opposite of what it used to be. The only way bands can make money anymore is by touring. People just don't buy records when I was in BADLANDS in 1989, we sold almost 400 000 copies of our first record and that wasn't enough. Atlantic records said that they'd kick in the real big money if we could get it to Gold (500,000 copies sold). We came so close to getting MÖTLEY CRÜE's Dr. Feelgood tour, but WARRANT got it because they had radio songs happening. Badlands did one more record. They went from selling almost 400,000 to selling 80,000 on the next one and then the band was over. If you sold 350,000 records today; that would be considered phenomenal."
When asked if KISS will ever tour again without make-up Singer offers: "I don't know. I've heard Gene mention something about maybe doing another KISS convention thing again in the future, but I don't know if that's ever going to happen. When we did it in 1995, it cost 100$, but that's nothing compared to today's prices. For the fan, that was a great experience, but Gene says a lot of things. He's an idea man and in business if one or two of your ideas comes to fruition you've done pretty damn good. Do you know how many pilots and screenplays that get done, but never see the light of day and that nobody knows about? One of the things we plan on doing on the KISS Kruise, however, is to play unplugged with no make-up."